Network Attached Storage (NAS) is beneficial to users in multiple aspects, including file sharing, data backup, etc. Due to this fact, more and more users start to use it. In this article, we will list 8 tips to help users get the most out of it.
Network Attached Storage (NAS) is exactly a way to attach hard drive to network, thereby making the drive accessible to all of your devices, such as Desktop PCs or laptops. It can make data management much more convenient and efficient and improve device performances in some extents.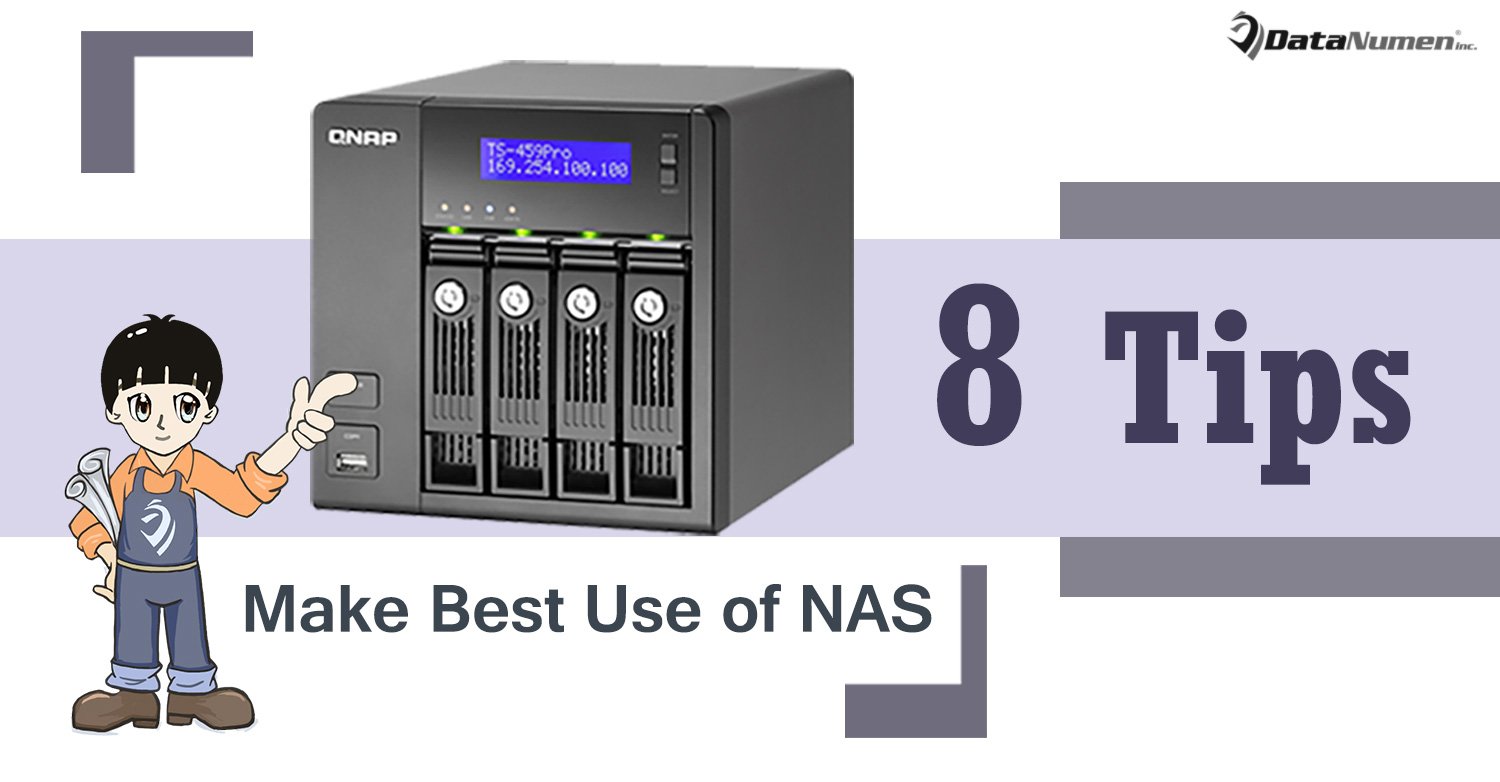 Therefore, nowadays, in addition to businesses, many individuals invest in it, too. As a matter of fact, some users have coveted it for a long time. Yet, since they don't know how to make the most of a Network Attached Storage (NAS) device, they hesitate. Hence, in the followings, we will share a quick guide.
1. Configure RAID
One of the most attractive things you need to think about is to configure RAID in your Network Attached Storage (NAS). RAID is a technology to combine several hard drives into a single logical unit. And most RAID levels are fault tolerant. That is to say, by setting up RAID, if one drive fails in NAS, you won't lose data. You can just replace the failed drive.
2. Set up Auto Backup
Moreover, although RAID provides data redundancy, you still need make regular backup, which will facilitate data recovery, like Outlook recovery. However, it is a hassle to do backup manually. If you're using a NAS, you can set up auto backup. It will automatically and immediately mirror any changes that you make on the connected devices.
3. Tie in to UPS
As we know, data loss frequently occurs from sudden power surges of blackout. If you are using a Network Attached Storage (NAS), you can buy an uninterruptible power supply (UPS). Later, it is easy to tie the NAS device in to the UPS, which can keep your device running for a few minutes after power failures. In these minutes, you can shut down the device as normal.
4. Build Remote Access
Furthermore, Network Attached Storage (NAS) supports users to build remote access features, such as creating an FTP server. Through it, you can sign in from a web browser or app on a phone, you can quickly get access to all your data stored in the NAS.
5. Share Data
As mentioned at the very beginning of this article, NAS permits users to connect various external devices to it, no matter PC, TV, media player or game console. In this way, all of these will be incapable of accessing the files or media in the hard drive connected to the NAS. It realizes ease for data sharing.
6. Share Printer
For instance, if your computer is attached to a printer but someone else doesn't, it is a bit vexing when they need to print something. At this point, if there is a NAS, it would be advisable to connect the printer to NAS. Via this, the printer is exactly in sharing. All the devices connected to it can use the printer.
7. Inbuilt App Center
After completing NAS configuration, you can access its Control Panel. Over there you can find a section of "Apps" or "App Center". (The name depends on brand). Here you can see a variety of third party server apps. It is convenient for you to download the software that you need. You can make full use of it.
8. Downloads
Last but not least, many NAS devices commonly contain basic download clients, full-featured BitTorrent clients. When you download something to your computer, it can eliminate the load on the PC. More specifically, via it, in downloading, what the PC is doing is actually transmission, which is pretty quick. Therefore, since then, you don't need to fear leaving your PC on overnight.
Author Introduction:
Shirley Zhang is a data recovery expert in DataNumen, Inc., which is the world leader in data recovery technologies, including corrupt SQL Server and outlook repair software products. For more information visit www.datanumen.com