As we all know, Windows offers users an inbuilt disk check utility – CHKDSK. But, if Windows CHKDSK is stuck at some stage, you can follow the steps mentioned in this article to troubleshoot this issue.
CHKDSK, a disk check utility in Windows, is a system tool which can verify file system integrity, detect and correct errors on the disk. These errors can result from various factors, like shutting down PC improperly, virus/malware attacks, power failures, etc. At best, these errors can be simply repaired via CHKDSK. But at worst, they can directly result in data corruption, like PST damage. Therefore, if you discover that your computer is becoming increasingly slower, you can run CHKDSK to check and repair the disk errors or corruption.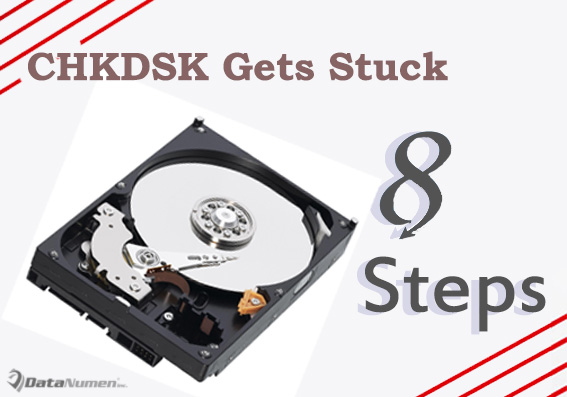 In many cases, CHKDSK can repair the disk errors such that system can function properly again. But, unfortunately, this process can hang at times, like scanning is stuck at some stage. If it happens, you can attempt the following troubleshooting steps to get rid of this issue.
Step 1: Ensure the size of drive you're scanning
In most situations, the actual reason why you feel that CHKDSK gets stuck is that the size of the drive which you are scanning is large. In general, it'll take 5 hours or so for CHKDSK to complete scanning 1 TB drive. Hence, if you're scanning a 3 TB drive, the required time will triple. If the size of the source drive is large, you had better leave it overnight and let it complete its course. But if it isn't too large, you can move on the next step.
Step 2: Restart your PC and exit CHKDSK during boot
After ensuring that the source drive is not too large, you can restart your PC by pressing the power button. Subsequently, during PC booting, CHKDSK may start to run automatically. At this point, you can press any appropriate key to stop the running of CHKDSK.
Step 3: Clear all temporary and junk files by Disk Cleanup
After getting access to Windows Desktop successfully, you need proceed to clean up all the temporary and junk files via Disk Cleanup utility. You can search "disk cleanup" in the "Start Menu". Then launch the "Disk Cleanup" program and follow the onscreen instructions to clean all the useless files on the drive.
Step 4: Run the System File Checker
Later, you need to run Windows system file checker to scan and fix the file system errors or corruption. You should run "cmd" as admin and type "sfc/scannow" in the Command Prompt window and then press "Enter" key button.
Step 5: Restart PC and stop running CHKDSK during boot
Once the system file checker finishes, you should restart your PC again and then repeat to exit CHKDSK during boot as usual.
Step 6: Repair the Windows System Image
After entering Windows Desktop, you should run "cmd" as administrator again and then type "Dism /Online /Cleanup-Image /RestoreHealth" in the Command Prompt window. And next press "Enter" key to begin to repair Windows System Image.
Step 7: Run CHKDSK again to check if issue persists
As long as you complete the above 6 steps, you can re-launch CHKDSK to check if the issue persists and if CHKDSK is able to complete its course as normal.
Step 8: Disable scheduled CHKDSK
In order to avoid suffering such issues next time, you should check if CHKDSK is scheduled to run at every start up. If so, you had better disable it. You can open the "Start Menu" and search "task scheduler" and then run "Task Scheduler". In the popup "Task Scheduler" window, see if there is a CHKDSK task in here. If find it, right click on it and select "Delete".
Author Introduction:
Shirley Zhang is a data recovery expert in DataNumen, Inc., which is the world leader in data recovery technologies, including sql fix and outlook repair software products. For more information visit www.datanumen.com