USB flash drive is prone to attracting and spreading viruses, which can damage our data like a breeze. So this post will expose 6 effective tricks for protecting USB flash drives from viruses.
As you all know, data can get compromised or lost for multiple reasons, including drive failures, power outages, system shutdown and virus infection, etc. So as to better protect your data, it is necessary to make a regular backup. For instance, to prevent Outlook PST data corruption or loss, you can back up your PST files to an external hard drive.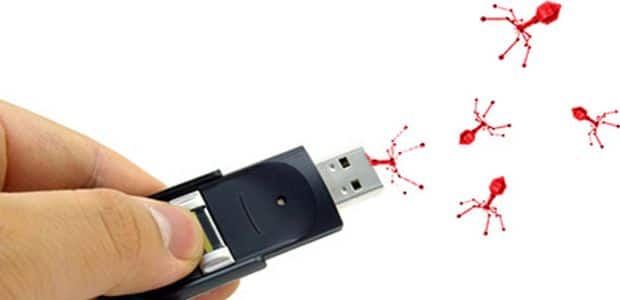 Moreover, you ought to take some precautions to combat against these potential risks, such as viruses alike. When it comes to viruses, USB flash drive must be the most miserable victim since it is admittedly susceptible to not only attracting but also spreading viruses. Hence, to safeguard your data stored on your PC or your USB flash drive against viruses, you should comply with the following 7 tips.
1. Beware of All Your Online Behaviors
Viruses actually come from our mistaken and careless online behaviors, such as visiting unknown links, downloading infected software, opening malicious email attachments and so on. Once you've done these improper online behaviors, you'll be likely to bring the viruses to your computer. At this point, not only your PC but also the flash drive which is currently connected to the PC will be contracted. So first of all, keep mindful of what you do online.
2. Scan Your Computer by Antivirus Software Regularly
It's believed that you must have installed antivirus software on your computer. If your computer has been infected by viruses, when a USB flash drive is plugged in, the drive will suffer, too. Therefore, to prevent such cases, it's highly suggested to scan your computer data with antivirus program on a regular basis. As usual, the infected data will be found out and deleted straightly.
3. Scan Your USB Flash Drive before Transferring Data
Moreover, you need to always scan your USB flash drive in prior to transferring data between the computer and drive. It can detect and block the viruses on the drive from spreading to your PC. Today's antivirus programs can be configured to auto scan the USB flash drive as soon as it gets plugged in and detected by the PC.
4. Identify All the Files to Be Transferred
In the data transferring process, USB flash drive is most vulnerable. Hence, you have to manually confirm the identities of all the files to be transferred. It's prudent and advisable to transfer files individually. Don't directly copy and paste a bunch of files in bulk. Otherwise, the infected files hidden in a zip file or others alike will be able to slip by through the loopholes.
5. Wipe Your USB Flash Drive via Formatting
Provided that viruses have attacked your USB flash drive, and you cannot remove them, you can try drive formatting. Formatting a USB flash drive will thoroughly wipe all the data on it, of course including the hidden viruses. But this trick won't be recommended if you have a lot of important data on the drive.
6. Write Protect USB Flash Drive
Last but not least, you can write protect your USB flash drive. Most of today's USB flash drives come endowed with such a feature – Write Protection, via either a physical switch or a pre-installed utility. You can utilize it to entirely control how and when a USB Flash drive can be accessed. As long as you write protect a drive, no data can be written to it, surely including the viruses.
7. Invest in an Antivirus Portable Application
You can invest in an antivirus portable application, which can be placed directly on the USB flash drive. With it installed, when you plug in your USB flash drive to any computers, you will get access to your data and the application. Now you can run it to scan the data on the current PC and your personal data on the USB flash drive. There are many such kinds of apps available.
Author Introduction:
Shirley Zhang is a data recovery expert in DataNumen, Inc., which is the world leader in data recovery technologies, including mdf damage repair and outlook repair software products. For more information visit www.datanumen.com