When you are creating new database from scratch it is important to ask key stakeholders the right questions so that the Access database can meet the requested outcomes
An Access database is not the one that is used solely for just storing large amounts of data, and using queries to get the desired information from that data. There are a lot more reasons why one would opt for using MS Access, instead of just using it as a storage options. Now if you are into designing Access databases for clients, there is a lot more you need to understand apart from the basic needs of the client from the Access database. That can definitely be the first thing you should know and understand, but definitely not the last one.
In the excitement of getting a new client and focusing on delivering the required product, we often miss out on some of the key questions that should be asked on a priority basis.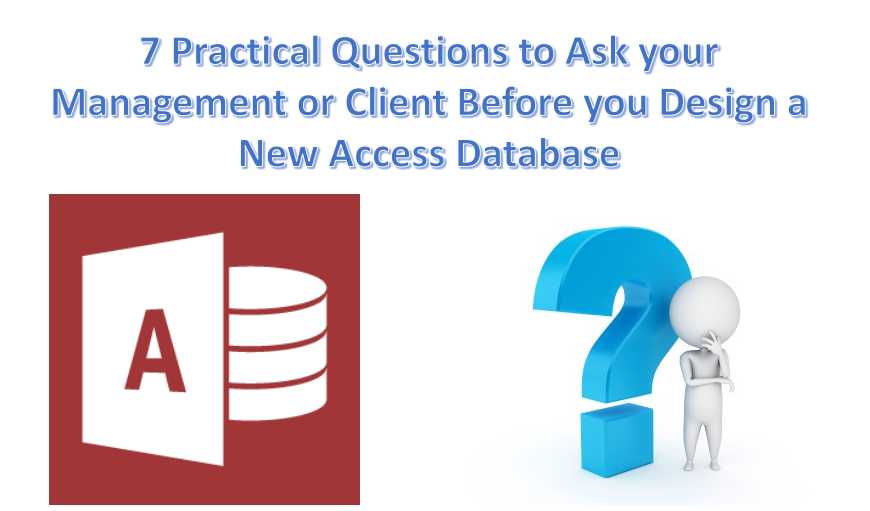 Given below are 7 key questions that you should ask your Client or Management before you get to design a database for them.  
Question 1: What kind of business process are you looking for the database to support?
Till you do not understand the business process a database is supposed to serve, you will not be able to design it well.
Question 2: How are you currently managing these processes?
Understanding how they are currently managing their processes will give you an idea of the kind of quality they are operating on and what are they expecting from you.
Question 3: What will be the changes incorporated in the process as your business grows with time?
You should design a database keeping not just the current needs but also their future needs in mind. For which you need to understand their growth and changing processes.
Question 4: What is the strength of people using the database?
The database design is affected a lot by the numbers of users attached to it. So knowing the number of users is crucial to database design.
Question 5: What kind of data do you wish to store in the database, and what is your expected database capacity?
The size of the database and the amount of data you wish to store in it depends greatly on the kind of data you want to use the database for storing.  
Question 6: What are your security requirements? Do you only wish to keep the data secure, or want to ensure that certain parts of the system should be accessible by certain people?
A key element in database design is how secure is it? And this depends entirely on the security requirements of the client. So make sure you are clear about them before you start designing it. Also plan in advance for keeping an mdb recovery tool handy to deal with contingencies.
Question 7: Do you wish to connect this system to any other application like Outlook or maybe an FTP Server?
The performance of the database depends greatly on the number of systems and applications you have attached your Access database with. Knowing before about hand their connection requirements can help you work on its performance from an early stage.
Author Introduction:
Vivian Stevens is a data recovery expert in DataNumen, Inc., which is the world leader in data recovery technologies, including SQL Server repair and excel recovery software products. For more information visit www.datanumen.com