So as to equip your phone or camera with additional storage, you can resort to a memory card. When buying such a card, you'd better take the 7 factors listed in this article into account. They can help you select a right card for your device.
When it comes to shopping a memory card, many users may think it fairly simple. To be honest, it is indeed easy to buy one. You can shop online or just buy in your nearest retailer. However, selecting a right and appropriate one isn't as simple as what you think.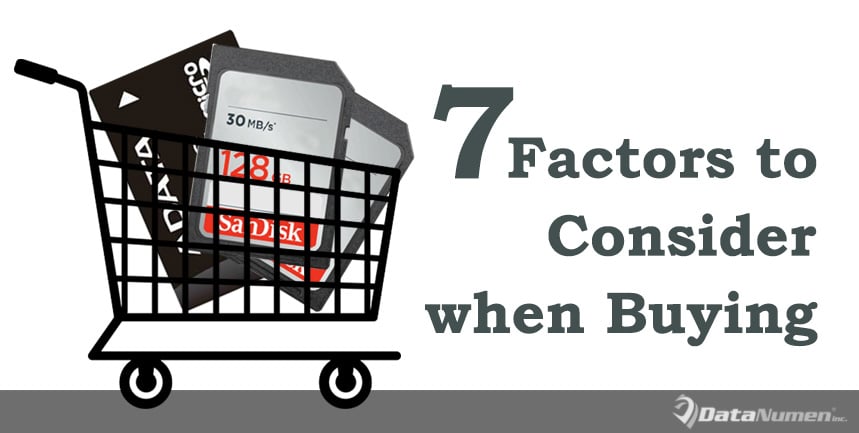 There are too many fake memory cards in today's market. The unreliable cards are prone to corruption. In the event of card damage, all data in the card will be corrupted, just similar to corrupt PST on your computer. Hence, you should be deliberate during choosing and buying a memory card. The following 7 factors must be taken into your consideration.
1. Physical Size
Nowadays, there are too many kinds of memory cards in different physical sizes. Thus, first of all, you should take card physical size into account. In other words, you should ensure that the memory card can be compatible with your device, like camera.
2. Card Format
Apart from physical size, card format is also an important matter in compatibility issue. There are three different memory card formats – SD, SDHC, and SDXC. The cards in different formats will definitely work in different ways. Therefore, you have to select the card whose format is supported on your camera.
3. Storage Capacity
The main reason why you would like to buy a memory card must be to acquire additional storage. Hence, the card storage capacity is undoubtedly a significant factor. Depending on your own needs and actual cases, you can make a decision at will.
4. Card Working Speed
Moreover, memory card performance will play a great role in your future usage. When it comes to performance, you will surely think of the card speed. It refers to the speed of reading or writing data. For example, you must prefer the card that can work fast in copying or transferring data.
5. Supported Write/Erase Cycles
So-called "write/erase cycles" is the limited number of times that memory card can be overwritten before it begin to wear out and lastly fail to cause data loss. In general, new card can support 10,000 or so write/erase cycles. Therefore, when buying a memory card, you should select one supporting more cycles.
6. Mean Time before Failure (MTBF)
If you intend to utilize the memory card for a long-term storage plan, you'll need to consider the card lifespan and reliability. In this case, you can check the MTBF, which is a measure of how reliable a card is. Perhaps this kind of information will not be shown in card packaging. So, you ought to look it up online before buying.
7. Card Brand
As mentioned at the beginning, you should beware of buying a fake memory card. One of the solutions to prevent it is to only trust in great and reputable brand. It is inadvisable to select a card from unknown source simply due to its cheapness or other reasons.
Author Introduction:
Shirley Zhang is a data recovery expert in DataNumen, Inc., which is the world leader in data recovery technologies, including mdf repair and outlook repair software products. For more information visit www.datanumen.com