Hard drive plays a highly important role in computer. Not only is it the repository of computer data, but also it will make impact on computer performance. Therefore, it is necessary to keep your hard drive clean and healthy, making it work at its best. In this article, we will show you 7 tricks to realize it.
Do you feel that your computer becomes more and more slowly? If so, you'll wish to make clear the culprits, one of which must be the internal hard drive. More specifically, if the hard drive is subject to multiple errors and is out of space, your computer will surely become sluggish and its operating system will tend to crash from time to time. But don't worry. As long as you adhere to the following 7 tricks, you can keep the drive clean and healthy with ease.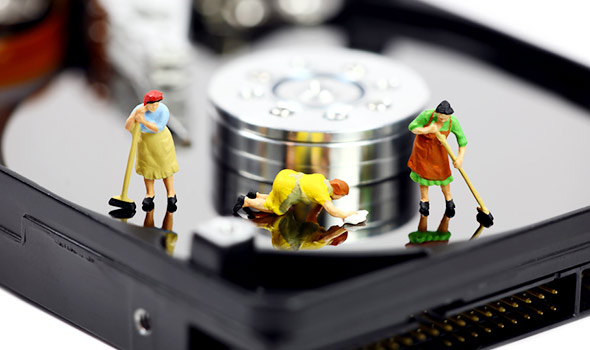 1. Run CHKDSK
Windows provides users with a native disk scan and repair utility – CHKDSK. So, why don't you make best use of it? In fact, it is always suggested to run CHKDSK on a regular basis. It is able to check out the disk errors and try its best to repair them.
2. Defrag Drive
Besides, maybe you have known that with your regular computer use, your hard drive will contain a great amount of fragments. Under that circumstance, you will find that your drive and computer function strangely slowly. Thus, so as to avoid it, you had better defrag your drive periodically.
3. Run Disk Cleanup
In addition, aside from fragments, your hard drive may be stuffed with a number of useless files but you don't know them. Thus, in face of them, you can utilize the Disk Cleanup tool preinstalled in Windows. It can free up more available space on the selected partitions.
4. Clear System Temporary Files
The above tool is capable of clearing internet temporary files but unable to delete system temporary files. Such files are stored in Windows temporary folder. They are produced by programs. If the programs don't shut down properly, these files will be kept. Hence, you should manually navigate to the folder to delete them at regular interval.
5. Back up Drive
Furthermore, in order to safeguard your valuable hard drive data, you ought to back up drive periodically. It is believed that you know its effects. For instance, in the event of damaged Outlook file, if you have backups, you can easily restore PST data from backups. So, don't look down upon this tip.
6. Monitor Disk Space
What's more, you may notice an unquestioned fact that computer will slow down absolutely in case of out-of-space hard drive. Therefore, you have to monitor the hard drive space all the time. As long as it is near to be "stuffed", you should clean up the useless data at once.
7. Turn off Indexing Service
Last but not least, when it comes to hard drive performance, it is quite essential to mention the "Indexing Service". This can interfere with other activities on your computer, thereby resulting in sluggish machine. Thus, you are better off turning it off.
Author Introduction:
Shirley Zhang is a data recovery expert in DataNumen, Inc., which is the world leader in data recovery technologies, including repair sql and outlook repair software products. For more information visit www.datanumen.com