iCloud plays a vitally important role in iPhone data backups. But, at times, you may encounter some issues when attempting to restore backups from iCloud, such as the error- "Cannot Restore Backup". This post will teach you to fix it in 6 easy steps.
Without any doubts, much data must have been written into your iPhone. Thus, you are surely reluctant to come across iPhone data loss. In this case, data backup for your iPhone becomes increasingly significant, in that backup will help you a lot in future data recovery, such as easy PST recovery from backup after Outlook crash.
By default, there are two inbuilt backup ways for iPhone. One is iTunes and the other one is iCloud. Many users prefer iCloud thanks to its handiness and ease of operation. But, it can fail as well, no matter in backup or restoration process. Now, in the followings, we will focus on the issue that "Cannot Restore Backup" from iCloud and expose 6 easy steps to fix it.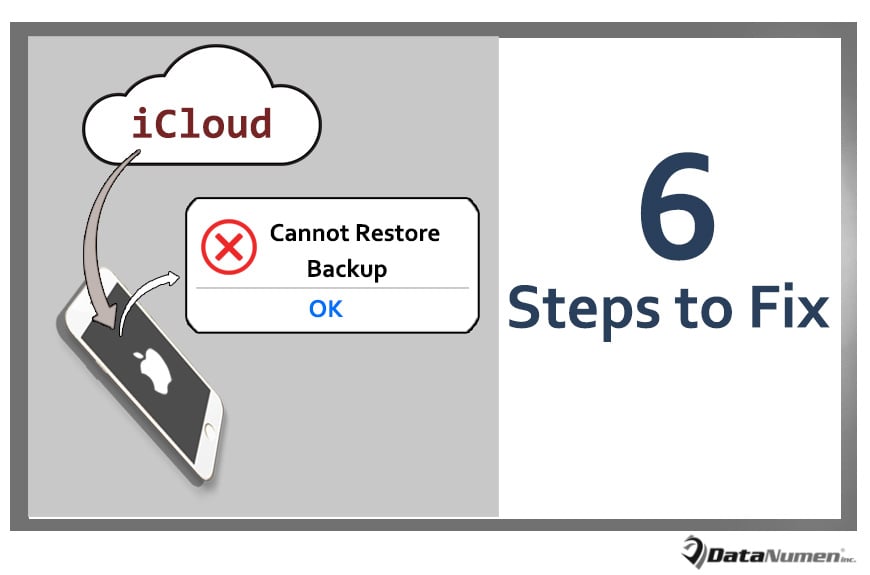 1. Check iCloud Backups
Once you encounter such error when restoring backups, what you should do in the first place is to check the iCloud backups. Generally, iCloud maintains 3 kinds of backups for different time. Thus, the error may be only related to one backup. The other two may be still intact. Therefore, you could choose them for restoring to have a try again.
2. Check iPhone Wi-Fi Connection
As we all know, no matter data backup or data restoration via iCloud demands a stable and active network connection. If the network fails, you'll surely be unable to restore your backups from iCloud. Thereby, you should insure that your iPhone Wi-Fi connection is well.
3. Check iPhone Remaining Storage
Plus, restoring iCloud data backups to iPhone definitely requires that your device should have adequate storage space. Otherwise, data restoration will absolutely fail. Also, it may lead to unexpected backed up data corruption and loss. So, if the above steps do not find out the root cause and fix this issue, you should proceed to check your iPhone remaining storage.
4. Restart iPhone & Try Again
To be honest, at times, a simple reboot can help you get rid of this problem. Thus, if the 3 steps mentioned above cannot solve this problem, you could continue to restart your iPhone and try to restore backups from iCloud once again. Wish you a good luck in advance.
5. Update iOS to Latest Version
Moreover, out-of-date iOS may be the root reason sometimes in that outdated iOS may contain many defects, which can lead to such errors. Hence, assuming that error persists after the 4 steps above, you should suspect if your iOS is too old. To check it and update it is high required and recommended.
6. Utilize Third Party Tools
Supposing all the troubleshooting steps listed above cannot eradicate this error, you still don't need to panic. With data recovery industry increasingly advanced, there are many tools designed for iPhone data recovery failure. In this situation, you will surely be capable of finding out a formidable and reliable one to help you get rid of this error.
Author Introduction:
Shirley Zhang is a data recovery expert in DataNumen, Inc., which is the world leader in data recovery technologies, including recover mdf and outlook repair software products. For more information visit www.datanumen.com