When you fail to edit or save files on a USB flash drive, you can use the 6 solutions to resolve such write failure.
Since USB flash drive is more portable than traditional hard drive, it has achieved extensive popularity. But it is inevitable that you will encounter various issues in USB flash drive as well, for instance, USB flash drive cannot get recognized by a computer, or the drive fails for some reasons, or it is write-protected falsely. In all cases mentioned above, you will be unable to access your USB flash drive data. So in order to prevent such scenarios, you have to make another data backup, which will help in future data recovery. For example, if you cannot access to your PST file stored in a corrupted USB flash drive, you still can quickly recover PST data from another backup. Here we will look at the write failure on a USB flash drive and share some solutions to you.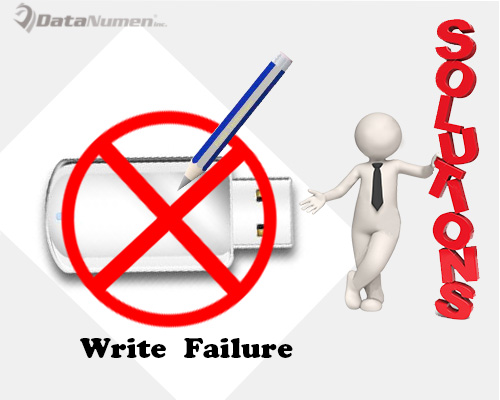 1. Turn off the Physical Write-protection Switch
Some USB flash drive comes with a physical switch, which can quickly put them into the write-protected mode. As usual, it is a small slider switch. Thus, at times, the switch may get turned on by accident. Thus, first of all, you can check if your USB flash drive has such a switch. If it has, turn off it by simply moving the switch to the unlocked position.
2. Check If the USB Flash Drive Is Full
Provided that your USB flash drive is full, namely without free space, you will get "The disk is full" error message alike as well. Therefore, you can check whether your flash drive is in such a status. Right click the USB flash drive and choose "Properties". Then in the popup dialog box, you can see the drive used space and free space distribution.
3. Disable the Read-Only Attribute of a File
Moreover, in many situations, the reason why you cannot edit files is that the files are in read-only status. In such a case, you can just disable the read-only attribute of files. Right click one of such files and select "Properties". Then in the following, dialog box, you can deselect the "Read Only" option.
4. Disable Read-Only of All Files in Command Prompt
The above trick will demand you to disable "read-only" of the files one by one, if you feel it cumbersome, you can use the following way.
Firstly, type "cmd" in the search box of "Start Menu".
Then press "Enter" key button to open command prompt.
Next type "diskpart" and click "Enter".
Subsequently, in the new line, type "list disk" and hit "Enter".
After that, check if the USB flash drive is listed in the following lines. If yes, type the "select disk drivenumber", such as "select disk 3" and press "Enter".
Later type "attributes disk clear readonly" and hit "Enter".
Finally type "exit" and exit the DiskPart utility.
Now you can recheck if your USB flash drive can work as normal.
5. Disable Write Protection via Editing Registry Keys
Furthermore, you can also edit the registry keys to turn off the write protection.
To start with, search "regedit" in the "Start Menu".
Then press "Enter" to open Registry Editor.
Next in the new window, browse to the following location: "HKEY_LOCAL_MACHINE\SYSTEM\CurrentControlSet\Control\StorageDevicePolicies"
Subsequently, check if there is a "WriteProtect" value. If there is, double click on it and type "0" in the "Value Data" field and hit "OK".
Finally close the registry editor and remove and re-plug the USB flash drive to see if it can work normally.
6. Format the USB Flash Drive
If all the above solutions cannot make effects, you need to format the drive to get the USB flash drive back to usable status. However, before formatting, you have to ensure that you've made an up-to-dated data backup. Also, you should make clear the concrete file system of the drive. Next right click the drive and select "Format" and choose the correct file system type and lastly hit "Start".
Author Introduction:
Shirley Zhang is a data recovery expert in DataNumen, Inc., which is the world leader in data recovery technologies, including mdf repair and outlook repair software products. For more information visit www.datanumen.com