Internal hard drive fails on Mac system can be a great nightmare as it will directly result in unbootable Mac system and inaccessible Mac data. But don't panic. This article will share 6 effective solutions with you.
Hard drive is actually vulnerable to various factors, no matter the physical shocks or software issues or others. Once the hard drive fails, all of its data will become inaccessible. Thereby, it's highly suggested to back up the drive data on a regular basis. Apple has taken this matter into consideration, thus it provides a built-in backup utility – Time Machine. With backups, data recovery can be pretty simple. For instance, as long as you have backed up your PST file, even though you come across Outlook corruption, you still can recover PST data from backups readily.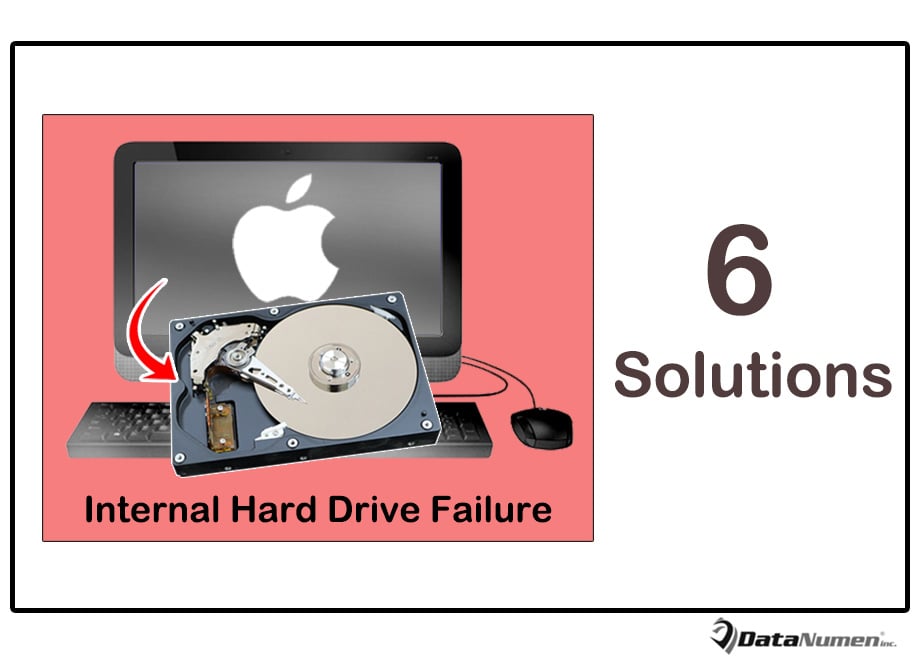 Without any doubts, the worst case must be that the internal Mac hard drive fails and you have no recent backups. In this situation, not only will you be unable to boot your Mac, but also you cannot access your Mac data. Thus, at this point, you will definitely leave no stones unturned to get back your Mac data. Thereinafter, we'll show you 6 recommended solutions.
1. Repair the Drive in Single User Mode
In the first place, you can attempt to fix the internal hard disk via FSCK command in single user mode. Here are the detailed steps for your reference:
To start with, you should insure that your Mac is shut down totally.
Then restart your Mac and hold on pressing the "Command + S" buttons.
Next you will get access to Single User Mode in success.
Subsequently, you can enter the command line – "/sbin/fsck – fy".
After that, press "Return" key button.
At once, the command will start working to analyze your internal drive and will return according message to you.
If the FSCK repairs the drive successfully, you will receive the prompt – "File System Was Modified".
Ultimately, you can repeat all the above steps until you get the message "The Volume (name) appears to be OK", which means your drive is back to heathy status.
2. Fix the Drive in Target Disk Mode
Provided that the above solution makes no effects, you can move on to try Target Disk Mode. It is a powerful way to access and fix a failed Mac hard drive.
At the outset, you should get another Mac.
Then use firewire cable to connect both the Macs via USB ports.
Next start Mac with failed internal dive and press "T" key button.
And then this Mac will enter the Firewire mode, in which there is a Firewire icon on the screen.
Next you will see the malfunctioning Mac drive on the well Mac.
Now you can repair the disk and extract the data from the failed drive on this healthy Mac.
3. Use the Internal Hard Drive as External One
Assuming that the two methods introduced above fail, you can try this DIY data recovery way. That is to take out the internal hard drive from the Mac and use it as an external drive.
For a start, you need to procure an external hard drive enclosure.
And then remove the drive out of Mac safely,
Next mount the internal hard drive into the new enclosure.
Then connect this external drive to a well computer through USB port.
Lastly, you can try to access your data in the hard drive.
4. Recover Drive Data with Third Party Tool
Furthermore, if you can confirm that what the internal Mac hard drive suffers is software issue, you can resort to third party software. There is a great amount of such software available nowadays. You could choose a reliable and experienced one to take a shot.
5. Contact Apple Official Support
Apart from all the DIY recovery means mentioned above, if you lack related basic knowledge and aren't confident about your own capacities, you had better recur to external assistance. For instance, if your Mac is still in warranty period, you can contact apple official support.
6. Take Recourse to Third Party Services
Except the third party tools, there are also multiple available third party recovery services. Some of them consist of many drive repair and recovery professionals, who have adequate experience and specialized knowledge. Thus, if you can afford it, you can ask such services for help.
Author Introduction:
Shirley Zhang is a data recovery expert in DataNumen, Inc., which is the world leader in data recovery technologies, including recover Sql Server and outlook repair software products. For more information visit www.datanumen.com