At times, you may hope to search for email attachments based on the file types in Outlook. This article will introduce you 5 useful and simple tricks.
Have you ever needed to search for email attachments by the file types? For instance, you want to find out a specific attachment but you aren't clear about its name, content and so on. What you can confirm is its file type, a word document or an excel file or a zip file. In this situation, you will be required to search for the attachment by its file type. In terms of this requirement, here we will show 5 handy and useful techniques to help you achieve it with utmost ease. Read on to get them in detail.
Tip 1: Find Email Attachments with One Specific File Type
If you would like to find the email attachments in one specified file type, you can use the "ext: file type" search pattern. Just click into the search box and type the file type as per your case. Here are some examples:
ext: docx
ext: xlsx
ext: pdf
ext: jpg
ext: zip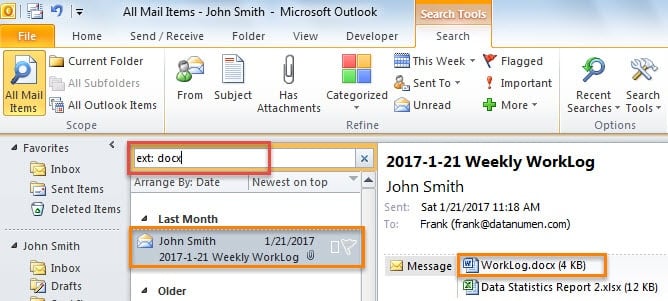 Tip 2: Find Email Attachments with at Least One of the Specific File Types
If you also cannot determine the attachments' file types and you only have some options, you may need to search them via "OR" command. Here are some instances.
ext: (zip OR pdf)
ext: (docx OR xlsx)
ext: (docx OR pdf OR zip OR xls)

Tip 3: Find Email Attachments Not with Specific File Types
Sometimes, when you search for attachments by file types, you may exclude one or more specific file types. So, in this scenario, you ought to make full use of "NOT" statement. You can imitate the following searching examples.
ext: (docx NOT doc)
ext: (xlsx NOT xls)
In addition, if you want to search out the email attachments in all file types expect the specific one, then you will need to add "hasattachment: yes" statement, like the followings.
ext: (NOT xlsx) hasattachment: yes
ext: (NOT docx NOT pdf NOT zip) hasattachment: yes
Tip 4: Find Email Attachments with Specific File Types inside Zip Files
Moreover, you must have received zip files in Outlook. In addition, this kind of files usually contains several files inside. Some users would like to search the specific files in specified file types inside the zip files. But this will be a bit knotty. You can use the following search pattern as a workaround. But it isn't an exact search, so you may get some wrong search results.
ext: (xlsx) OR (ext:zip attachment:xlsx)
ext: (jpg) OR (ext:zip attachment:jpg)
ext: (pdf) OR (ext:zip attachment:pdf)
Tip 5: Find Email Attachments with File Type and Search Texts in File Body
If you can remember some keywords related to the attachment content, then it means that you have two available search bases – file type and keywords. In such a case, you will hope to search for attachments in specific file types and with specific words in the body. So you can imitate the search pattern – "ext: file type attachment: (keywords)".
ext: pdf attachment:datanumen
ext: docx attachment:(outlook datanumen data corruption)
Keep Malicious Attachments at Bay
In the contemporary era, malicious emails have become a serious danger for data. Moreover, this kind of emails commonly includes viruses in the links or the attachments. If you download the attachments, then your Outlook data will be put in danger. Hence, do not readily open or download the attachments from unknown sources. Also, it is prudent to keep an Outlook PST email repair tool in vicinity, which will come in handy when your PST data gets infected or corrupted.
Author Introduction:
Shirley Zhang is a data recovery expert in DataNumen, Inc., which is the world leader in data recovery technologies, including mdf repair and outlook repair software products. For more information visit www.datanumen.com