In this post are 4 useful ways for you to indent paragraphs on both left and right in your Word document.
Now and then, we would like to quote paragraphs or texts in Word document. Therefore, as to make them stand out, it's a good idea to set both of their sides in the same indentation value.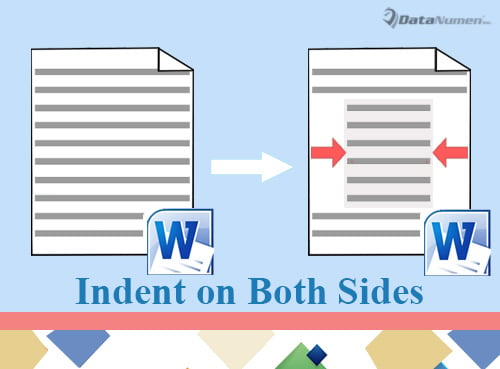 For this reason, here are 4 methods available.
Method 1: Set Paragraph Formatting
To begin with, place your cursor properly. If there is just one paragraph, then put cursor anywhere inside it. If there is a text block, then select them.
Next right click and choose "Paragraph".
In the dialog box open, ensure the "Indents and Spacing" tab is on. Then set the same indentation value for the left and right.
Click "OK" then.
Lastly, click "Justify" under "Home" tab.
Check the effect bellow:
Method 2: Apply "Block Text" Style
First of all, repeat step 1 in method 1 to determine the text range.
Next click the arrow button in "Styles" group under "Home" tab to open the same name window.
Click "Options" at the right-down corner of the window to trigger the "Style Pane Options" box.
Select "All styles" in "Select styles to show" box and click "OK".
Next on the "Styles" window, find and click on "Block Text" style.
See the result as follows:
Certainly, you can choose to modify the "Block Text" style as to change the indentation value or other formatting.
Method 3: Use "Format Painter" to Quickly Indent Paragraphs
If you have indented a paragraph or block text on both left and right, you can use the "Format Painter" to quickly copy the formatting and apply it to other texts.
First off, put cursor inside the formatted texts.
Then click "Format Painter" in "Clipboard" group under "Home" tab.
Next click and draw selection over target texts.
Method 4: Copy the Paragraph Mark to Quickly Indent Paragraphs
At first, reveal all hidden marks on the document.
Next copy the paragraph mark of a formatted texts and paste it at the end of the target paragraphs.
If there are multiple paragraphs in a block, you can use the "Find and Replace" function to replace all but the last paragraph mark with manual line breaks. Then just replace the last paragraph mark left with a formatted one. This can exempt you from repeating copy and paste.
An Excellent Work on Document Repairing
Document recovery is involved in many cases. And the needs are growing. Thus, it's important to get a reliable docx repair tool. Speaking of this, you should choose a really trusted product, for any unqualified can cause more damage to your file instead of repairing it.
Author Introduction:
Vera Chen is a data recovery expert in DataNumen, Inc., which is the world leader in data recovery technologies, including repair Excel and pdf repair software products. For more information visit www.datanumen.com