In this article, we intend to introduce you 4 quick and effectual ways to keep Word program open while closing the only active document.
Normally, to concentrate on a task, we tend to open only one document in Word. However, after editing or revision, there is the matter of closing the document while keeping the program running. To be precise, this is an issue that users of Word 2010 may run into, for in Word 2003, there is the "Close Window" button on the upper left enabling you to close the document only.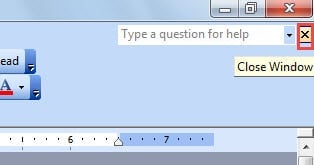 Therefore, the content below involves 4 methods for you to choose.
Method 1: Reveal the "Close Window" Button
As mentioned above, in Word 2010, there is no "Close Window" button for a single document. Nevertheless, we can make it appear.
First off, click "File" tab.
Then click "Options" to trigger the "Word Options" dialog box.
Next click "Advanced".
Continue to scroll down to the "Display" and uncheck the "Show all windows in the Taskbar" box.
Lastly, click "OK" to save the change.
Now you can notice the "Close Window" button is available, such as below:
Here is the effect:
Method 2: Close the File instead of Word
Firstly, click "File" tab too.
Next click "Close".
Or you can choose to add the "Close" command to "Quick Access Toolbar" for quick use.
Go to the "Word Options" dialog box taking the steps in method 1.
Then click "Quick Access Toolbar" this time.
Next choose "File Tab" for the category.
Find and select "Close" command.
Next, click "Add" button.
Finally, click "OK".
Method 3: Use Keyboard Shortcuts
Certainly, in case you prefer using keyboard shortcuts to clicks, you can press "Ctrl+ W" or "Ctrl+ F4". Either of it can close only the document.
Method 4: Run a Macro
To start with, click "Developer" tab then the "Visual Basic" to open the VBA editor.
Next click "Normal" and "Insert".
Choose "Module" then.
Double click on the new module to display the editing area.
Then paste the bellowing codes there:
'Close the only document open but keep Word running.
Sub CloseFileKeepWordOpen()
  ActiveDocument.Close
  Word.Application.Activate
End Sub
Ultimately, hit "Run" button.
It's suggested to assign a button or keyboard to the macro for easy use. For detailed information, you can look up this article: How to Remove the Formatting of Pasted Texts with Macro and VBA in Your Word
Tool to Fix Damaged Word Document
It's known to all that file loss can wipe out everything or something critical at least. I assume what comes to top of mind after a file loss is the way to piece data back to life. Then the best way is to gain a Word data damage fix product.
Author Introduction:
Vera Chen is a data recovery expert in DataNumen, Inc., which is the world leader in data recovery technologies, including corrupt xls data recovery tool and pdf repair software products. For more information visit www.datanumen.com