USB flash drive enjoys great popularity due to its tiny size and portability. However, if you handle it improperly, it can get failed at any moment. This article will expose the 4 most common flash drive failures which you must keep mindful of.
Compared with traditional hard disk drive, USB flash drive can work faster since it adopts the flash memory technology. Even so, the USB flash drive is the same vulnerable as the hard disk drive. In other words, it can fail at any time without any omens. Once it gets broken or become inoperative, without any doubts, your data will get lost likewise.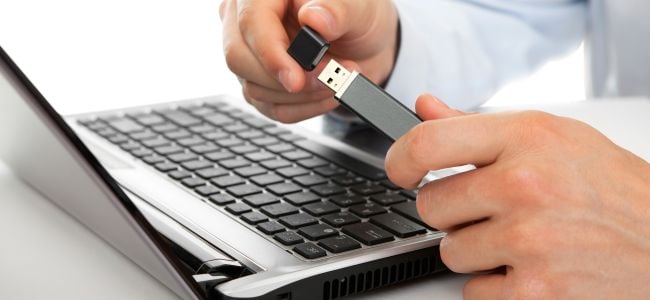 Hence, it is prudent and advisable to back up your flash drive data. It is similar to backing up your PST files. As long as you have the PST data backup, you will be able to perform a quick and successful PST recovery. This theory also holds true for the flash drive data. If you would like to get more about the flash drive failures, please read on. The followings are 4 most common failures in USB flash drive.
1. Damaged Flash Drive USB Connectors
There are a majority of flash drive users who have suffered this type of failure – broken USB connectors. As USB flash drive needs to be inserted to a computer, it usually sticks outside the device. So, it is pretty easy for you to bump or kick it by accident. In this case, the connector will tend to bend or directly break off.
Solutions: If the connector is indeed bent, at times, the power lead will damage, and then the USB flash drive components will suffer short circuits. So you should remove it from the device right now and never retry to plug it in. Otherwise, it'll lead to further damage and render drive recovery impossible thoroughly.
2. NAND Chips Fall off Printed Circuit Board
Most NAND chips reside on the flash drive usually via surface mount technology, which is susceptible to corruption. For example, if your flash drive is exposed to overheat for long time, the NAND chips will be likely to fall off the Printed Circuit Board.
Solutions: It's blazing difficult to recover data from such NAND chips. It demands a set of special and expensive tools and years of experience and knowledge. You'd better not attempt data recovery by yourself. You best resort is to seek help from the experts.
3. Malfunctioning Flash drive Components
Although the USB flash is small, there are still multiple small components inside it. Also, any of them can fail at any time. No matter the micro-controller, oscillator resistor or capacitor, they can burn out owing to short circuits or other causes. At that point, the flash drive will go on strike definitely.
Solutions: In this scenario, if you want to extract your data from the failed flash drive, you can resort to data recovery service. But even though the data is gotten back, the original flash drive cannot be used again. Even though the failed parts have been replaced, it still will fail soon.
4. File System Corruption in the Flash Drive
If the data transferring process gets interrupted, the flash drive file system will be corrupted possibly. For instance, you remove the flash drive when data is still transferring, or the flash drive gets powered off due to power outages, or viruses attack your flash drive.
Solutions: Under this circumstance, not only your flash drive will fail but also the data will get compromised. So you can employ a command-line tool to find and rebuild the data. Actually, you should get a good habit of always remove the USB flash drive via "Safe to Remove Hardware" feature in Windows computer, which can prevent this issue.
Author Introduction:
Shirley Zhang is a data recovery expert in DataNumen, Inc., which is the world leader in data recovery technologies, including corrupt sql and outlook repair software products. For more information visit www.datanumen.com