Outlook use Word as editor by default; its spell check can check spelling errors. But it doesn't work in Subject. How can we spell check subject?
In general, nobody can promise that they don't make any mistakes of spelling or grammar when writing emails. Perhaps we are extremely careful about words and sentences. But sometimes even pressing a wrong key will lead to mistakes as well. It is so kind of Outlook to provide users with a built-in checking tool. That is Word's spell check, which helps us a lot during writing. Every time we make spelling mistakes, it will remind us by highlighting the wrong words in red underline. As seeing it, we are all used to correcting it immediately.
However, it is a great pity that Word's spell check doesn't work in Message subject line. Therefore, it is crucial for us to know how to spell check message subject line. In fact, it is very simple. Even a novice in Outlook can make flexible use of it.
Spell Check before Sending
For a start we should go to "File" menu and click "Options" item.
Then a new window of "Outlook Options" will open up, in which we would be required to select "Mail" option in the left part.
Next in "Mail" page, we can locate the first option – "Compose messages". Under this option, we should find the icon which consists of "ABC" letters and a tick. Next to the icon, there is an option – "Always Check Spelling before Sending". Mark the checkbox next to it.
As long as we enable the option, we will be informed of mistakes, ranging from message subject to content when we click "Send" button in Message. If the popup dialog of spelling is triggered by words or sentences in content, we can directly close it by "X" icon.
Spelling and Grammar in Review
Apart from enabling "Always Check Spelling before Sending" option, we can use "Spelling and Grammar" tool. Switch to "Review" tab, we can locate it with ease. Besides, pressing "F7" can also make it turn up.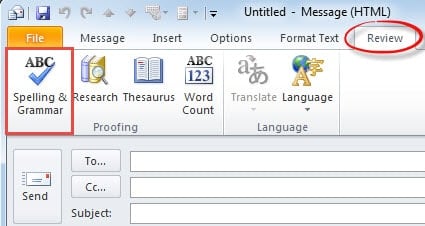 Retrieve Outlook Data in Case of Crashes
With its expertise in email management, Outlook has become an increasingly popular communication tool. Nevertheless, in spite of numerous strengths, it is vulnerable to corruptions due to various factors, such as power outages, malware attacks and so on. Provided that we are faced with a serious crash, Scanpst.exe, the built-in repair tool won't be up to the task of Outlook recovery. Thus we must resort to an external tool like DataNumen Outlook Repair. It has a higher recovery rate than its peers. Moreover, it takes a few minutes, even seconds to recover compromised files.
Author Introduction:
Shirley Zhang is a data recovery expert in DataNumen, Inc., which is the world leader in data recovery technologies, including sql recovery and outlook repair software products. For more information visit www.datanumen.com