In this article, there are 2 ways for you to extract text from pictures and file printouts to Word document via OCR.
Word supports Optical Character Recognition (OCR). With this feature, you can extract text from a picture or file printout to a Word document. Such a great tool allows us to make further changes to these texts. Here are 2 detailed approaches to do so.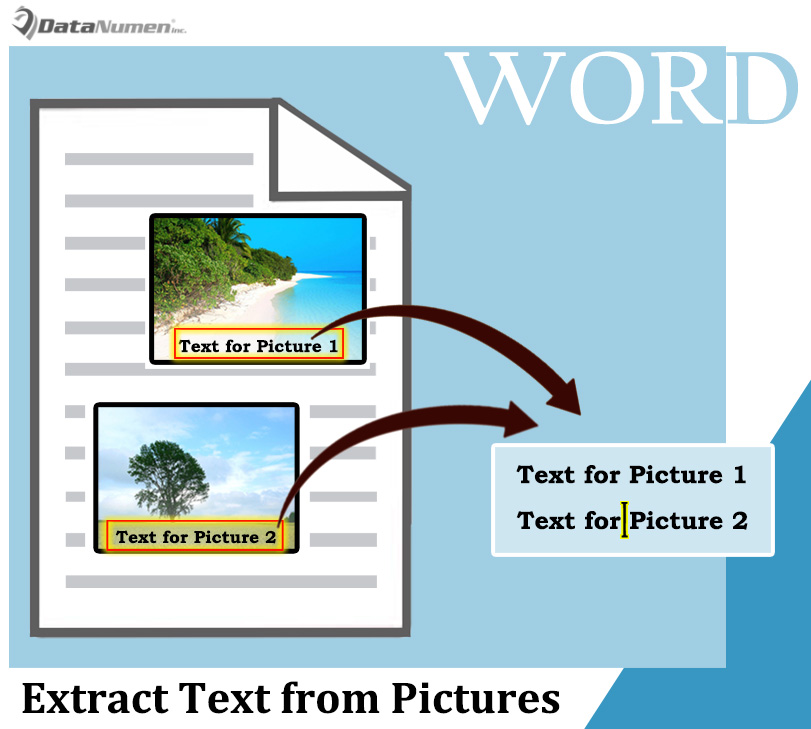 Method 1: Use Microsoft Office Document Image Writer in Word 2003
Firstly, open Word 2003. Click "Insert" tab on the menu bar and choose "Picture".
Then select "From File".  
You can repeat above 2 steps to insert multiple pictures into a document.
Next click "File" and then "Print" to trigger "Print" dialog. Or press "Ctrl+ P" instead.
In "Print" dialog, select "Microsoft Office Document Image Writer" printer.
Ensure "All" is selected for "Page range".
Next click "OK".
In the "Save As" box popping up, choose a storage place and click "Save".
Now in the "Microsoft Office Document Imaging" window, use mouse to draw a square box to include the section where text to be extracted lies.
Then right click and choose "Copy". The next thing you see is all texts in the box you drew are in selection.
Lastly, open a Word document and paste text there, such as below:
As you see, it can't recognize all words correctly. But, still it's much quicker than typing them manually.
Method 2: Use OCR in OneNote in Word 2010
First of all, insert pictures into Word document.
Then click "File" tan and then click "Print".
Next choose "Send to OneNote 2010" printer.
And choose to print all pages.
Click "Print" button.
Now you've triggered OneNote. In the "Select Location in OneNote" window, choose either "Untitled page" or "New Section 1" to keep the contents to be printed.
Then click "OK".
Next click on the printout and right click.
Choose "Copy Text from All the Pages of the Printout".
Open a blank Word document and paste text there.
Safeguard Your Word Document
It's easy to understand that Word is not immune to corruption. Actually, no software does. Therefore, some preventive actions are needed. For example, you can back up documents on a regular basis. Besides, it's also wise to get a tool to fix corrupt docx.
Author Introduction:
Vera Chen is a data recovery expert in DataNumen, Inc., which is the world leader in data recovery technologies, including Excel recovery and pdf repair software products. For more information visit www.datanumen.com