You might come across various computer errors from time to time. If you meet this typical error saying "A disk read error occurred. Press Ctrl + Alt + Del to restart", do not worry, here we will offer 14 powerful approaches to you.
The specific error "A disk read error occurred. Press Ctrl + Alt + Del to restart" can be triggered by many factors like BIOS issue, virus infection, corrupt hard drives and etc.
To resolve this problem easily, you can take following helpful 14 methods to have a try.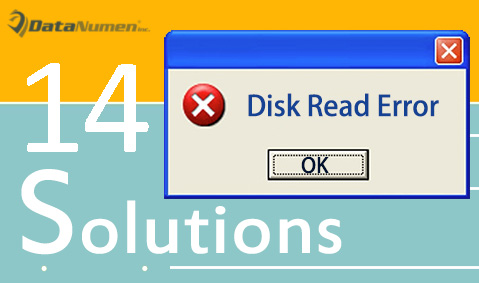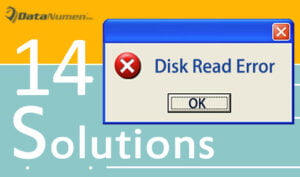 1.Unplug external storage devices
If there are any external drives that are connecting to your computer, like DVDs or USB flash drives, then you ought to unplug them at once to see if the error will show up again.
2.Check connection issue
Although the computer ran normally last time, it doesn't mean that you won't get any computer issues like disk read error problems this time. As connection issue is a basic problem that can lead to disk read error, you ought to check whether you have   plugged the hard drive correctly.
3.Try the device on other working computers
Apart from hard drive failures, compromised computer can be criminal too. Accordingly, you could try your hard drive in another working computer, particularly in familiar computers.
4.Verify internal hard disk
As we all know, that multiple errors will occur to hard drives, especially after a long time use. Thus you can also check whether the internal hard drives can work normally or not. If there are some problems like bad sectors exist, then you have to fix the drive to solve the disk read problem.
5.Check the computer first boot item
Apart from the broken hard drives, if you choose a wrong bootable item in the BIOS, then this error will definitely occur when you trying to boot the computer. If there are several devices in your computer, you'd better check the first boot item when encountering such an error.
6.Fix Master Boot Record (MBR) and Boot Sector
Master Boot Record (MBR) is a special data structure at the very beginning of all the hard disks. Thus if MBR or boot sector in your hard drive gets corrupt, then this "A Disk Read Error Occurred" is prone to appear as well. And in this time, you should resort to professional tools to repair the problem firstly.
7.Check operating system
In some situations, your hard drive may run properly, but the operating system crashes for somehow. In this case, you could receive such a disk read error as well. Therefore, you have to verify the operating system to see if it is installed or updated rightly.
8.upgrade BIOS
If you haven't update the BIOS for a long time, then outdated BIOS might influence your normal Windows booting to some extent. Therefore, you have to upgrade the BIOS version when meeting this error during windows booting process.
9.Reset BIOS
In some rare situations, you have to settle down this issue by resetting your BIOS. You can do it during computer booting or inside the BIOS itself. And to prevent data loss during the process, you'd better check that you have backed up all the important data before. Otherwise, you will lose your precious data when meeting up with data disaster like Outlook corruption.
10.Test RAM
Believe it or not, faulty RAM stick or RAM slot sometimes can be the real criminal behind the "A disk read error occurred" problem. Under such a circumstance, you should take an exclusively and nondestructive informative test on your computer RAM. You can call in a reliable third party tool or resort to an expert.
11.Defrag your hard drive
When other means cannot make sense, then you can attempt to defrag your hard drive to resolve the issue. To defrag the hard drive, you can connect it to a common computer and make use of the in-built defragmentation tool in windows, or other reliable utility.
12.Run CHKDSK
Besides, you can make use of an in-built repair tool named "CHKDSK" to attempt a recovery. Now, take following steps to have a try.
Insert the Windows DVD and boot your computer from this DVD.
Next in "installing Windows", select "Repair your computer".
Then you can access "System Recovery Options" and choose "Command Prompt".
At last, enter "chkdsk driveletter: /r", like "CHKDSK E: /r" and press the "Enter" button.
13.Run bootrec
If CHKDSK can't solve your problem, then you can run bootrec to have another try.
To start with, repeat the step 1 to 3 in the foresaid method.
Next enter "bootrec /rebuildbcd" and press the "Enter" button.
Then enter "bootrec /fixmbr" and press the "Enter" button.
After that, enter "bootrec /fixboot" and press the "Enter" button.
Finally, restart your computer normally..
14.Repair the disk via third party tool
Since this error in computer becomes more and more frequent, there are many third party tools available for this typical problem. If you know reputable company, you can call in a powerful application to resolve the error simply.
Author Introduction:
Allissa Shen is a data recovery expert in DataNumen, Inc., which is the world leader in data recovery technologies, including SQL Server repair and word recovery software products. For more information visit www.datanumen.com