SD card has been widely used nowadays. Some users intend to use a SD card in their smartphones but still wonder the exact advantages and disadvantages. Thus, in this article, we will list out the 12 pros and cons of using SD card in phone in detail.
As we all know, SD card is a kind of small storage medium. It has been preferred by many users in the contemporary era due to its small size and other merits. Yet, it doesn't mean that SD card is flawless. To be honest, it also has some drawbacks. Therefore, many users who wish to keep a SD card in their smartphones hesitate and would like to know the concrete advantages and disadvantages of using SD card in phone. Now, thereinafter, we will expose them in list elaborately.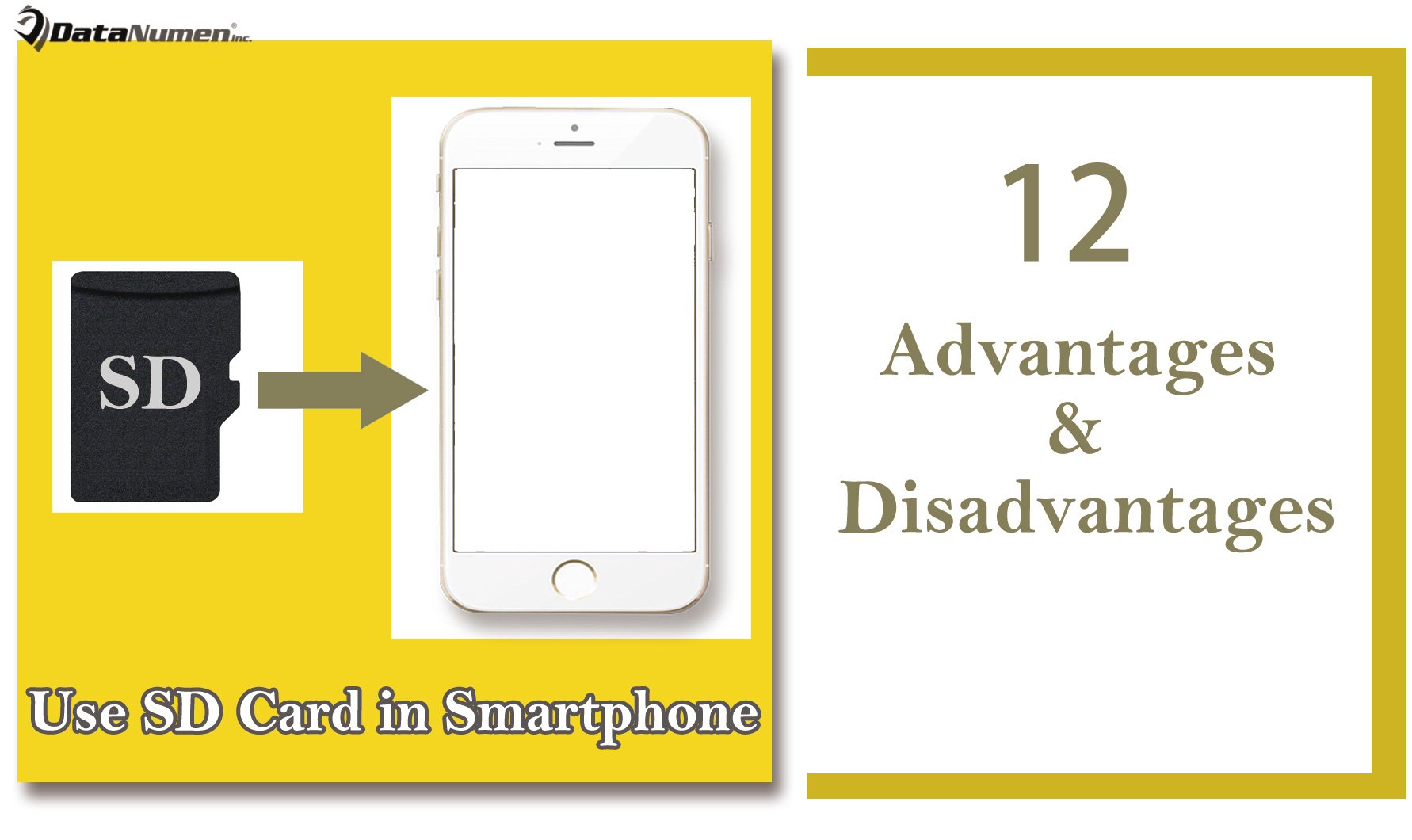 Advantages:
1. Increased Storage
Without any doubts, the first advantage is that you can achieve increased storage with ease. Smartphone always comes with limited storage space. So, if you run out of the internal storage of phone, adding a SD card is the most effective and simplest way to gain additional storage space.
2. Cost Effective
It is well-known that a phone with high internal memory is much more expensive than the one with smaller memory. Instead of purchasing a high-storage phone, buying a SD card with large storage capacity would be far cheaper.
3. Reduce Phone Memory Consumption
After adding a SD card to phone, you can move the large files, such as movies or music, etc., from the phone memory to the SD card. Also, many phones support to install apps on the card. In this way, you can reduce the phone internal memory consumption.
4. Removable & Portable
Due to small size, SD card is removable and portable. Hence, if you eject it from the smartphone, you can take with it all around, unlike the hard disk drive which is much larger than SD card.
5. Require Little Power
Furthermore, the SD card only requires very little power. That is to say, using a SD card on your smartphone will not waste a lot of power. It is a good option for battery-supported device.
6. Easily Accessed on PC
In addition, it is pretty easy to access a SD card on computer. You can get a card reader first. Then, insert the card into the reader. And lastly, plug the reader into a USB port on PC.
7. Non-volatile Memory
SD card, as a type of memory card, uses non-volatile memory that can keep data stable on the card. In other words, data on the SD card aren't threatened by the power failures and needn't be refreshed regularly.
Disadvantages:
1. Break Easily
First off, like other storage media, SD card can break as well, also easily. It can be subject to electronic corruption, leading to unreadable card. Plus, the metal part in the card is pretty sensitive, so can be damaged readily. Once it is corrupted, its data will suffer, too. At that time, you would try data recovery, just like to recover PST on computer.
2. Finite Read/Write Cycles
SD card uses the flash memory like USB flash drive, solid state drive, etc. Such memory has limited read-write cycles. In short, the SD card is always degrading gradually. Thus, its lifespan is finite.
3. Low-class Card Can Harm Phone Performance
There are various brands of SD cards. If you buy a low-class SD card and use it on smartphone, you may discover that the phone's performance is becoming poorer and poorer. For instance, apps run very sluggishly.
4. Slower than Primary Memory
Though SD card provides inexpensive increased storage, its speed still cannot be the same as the primary memory, namely the phone internal memory. Therefore, it may be a bit slower when accessing the SD card.
5. Apps Disappear after Removing It
As mentioned in the 3rd advantage above, you can mount apps on the SD card. But, under this circumstance, when you remove the card from the phone, you will find that all the apps have disappeared. The next time as you reinsert the SD card into phone, there is a bad chance that some apps are inaccessible and vanish into air.
Author Introduction:
Shirley Zhang is a data recovery expert in DataNumen, Inc., which is the world leader in data recovery technologies, including corrupted mdf and outlook repair software products. For more information visit www.datanumen.com