If you receive the "Your startup disk is almost full" error message on your Mac, you should take actions as soon as possible, preventing this issue from worsening. This article will teach you how to resolve it.
When you encounter the "Your startup disk is almost full" error message on your Mac, as usual, you will simply delete some large files to fix this issue temporarily. However, by this way, actually your Mac is still working with low storage space. It will not only influence the booting speed and other performance. Therefore, it is more recommended to free up most of the space to banish this error.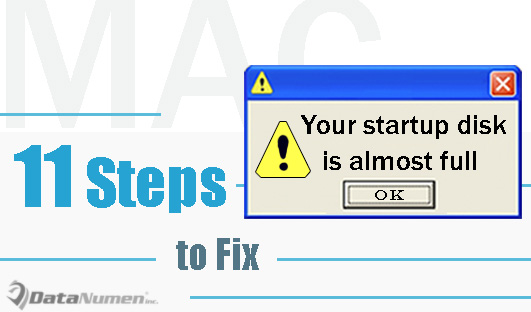 You can follow the 11 quick steps mentioned thereinafter. Nevertheless, in prior to taking actions, you had better make a full data backup, avoiding unwanted data corruption or loss. Otherwise, once discovering data loss later, you will spend lots of efforts to attempt data recovery like PST recovery.
Step 1: Empty the Trash
First of all, you should empty the Trash on your Mac. It will unquestionably help a lot with the space issues. You can click on the Trash icon on the Mac Dock. Then in the opened Trash, you should check if there are any useful files. If find any, just put back them. After that, click "Empty Trash" button to delete all the left forever.
Step 2: Check System Storage Summary
Next you can proceed to find out what are occupying most of the space on your Mac. Right click on the top left Apple icon and choose "About This Mac". Then in the subsequent dialog box, switch to "Storage" tab. In this screen, you can see the elaborate storage distribution.
Step 3: Find out Large Files via Finder Search
Aside from checking system storage summary, you can also use finder search to figure out the concrete large files. Open up the Finder as usual and then organize all files by size. After confirming the large files, you should select the useless and large files.
Step 4: Compress Files
It is inevitable that there are many large files which are still useful. In this case, one of the most effective ways to reduce their sizes is to compress them. You can use the inbuilt or third party tool to accomplish this.
Step 5: Clean up the Downloads Folder
At times, you may disregard the files which are still remaining in the Downloads folder. Most of them may have been needless. Therefore, you should clean up the Downloads folder right now.
Step 6: Clear Attachments in Messages App
When you send or receive files in the Messages App on your Mac, you must have many attachments in this application. As usual, these attachment files are stored locally in specific directory. Therefore, you have to clear them as well.
Step 7: Delete Old iPhone Backups
Perhaps you have a good habit of backing up your iPhone data via iTunes. These backups may also take up a certain amount of your Mac drive space. So, in this scenario, you can delete those backups which are too old and have no values any more.
Step 8: Remove Various Caches
Furthermore, all the applications on your Mac will run with various caches being created. Thereby, it's an unquestioned fact that there must be a great amount of caches on your Mac. So, clear up them right away!
Step 9: Uninstall Useless Programs
What's more, maybe you've installed a lot of programs or applications on Mac. In this case, you can make sure whether all of them are essential. If finding out any unnecessary, you can uninstall them at once.
Step 10: Keep your Mac System Updated
Last but not least, you have to ensure that your Mac system is up-to-date. That is to say, you need to upgrade the Mac operating system to latest version. It is due to the fact that new versions of operating system must have some advanced and improved features, such as automatic file, folder or memory compression, which can save some space automatically in some degrees.
Step 11: Reboot Your Mac to See If Error Persists
Eventually, after finishing all the steps above, you can restart your Mac to verify if the "Your startup disk is almost full" has been resolved successfully. Even if the error disappears, you still had better check system storage summary once again.
Author Introduction:
Shirley Zhang is a data recovery expert in DataNumen, Inc., which is the world leader in data recovery technologies, including recover mdf and outlook repair software products. For more information visit www.datanumen.com