Introduction
Xerox Corporation, a Fortune 500 and global corporation renowned for its significant contributions to the print technology industry, confronted a challenge in the realm of email data management. They faced difficulties in converting Offline Storage Table (OST) files to Personal Storage Table (PST) format when their Microsoft Exchange server failed. The existing OST to PST conversion tools were inefficient, often resulting in data corruption or loss. Xerox needed a reliable and efficient solution, which led them to adopt DataNumen Exchange Recovery.
Problem Statement
The need to convert OST files to PST format arises in situations like server crashes, mailbox deletion, or during the process of backing up Exchange mailbox data. However, Xerox's current tools were unable to perform this conversion efficiently, leading to delays and potential data loss. Further, the large size of some OST files presented an additional challenge, as most tools were incapable of effectively handling large OST files.
The inability to convert these files promptly and accurately was disrupting workflow and communication, hampering productivity across the organization. Thus, on September 2016, Xerox sought a solution that could seamlessly convert OST to PST without data loss, regardless of the file size.
Solution Implementation
DataNumen Exchange Recovery, with its reputation as the best OST to PST converter tool worldwide, was chosen for this task. Its promises of high success rates in data conversion, capability to handle large files, and recover as much data as possible from the corrupt OST file were exactly what Xerox needed.
Below is the order: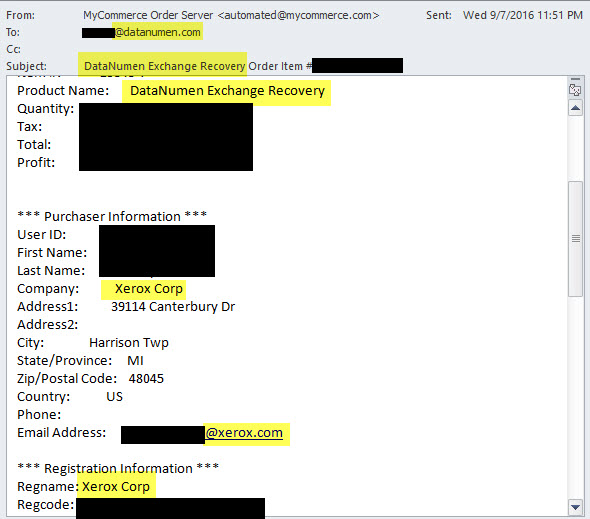 The implementation process was simple and swift, owing to DataNumen's user-friendly interface and comprehensive documentation. DataNumen's customer service team was always on hand to assist Xerox's IT team with any questions, ensuring a smooth transition.
Post-Implementation Results
The results were immediately evident once DataNumen Exchange Recovery was fully integrated. Xerox's IT department reported a substantial improvement in OST to PST conversion success rates, with DataNumen achieving nearly a 100% success rate.
Moreover, the tool's ability to handle large OST files proved to be transformative. The IT team could now efficiently convert large OST files to PST, significantly reducing the time spent on email data management and allowing them to focus on other critical tasks.
Another significant achievement was the comprehensive recovery of data. DataNumen Exchange Recovery was able to recover all available data from the damaged OST files, ensuring minimal data loss. This gave Xerox the reassurance of data integrity during the process.
Lastly, the ease of use of the software was highly appreciated by Xerox's IT team. The intuitive design of the tool, coupled with DataNumen's excellent customer support, made it simple for the team to operate, adding to the overall efficiency.
Conclusion
DataNumen Exchange Recovery's successful implementation at Xerox highlights its capabilities as a robust OST to PST converter. The tool improved Xerox's operational efficiency, ensured data integrity, and provided an efficient way to handle large OST files.
DataNumen's customer service and intuitive software design ensured a seamless transition process, demonstrating that effective technical solutions go beyond just providing functionalities; they require a user-centered approach.
The choice of DataNumen Exchange Recovery has empowered Xerox with a reliable solution to manage their email data conversion needs. This case study serves as a testament to DataNumen's ability to deliver high-quality, reliable data management solutions to industry giants.