Introduction
Walmart is a Global 500 and leader in the retail industry with a workforce numbering over two million and a complex supply chain that relies heavily on real-time communication. To manage the immense volume of data and communications, Walmart employs Microsoft Outlook as the cornerstone of its enterprise communication system. With thousands of emails traversing through the servers daily, the smooth functioning of Outlook PST files becomes non-negotiable for uninterrupted business operations.
However, PST (Personal Storage Table) files, which are central to Outlook's functioning, are susceptible to corruption due to various reasons ranging from software glitches to oversized files. Walmart faced repeated instances of email downtime due to PST file corruptions, leading to operational delays and added pressure on the IT department.
To ensure continuous email functionality and zero loss of critical data, Walmart chose DataNumen Outlook Repair as their go-to solution for managing and repairing Outlook PST files.
The Problem Landscape
Before implementing DataNumen Outlook Repair, Walmart's IT department faced several challenges:
High Volume of Incidents: Walmart experienced an average of 50 incidents of PST file corruption every week across its corporate offices, distribution centers, and retail outlets.
Inefficiency: The in-house repair tools were limited in functionality, achieving a suboptimal recovery rate of around 50-60%. This often led to partial data loss.
Resource Drain: Manually repairing corrupted PST files involved at least 3-4 hours of an IT specialist's time, diverting resources from strategic projects.
Operational Delays: Frequent email downtimes led to delays in decision-making, vendor communications, and internal processes.
The Solution
In 2016 October, after an in-depth evaluation of multiple PST file repair solutions, Walmart's IT department zeroed in on DataNumen Outlook Repair. Several factors influenced the decision:
High Data Recovery Rate: DataNumen offered recovery rates above 95%, significantly higher than competitors and in-built solutions.
Ease of Use: The software's user-friendly interface required minimal training for end-users.
Batch Repair: The batch repair feature enabled fixing multiple PST files simultaneously, saving time and effort.
Below is the order: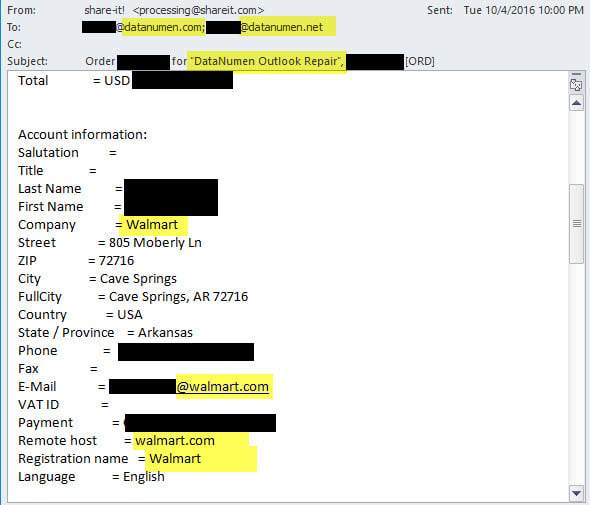 DataNumen Outlook Repair was rolled out across the organization, with targeted training sessions for IT staff and departmental power-users to handle minor issues autonomously.
Implementation and Results
Data Integrity and Recovery Rates
The 95%+ recovery rates of DataNumen Outlook Repair were consistent with Walmart's internal tests, ensuring near-complete restoration of emails, attachments, and other data. It redefined what the organization saw as acceptable losses in data recovery, moving the needle from half-successful recoveries to almost full restorations.
Efficiency Gains
The average time spent on PST file repair dropped from 3-4 hours to about 30 minutes per incident. This represented a time efficiency gain of 600%, allowing IT personnel to refocus their time on core operational tasks and innovations.
User Empowerment
With minimal training, non-IT staff could now initiate PST repairs for minor issues, reducing the workload on IT and creating a sense of empowerment among end-users. This had the added advantage of decreasing email downtime and increasing organizational efficiency.
Cost Benefits
With a more efficient use of IT resources and a reduction in operational downtime, Walmart estimated a cost saving of around 40% annually related to email maintenance and repairs.
Conclusion
DataNumen Outlook Repair has become an indispensable part of Walmart's IT operations. Its superior performance in data recovery, user-friendly design, and efficiency gains contributed significantly to Walmart's objectives of operational excellence and cost-effectiveness.
The software not only resolved immediate PST corruption issues but also instilled a level of resilience into Walmart's communication infrastructure. Given the scale and complexity of Walmart's operations, this resilience is invaluable, affirming the company's choice in DataNumen Outlook Repair as an enterprise-grade solution for a world-class enterprise.