Background
United Parcel Service (UPS), a Fortune 500 and the world's largest package delivery company, handles millions of packages every day. With such an extensive operation, data integrity is critical to ensuring smooth service delivery and maintaining customer satisfaction. The company relies heavily on a vast range of IT systems, many of which are backed up using Microsoft's Backup Format (BKF). However, faced with issues of data corruption, UPS needed a reliable solution to secure their data backups effectively.
Challenge
On November 2008, UPS experienced a critical challenge when one of its key servers suffered significant data corruption. The corruption occurred on a BKF file, which was designed to safeguard the company's critical operational data. The data corruption issue threatened to disrupt their services, affecting package tracking and delivery operations and posing a serious risk to the company's reputation.
In search of an effective solution, UPS sought a software product that could not only repair the corrupted BKF files but also ensure data integrity in the process. The product had to be reliable, efficient, and capable of handling large volumes of data securely.
Solution
In their quest for a reliable BKF file repair tool, UPS discovered DataNumen BKF Repair, formerly called Advanced BKF Repair. This tool stood out due to its reputation for being the best in its class with an impressive recovery rate. Designed specifically for repairing corrupted Microsoft backup (BKF) files, DataNumen BKF Repair utilizes advanced technologies to scan the corrupt or damaged files and recover as much data as possible.
UPS decided to implement DataNumen BKF Repair and was immediately impressed by its simplicity and effectiveness. They found the user-friendly interface easy to navigate, and the software was able to repair the corrupted BKF file swiftly, allowing them to recover vital data with minimal downtime.
Below is the order: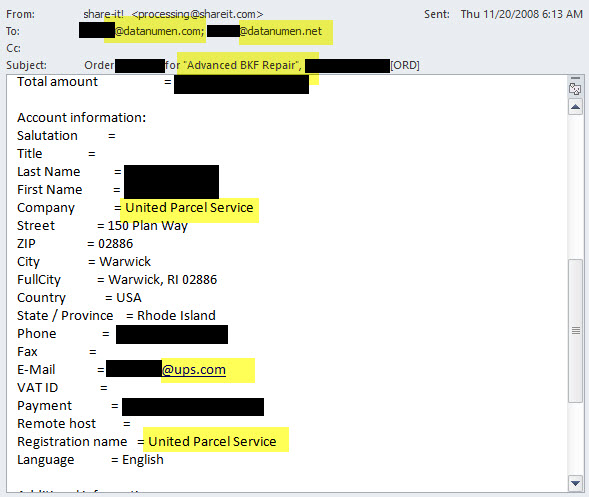 Results
DataNumen BKF Repair successfully repaired the corrupted BKF files, enabling UPS to restore their crucial operational data. The software managed to recover a substantial percentage of the corrupted data, far exceeding UPS's expectations and significantly reducing potential service disruptions.
UPS experienced numerous benefits from using DataNumen BKF Repair:
Data Integrity: DataNumen's advanced algorithms helped ensure data integrity during the repair process. This feature was vital for UPS, as it meant the recovered data could be trusted for ongoing operations.
Efficiency: DataNumen BKF Repair's ability to swiftly repair corrupted files significantly reduced downtime. As a result, UPS could promptly resume its operations, preventing service disruption and protecting its reputation.
Ease of Use: With its user-friendly interface, UPS staff found it easy to navigate the software, reducing the time and resources spent on training.
Following the successful recovery of their corrupted data, UPS has integrated DataNumen BKF Repair into their regular data backup and recovery protocol. They now have greater confidence in their data backup systems and have successfully mitigated the risk of future data corruption incidents.
Conclusion
In the fast-paced world of package delivery, every second counts. By employing DataNumen BKF Repair, UPS could quickly and efficiently resolve a potentially disastrous data corruption issue, thereby ensuring their operations continued to run smoothly. As a world leader in their field, UPS's successful use of DataNumen BKF Repair stands testament to the software's reliability and effectiveness in maintaining data integrity.