Introduction
S&P Global is a Fortune 500 multinational corporation recognized globally for providing high-grade financial information and analytics. Its daily operations rely heavily on clear, reliable, and fast communication, with email being a primary channel. However, like many organizations, S&P Global faced challenges related to email data management, retrieval, and recovery using Microsoft Outlook. To resolve these issues, they turned to DataNumen Outlook Repair.
The Challenge
With over 20,000 employees worldwide, S&P Global heavily relies on Microsoft Outlook for its internal and external communications. However, as the volume of email traffic grew, so did the problems associated with PST file corruption. PST or Personal Storage Table is the file format used by Microsoft Outlook to store all data, including emails, attachments, contacts, calendars, and more. When these files get corrupted due to reasons such as software malfunctions, abrupt system shutdowns, or virus attacks, it often leads to the loss of critical data.
The problem escalated to a point where S&P Global's IT team was spending an inordinate amount of time trying to recover lost or inaccessible emails. Besides, employees were facing disruption in their daily operations due to inaccessible or lost emails. This affected overall productivity and communication efficiency.
The Solution
On January 2018, to address these issues, S&P Global decided to incorporate DataNumen Outlook Repair into its IT toolkit. Known for its advanced technologies and high recovery rate, DataNumen Outlook Repair is designed to repair and recover corrupted or damaged Outlook PST files. It can recover mail messages, folders, posts, appointments, meeting requests, contacts, distribution lists, tasks, journals, notes, and even attachments.
Below is the order: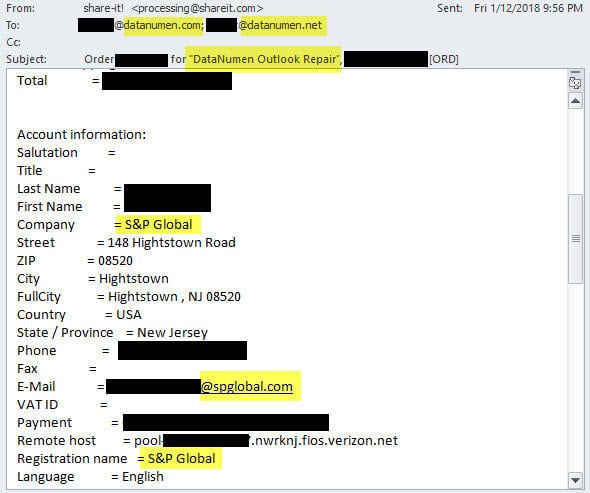 The Implementation
DataNumen Outlook Repair was deployed across the systems within S&P Global. The solution was quickly integrated into the existing IT infrastructure with minimal disruption, thanks to its intuitive and user-friendly interface.
Upon detecting a corrupted PST file, the system automatically triggered the DataNumen Outlook Repair tool to initiate the repair process. The tool scanned the affected files, identified the issues, and proceeded to repair them.
The Outcome
DataNumen Outlook Repair significantly reduced the time and resources spent on data recovery. S&P Global reported a considerable decrease in instances of lost or inaccessible emails, ensuring smooth and effective communication across the company.
Specifically, the company found three areas of significant improvement:
Enhanced Productivity: By automating the repair process, the IT team could refocus their efforts on other strategic tasks. Moreover, employees no longer faced interruptions in their work due to lost or inaccessible emails, leading to a boost in overall productivity.
High Recovery Rate: DataNumen Outlook Repair, with its advanced technologies, ensured a high recovery rate. It proved to be highly effective in retrieving not just emails but also contacts, calendars, and other Outlook data.
Cost Savings: By minimizing data loss and reducing the time spent on data recovery, S&P Global saw a substantial reduction in costs.
Conclusion
DataNumen Outlook Repair proved to be an effective solution for S&P Global, addressing the ongoing issues associated with PST file corruption. It not only enhanced the efficiency of their email communication but also brought about significant improvements in productivity and cost savings. Therefore, DataNumen Outlook Repair is a must-have tool for organizations that rely heavily on Microsoft Outlook for their communications.