Introduction
RBC Financial Group is a Fortune Global 500 company and one of the largest financial institutions in North America, boasting an array of services from retail banking to wealth management. With the increasing volume of customer and transaction data, RBC relies heavily on Microsoft Access databases for various operational aspects. Unfortunately, the group encountered debilitating challenges related to database corruption and data integrity that threatened both internal and client-facing operations.
The Challenge: Data Corruption in Crucial Databases
The crisis was twofold for RBC Financial Group. First, the corruption in some of their vital Access databases led to a slowdown in performance and in extreme cases, complete data loss. Second, the existing solutions were proving to be inefficient, time-consuming, and partially effective at best. Given that the affected databases were linked to customer services and financial transactions, immediate and effective intervention was imperative.
Selection Criteria: Why DataNumen Access Repair?
In January 2006, RBC's internal IT team began the arduous task of evaluating multiple database repair solutions available in the market. The team developed a scoring matrix based on critical criteria, including rate of data recovered, speed of repair, data integrity post-repair, user-friendliness, and scalability. DataNumen Access Repair outshone competitors in nearly every aspect. Moreover, it can repair MDB and ACCDB database files in batch, which was a compelling factor for RBC, due to the large volume of corrupt database files.
Below is the order(Advanced Access Repair is the old name of DataNumen Access Repair):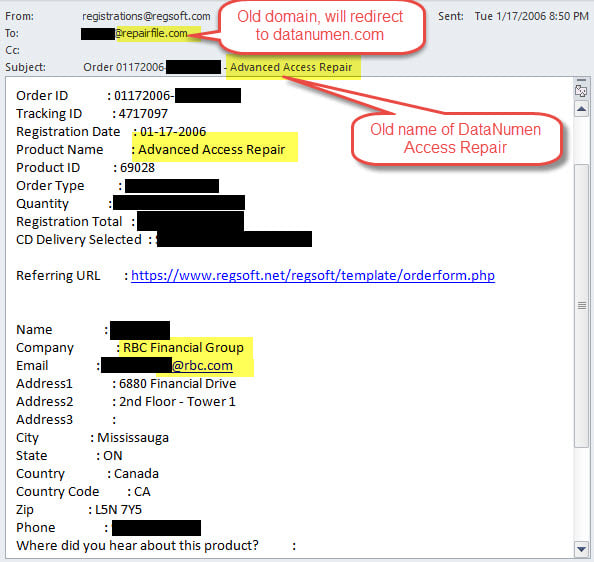 Implementation: Seamless Integration
Integrating DataNumen Access Repair into RBC's existing infrastructure was straightforward. The software was first tested on a smaller scale to gauge its efficacy. Impressed by its performance, RBC opted for a full-scale rollout. Training sessions were conducted for staff members who would be directly using or overseeing the use of the software.
Results
Immediate Data Recovery
Once implemented, DataNumen Access Repair was put to the test almost immediately with a severely corrupted database that had crippled one of RBC's customer service departments. The software managed not only to repair the database but also to recover nearly 98% of the lost data.
Sustainable Data Integrity
The robust algorithms and scanning features in DataNumen Access Repair enabled RBC's IT team to detect inconsistencies and potential corruption before they escalated into larger issues. This proactive approach has dramatically improved the data integrity across the organization.
Operational Efficiency
Prior to DataNumen's implementation, the IT department would spend hours or even days repairing corrupted databases manually. The new software freed up this time, allowing the IT personnel to focus on other value-added projects. This increased operational efficiency had a ripple effect, enhancing overall productivity within RBC.
Cost-Efficiency
The ROI became evident within the first few months. By significantly reducing downtime and data loss, DataNumen Access Repair saved RBC not just in terms of IT hours but also in terms of avoiding potential revenue loss due to faulty data or suspended operations.
Client Satisfaction
Perhaps an unanticipated but valuable outcome was the increase in client satisfaction. With data integrity ensured and faster, more reliable services, RBC could maintain a level of service excellence, bolstering client trust and satisfaction.
Conclusion
RBC Financial Group's decision to implement DataNumen Access Repair has proven to be extraordinarily beneficial. The tool has successfully addressed and resolved the urgent and important issue of data corruption that the financial giant was grappling with. Beyond immediate data recovery, the software offered a suite of features that helped RBC maintain database health in the long term. This has led to significant improvements in operational efficiency, cost savings, and customer satisfaction, making DataNumen Access Repair an invaluable asset in RBC Financial Group's IT toolkit.