Note: If you want to contact this customer to get a reference, please get in touch with us.
Introduction
PepsiCo, a Fortune 500 and leading multinational food, snack, and beverage corporation, is renowned for its expansive and complex operation. With a wide array of products sold in more than 200 countries and territories worldwide, the company faces the challenge of managing vast amounts of data, including sales figures, logistics information, and manufacturing records.
Traditionally, PepsiCo has relied on Microsoft Access databases to manage a significant portion of this data. However, these databases are susceptible to corruption due to their size and complexity, causing operational disruptions and potential loss of critical information.
The Challenge
On January 2018, PepsiCo found itself facing a severe problem when one of its principal Access databases became corrupted, preventing the access of crucial operational data. This database contained important information related to their North American operations, including sales data, distribution details, and product information. It disrupted their operations and posed a threat to their timely decision-making process.
The PepsiCo IT team attempted several methods to recover the corrupted files, including the built-in "Compact and Repair" method in Access, but none provided a complete solution. Most of the methods could only recover very little or even no data from the corrupt database. Realizing the magnitude of the problem, PepsiCo decided to seek an external solution that could provide a more reliable and effective recovery.
The Solution: DataNumen Access Repair
In their search for an efficient solution, PepsiCo selected DataNumen Access Repair. Renowned for its advanced technology, DataNumen Access Repair offers a comprehensive repair tool designed to restore maximum content from corrupted MS Access databases. It is also known for its high recovery rate, ease of use, and compatibility with various Access versions.
Below is the order: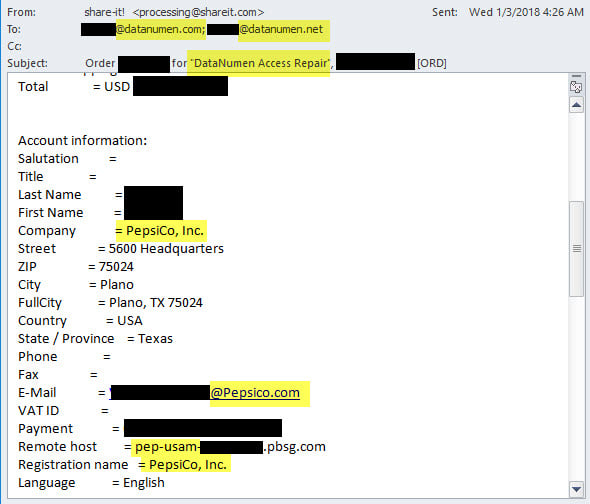 The PepsiCo IT team used DataNumen Access Repair to attempt a full recovery of the corrupted database. The user-friendly interface allowed for easy operations, smoothlining the whole recovery process.
The Result
DataNumen Access Repair successfully recovered the entire corrupted database, including the tables, queries, indexes, and relationships that had previously been inaccessible. The software's high recovery rate ensured no loss of crucial data, allowing PepsiCo to fully restore its operations and regain the capacity for data-driven decision-making.
The team was particularly impressed with the software's efficiency, user-friendly interface, and technical support provided by DataNumen throughout the process. This success has led PepsiCo to integrate DataNumen Access Repair into their IT toolkit for any future database corruption issues.
Conclusion
The experience of PepsiCo demonstrates the capability and reliability of DataNumen Access Repair in handling even the most complex and large-scale data corruption issues. By successfully recovering their crucial operational data, PepsiCo was able to mitigate a significant operational risk and maintain their data integrity, reinforcing their decision-making and operational efficiency.
In a world that increasingly relies on data, having a reliable tool to handle potential data corruption is invaluable. With its high recovery rate and ease of use, DataNumen Access Repair proved to be the solution that PepsiCo needed to maintain their operational continuity and data-driven decision-making process.