Note: If you want to contact this customer to get a reference, please get in touch with us.
Abstract
Moody's, a Fortune 500 company and one of the world's three most prominent rating companies, alongside Standard & Poor's and Fitch Ratings, frequently needs to solve various computer problems in its IT department. With employees worldwide often experiencing issues with email loss due to PST data file corruption in Outlook, the IT department planned a comprehensive test of all Outlook PST file repair tools available on the market. The goal was to select a high-performing product and add it to their internal toolkit. This case study presents the process and outcomes of this project.
Introduction
Moody's operates globally with its IT needs spanning across various regional offices. One consistent challenge was the frequent issue of Outlook PST data file corruption that led to email loss among its employees. The need for a reliable and effective solution was pressing, leading the IT department to embark on an extensive evaluation of the available Outlook PST file repair tools.
Selection Process
In July 2010, after identifying potential solutions, Moody's IT department reached out to several software companies, including DataNumen, requesting the full version of their software for a comprehensive evaluation. DataNumen agreed and provided a fully-authorized version of their product, DataNumen Outlook Repair, formerly called Advanced Outlook Repair(AOR), to Moody's IT department for assessment.
Evaluation
Over three months, Moody's IT centers in New York, London, Tokyo, and Hong Kong carried out a rigorous and comprehensive testing process involving dozens of PST repair tools on the market. The evaluation process took into account recovery rates, stability, and the breadth of functionality.
Below is an email sent from the manager of Moody's global IT support department during the evaluation process: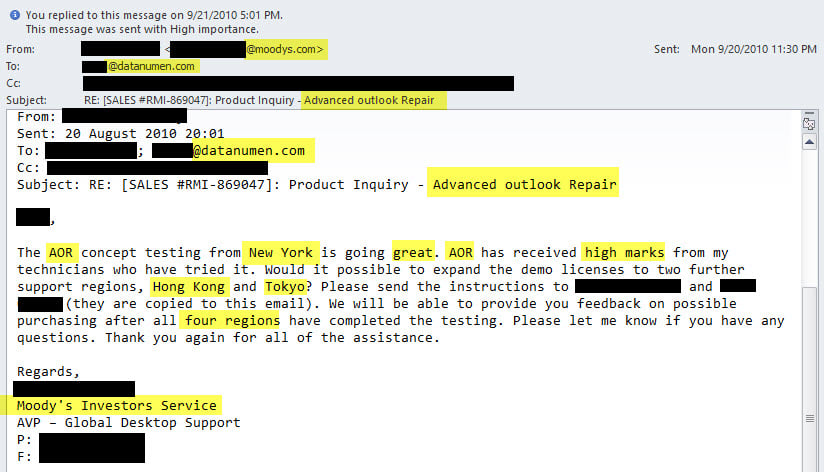 Outcome
Upon the conclusion of the assessment, the IT department found that DataNumen Outlook Repair outperformed other products in all tested areas. It provided the highest recovery rates, demonstrated stability, and offered a rich set of features. As a result, Moody's chose DataNumen Outlook Repair for their toolkit and procured it for their global operation.
Below is an email sent from the manager regarding the order: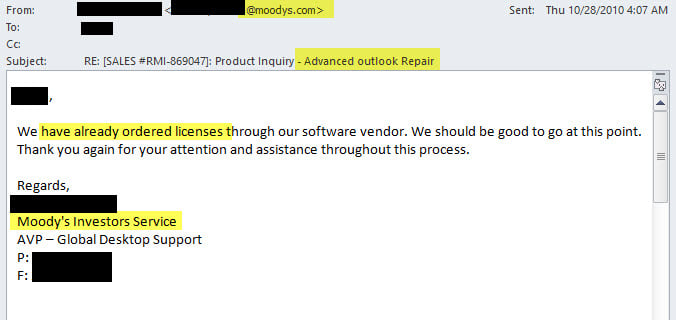 Conclusion
By responding to recurring IT challenges with a methodical evaluation and procurement process, Moody's was able to secure an effective solution to a common issue affecting its global operations. The introduction of DataNumen Outlook Repair has marked an improvement in handling PST data file corruption and has reduced the incidence of email loss, thus enhancing the efficiency and reliability of Moody's IT infrastructure.