Introduction
Merck & Co., a Fortune Global 500 and leading pharmaceutical company, relies on vast data pools to drive its research, development, and sales operations. In an era where data-driven decisions play a crucial role in pharmaceutical breakthroughs, it is imperative for Merck to ensure the integrity, availability, and recoverability of its SQL Server databases.
However, databases can face corruption or failure, often resulting in significant downtime, potential financial repercussions, and data loss. This is where DataNumen SQL Recovery comes into play. Let's explore how DataNumen SQL Recovery empowered Merck & Co. to quickly and efficiently recover vital SQL Server database data.
Challenge
Merck's extensive SQL Server database infrastructure contained years of research data, clinical trial results, patient records, and various other essential data sets. In 2017 March, one of the primary databases supporting Merck's R&D division suffered a sudden and unexplained corruption, making vast amounts of data inaccessible.
The internal IT team at Merck, despite their best efforts, struggled to retrieve the data. Their existing backup system had a gap of two weeks, and reverting to it would have meant significant data loss. The clock was ticking, as any prolonged downtime would disrupt ongoing research and delay projects, costing Merck both time and money.
Solution
Merck's IT department, recognizing the severity of the situation, sought external expertise and came across DataNumen SQL Recovery. Its industry-leading recovery rates, user-friendly interface, and positive client testimonials made it a compelling choice.
Below is the order: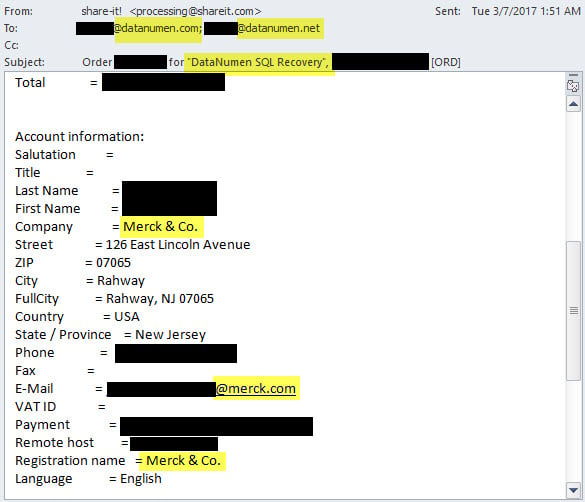 Here's a step-by-step breakdown of how DataNumen SQL Recovery was utilized:
Recovery: With a straightforward interface, the team began the recovery process. The tool automatically rectified the database's structural issues, ensuring data integrity was maintained.
Restoration: After analyzing the corrupt database, the tool proceeded to restore the data to a new database, ensuring that the original corrupted data remained untouched for further investigation.
Validation: Post-recovery, Merck's data scientists and researchers verified the data. They were pleasantly surprised to find that over 98% of their lost data was recovered, including some datasets they deemed irreplaceable.
Outcome
Merck's database was restored in less than 48 hours, minimizing disruptions to its R&D division. The swift recovery allowed the team to get back on track with minimal delay, ensuring that ongoing projects could resume without significant hindrance.
Benefits & Takeaways
Business Continuity: The rapid recovery ensured that Merck could continue its business operations with minimal interruption. The potential loss from two weeks of data was mitigated, saving significant resources and funds.
Data Integrity: DataNumen SQL Recovery not only retrieved the data but also ensured its integrity, vital for a pharmaceutical company where accuracy is paramount.
Efficiency: The easy-to-use interface and comprehensive features of the tool reduced the time spent on recovery, enabling Merck's IT team to focus on preventing future issues.
Peace of Mind: Knowing that a solution like DataNumen SQL Recovery exists provides Merck with an added layer of security against database corruption.
Conclusion
In the digital age, data is the lifeline of any organization. For Merck & Co., this lifeline is not just about business but has implications on global health. DataNumen SQL Recovery proved invaluable to Merck, highlighting the tool's potential in the face of SQL Server database crises. With the right tools at hand, companies can navigate unforeseen challenges more effectively, ensuring that their vital data remains safe and accessible.