Note: If you want to contact this customer to get a reference, please get in touch with us.
Introduction
IBM, a Fortune 500 international conglomerate and one of the leaders in the technology industry, handles a considerable amount of sensitive and critical data daily. These data, often stored in MS Word documents, are vital for various operations ranging from internal communications, technical reports, and project plans, to high-value client proposals. However, due to unforeseen circumstances like sudden system crashes, hardware failures, or virus attacks, these critical documents often face the risk of corruption, thereby threatening the smooth functioning of the operations.
The Challenge
IBM was constantly wrestling with the issue of Word document corruption. With an increasing number of employees facing document corruption issues, the company found itself in a tough spot, spending significant time and resources to recover the data. IBM's in-house tools were not robust enough to handle these problems on a large scale and often failed to fully restore the data.
IBM needed a solution that could not only recover the contents but also preserve the layouts, formatting, lists, and other elements within the documents. The solution also had to be scalable to handle the sheer volume of documents at IBM, providing consistent performance irrespective of the file size.
The Solution
After researching and testing various recovery tools, IBM decided to deploy DataNumen Word Repair, formerly called Advanced Word Repair, as its main Word document recovery solution. The tool's promise to deliver superior performance in Word file recovery, coupled with the ability to preserve the original file's layouts and formatting, was the main deciding factor.
Below is IBM's order(www.repairfile.com and www.word-repair.com are our old websites, which will redirect to www.datanumen.com website now):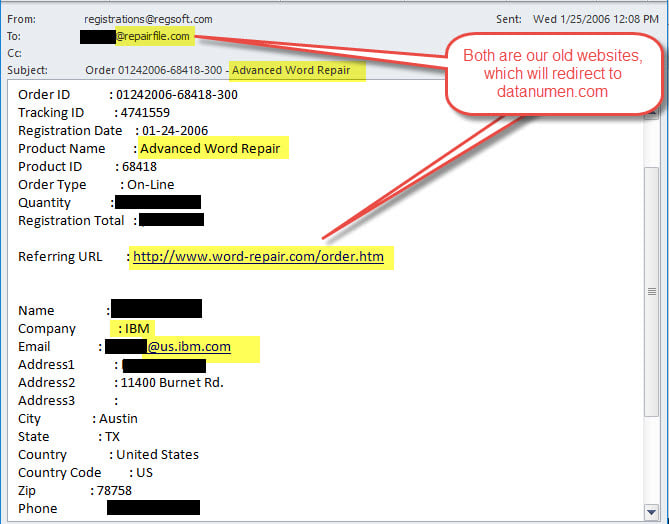 DataNumen Word Repair integrates cutting-edge recovery algorithms that enable it to repair even the most severely damaged Word documents. It supports all versions of Word and can restore all of the available data, ensuring minimum loss of information. It also provides a scalable solution that can handle any number of Word documents in bulk.
Implementation
The implementation of DataNumen Word Repair at IBM was seamless. As the tool is designed with user-friendliness in mind, it required minimal training for IBM's staff. IBM also worked with DataNumen's support team, who provided prompt assistance during the implementation process, ensuring a smooth transition from the old recovery system.
The Results
Upon deploying DataNumen Word Repair, IBM immediately began to notice significant improvements. The tool managed to recover data from Word documents with a high success rate, outperforming the previous in-house recovery solutions. Additionally, the tool preserved the layouts, images, tables, and other details within the documents, a feature that was greatly appreciated by IBM.
IBM was also able to realize considerable cost savings. With DataNumen Word Repair, the recovery process was quicker and more efficient, reducing the man-hours previously devoted to data recovery. Moreover, the scalability of the tool allowed IBM to handle any volume of Word documents without compromising on the recovery quality.
IBM's confidence in its data integrity increased substantially. It no longer had to worry about data loss due to Word document corruption, leading to an overall improvement in its business continuity plans.
Conclusion
IBM's experience with DataNumen Word Repair is a testament to the tool's capabilities. The ease of implementation, coupled with its robust data recovery and preservation features, resulted in significant time and cost savings for IBM. Thanks to DataNumen Word Repair, IBM can now focus on its core operations, secure in the knowledge that its Word documents are well protected from data corruption.