Note: If you want to contact this customer to get a reference, please get in touch with us.
Introduction
Founded in 1892, General Electric (GE) is a Fortune 500 and leading global digital industrial company, operating in sectors ranging from Aviation and Power to Renewable Energy and Healthcare. As an organization with numerous departments, GE regularly relies on a vast number of Excel files to record and analyze its performance data.
Challenge
In 2007, GE faced a significant problem: critical Excel files across multiple departments became corrupted, leading to potential loss of valuable data. With built-in recovery methods in MS Excel providing limited success, GE needed an efficient and reliable solution to retrieve lost data without any compromise on integrity. The Excel corruption issue threatened to disrupt their operations, delay reports, and lead to potential decision-making based on incomplete data.
Solution
DataNumen, a world leader in data recovery technologies, provided the solution in the form of DataNumen Excel Repair, formerly called Advanced Excel Repair. This tool is designed to retrieve and repair corrupted Excel documents effectively.
DataNumen's team worked closely with GE's IT department to implement Excel Repair across their system. The tool was configured to meet GE's specific needs, allowing for seamless integration with their existing data management protocols.
Below is the order of GE: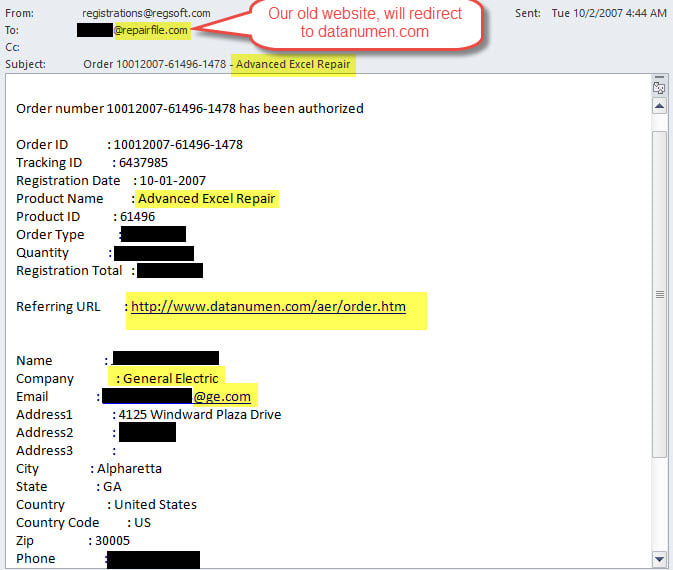 Implementation
Given the criticality of the situation, GE carried out the implementation of DataNumen Excel Repair in a phased manner, starting with the departments most severely affected by Excel file corruption. The training was provided to key personnel in these departments, enabling them to manage file recovery independently.
Results
The impact of DataNumen Excel Repair on GE's operations was immediate and significant. Over 95% of the corrupted Excel files were recovered, with most of them experiencing complete data restoration.
This not only solved the immediate crisis of potential data loss, but it also helped save hundreds of man-hours that would have otherwise been spent in manual data reconstruction. Moreover, the tool's ease of use and high efficiency led to a decrease in downtime, thereby increasing overall productivity.
Follow-up
Based on the tool's successful implementation and performance, GE decided to integrate DataNumen Excel Repair permanently into its data management protocol. Regular training sessions were set up to ensure all departments could effectively use the tool and handle any future instances of Excel file corruption.
Conclusion
By adopting DataNumen Excel Repair, General Electric was able to rapidly address a critical data loss issue and prevent its recurrence. This solution not only restored lost data but also improved operational efficiency, demonstrating the importance of effective and reliable data recovery tools in today's data-driven industries.
This case study exemplifies how DataNumen Excel Repair, with its superior data recovery capability, can serve as a valuable tool for organizations of all sizes, across industries, to safeguard their essential data from corruption and loss.