Note: If you want to contact this customer to get a reference, please get in touch with us.
Clearwell Systems, the largest e-discovery company in the United States, has been renowned for its state-of-the-art Clearwell E-Discovery Platform. However, a challenge they frequently encountered was dealing with OST files. These files are generated by Outlook and contain the offline data of the mailboxes, including emails, contacts, and all other objects. When a server crashes, these files can no longer be opened and read directly through Outlook, posing significant obstacles in the electronic discovery of emails and other objects.
Since January 2010, to enhance its platform's capabilities, Clearwell Systems began to seek a product that could seamlessly integrate into its platform and automate the conversion of OST files into PST files. Unlike OST files, PST files can be opened and read in Outlook even in the absence of a server.
As a part of the solution-seeking process, Clearwell Systems extensively evaluated various similar products on the market. Their search led them to consider the software development kit (SDK) offered by DataNumen as a potential candidate. Below is the evaluation request from Clearwell systems: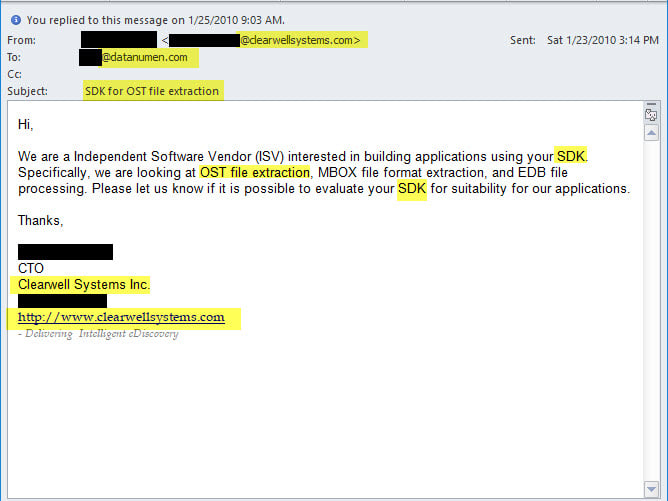 After a prolonged period of communication and systematic testing, they decided to integrate the DataNumen Exchange Recovery Commandline Tool, formerly called Advanced Exchange Recovery Commandline Tool, part of the SDK, into their platform. Below is the email regarding the detailed terms: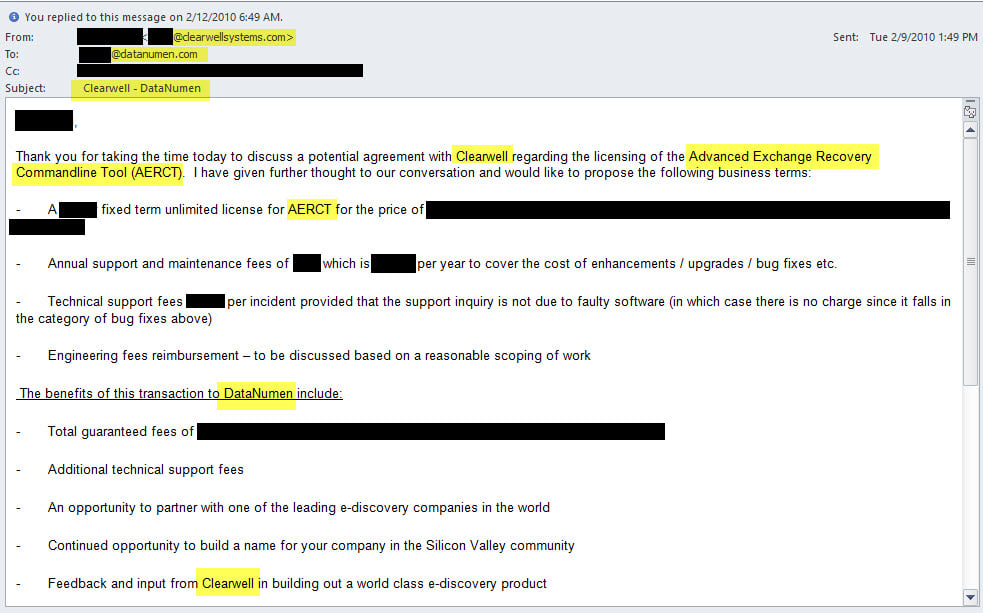 This case study serves as an example of how Clearwell Systems successfully addressed a recurring issue in their electronic discovery process by integrating a suitable third-party SDK from DataNumen, improving the functionality of their platform, and further solidifying their status as a leading e-discovery company.