Introduction
Bridgestone, a Fortune Global 500 and global leader in tire manufacturing and other diversified products, constantly deals with high volumes of data shared across multiple departments and external vendors. This data often includes intricate design files, client databases, and proprietary algorithms, usually compressed into zip files to make sharing more efficient. However, they encountered a severe obstacle when they discovered critical zip files had become corrupted, jeopardizing both workflow and delivery timelines. To resolve this critical issue, Bridgestone chose DataNumen Zip Repair as their go-to solution.
The Challenge
In January 2006, Bridgestone's R&D team was deep into the development phase of an eco-friendly tire model expected to revolutionize the industry. The project involved inter-departmental collaboration, with large zip files regularly being exchanged. During this crucial period, a zip file containing essential design schematics, patent drafts, and material testing results became corrupted. Early attempts to recover the file using generic software such as WinZip and WinRAR failed, amplifying the team's anxiety as the project deadline loomed closer.
Initial Triage
The immediate focus was to understand the scale and scope of the corruption. The company's in-house IT department spent hours using traditional methods to salvage the corrupted data but was unsuccessful. It became clear that a specialized solution was required to tackle this specific problem. They needed software that was both quick and reliable to prevent any further delays in the already tight project timeline.
Solution Selection
After conducting a comprehensive review of available options, DataNumen Zip Repair was selected for its high recovery rates and ability to deal with very large zip files. The software's reputation for speed and efficiency was another deciding factor.
Below is the order(Advanced Zip Repair is the old name of DataNumen Zip Repair):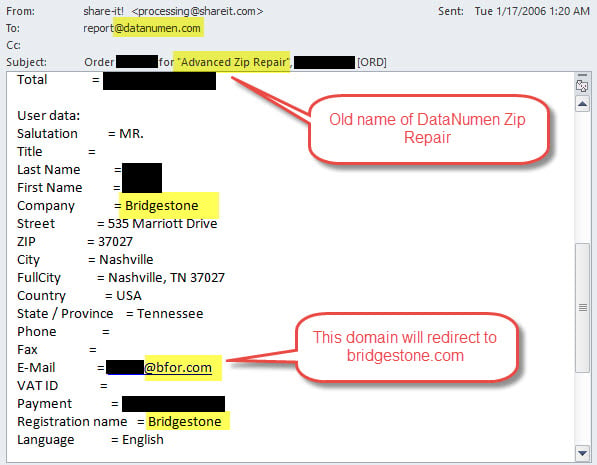 Following internal protocols, the IT department downloaded and installed the software to test its effectiveness on less critical files before trusting it with the corrupted zip file.
Implementation and Results
Once the IT team was confident about the software's capabilities, they employed DataNumen Zip Repair on the corrupted zip file. Within minutes, a notification indicated that the repair was successful. All the critical files were recovered in their original format with zero data loss, a significant win for both the IT department and the project team. The software also generated a log report detailing the repair process, offering insights into what had been recovered in the first place.
Long-term Implications
Thrilled by the immediate results, Bridgestone decided to purchase an enterprise license for DataNumen Zip Repair, integrating it into their IT troubleshooting toolkit. This strategic decision has since paid off. Subsequent instances of file corruption have been swiftly dealt with, saving the company both time and resources. With DataNumen Zip Repair, Bridgestone has not only found a solution to an immediate problem but has also significantly mitigated the risks associated with future data corruption issues.
Financial Impact
The financial implications of adopting DataNumen Zip Repair were overwhelmingly positive. The one-time investment in the software eliminated the need for emergency IT consultations, which could have been significantly costlier. More importantly, by avoiding project delays, Bridgestone was able to bring their new eco-friendly tire model to market as planned, securing a significant competitive advantage.
Conclusion
In a world where data is a valuable asset, its integrity and security are paramount. Bridgestone's partnership with DataNumen Zip Repair showcases how proactive measures in data management can not only solve immediate crises but also provide long-term benefits. By incorporating DataNumen Zip Repair into their data management protocols, Bridgestone has significantly reduced the risks and potential costs associated with data corruption. This has enabled them to focus on their core competencies, safe in the knowledge that their data is well-protected.