There are lots of data recovery tools for MS Excel in the market. DataNumen Excel Repair is one of these tools and it is daunted as the best in its class.  This article examines key features of this application that differentiates it from its competitors.
Key Features of DataNumen Excel Repair
Has a data recovery rate of 78.73%
Works well with all Windows operating systems
Recovers all versions of Excel file formats including Office 365
Recovers data at the cell level, including formulas and formatting
Blends seamlessly with Windows Explorer
Supports the recovery of multiple files
Discounted pricing model
What this means to the user
On comparing the performance of the top 12 Excel recovery tools, DataNumen Excel Repair scores the highest in terms of recovery rate. This shows that the software recovers more data than any other competitor tool.
The fact that the application can run on all versions of Windows operating systems and recover all Excel file formats, it means that you don't need a special version for every operating system. This is a great way for data recovery professionals to save on costs, especially for companies that have lots of workers.
Excel is best known for data analysis. Computational formulas are some key features associated with the program. If these formulas get corrupted, data may not be presented in the intended format. However, with the DataNumen Excel Repair tool, formulas that connect spreadsheets can be recovered and workbooks restored to their original form.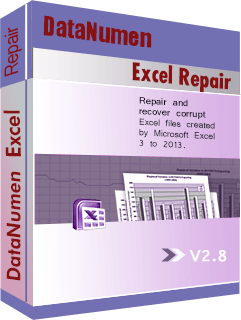 It is still possible to recover the formatting of cells and the texts in them. This retains the visual elements of data on spreadsheets. This is a big relief to users as preparing some Excel documents such as dashboards can be a painstaking affair. Thus recovery of a document in its formatting is a welcomed time saver.
Since this data recovery tool integrates well with Windows Explorer, it means that it supports most operations you can perform on a Windows system. These include shortcuts when searching for files, right-clicking menu, and dragging & dropping of files. In short, if you are conversant with Windows Explorer right-click, you can improve your productivity when using this tool. Also, there is no learning curve associated with this application for MS Windows users. Its design doesn't introduce any new concept and thus it's easy to use.
Batch processing in data recovery is a great way to improve efficiency and reduce the time taken to recover Excel data. This software can achieve this through its batch repair option. For data recovery experts, this translates to quick turnaround time for clients and consequently a better reputation in the industry. This is a great way to win over clients.
The pricing of the software features a discounted model. This means that commercial clients who purchase more licenses pay for less per license. While a single license goes for $89.95, clients who buy 500 or more licenses pay $11.95 for each. It is a win-win situation in that while the consumers save on cost, the company gains on economies of scale.