This post is a quick guide for recovering damaged RAR files and gives useful tips for anyone salvaging personal or business data.
WinRAR is one of the popular data compression software in the world. Compressed files allow users to archive more data than they would ordinarily do. It is also easy to share files through emails and other media since they are smaller. When these compressed files or the media they are stored in are corrupted, data loss is highly probable. To avert this risk, you need to salvage your files. Here's how:
1. Use the WinRAR File Repair Tool
The WinRAR archival software comes with an inbuilt file repair tool that allows users to recover corrupt RAR files. To use this utility, download and install the WinRAR application. When you launch the application, browse your computer to locate the file you want to repair.
Select the file by clicking it, then click the 'Repair' button on the address bar. A dialog box appears, prompting you to choose the location where you want to save your output files. It also allows you to save the corrupt files as Zip or RAR. Once you select your options, click ok. Now the application processes your requests and alerts you when the recovery is complete.
You can also access the repair utility by right-clicking on your target file and selecting the 'Repair archive' option. Unfortunately, this process does not guarantee the recovery of your files. While the archived documents may be recovered, the actual data may still be corrupt, thus rendering it useless. Another shortcoming with this procedure is that it may not work well with large files.
2.     Use the DataNumen RAR Repair Tool
If the WinRAR repair utility doesn't work for you, try the DataNumen RAR Repair tool. This is the leading data recovery and repair tool in its class. It is available for free for individual use. However, if you are using it for business, you can buy user licenses at pocket-friendly prices.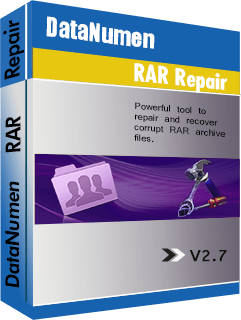 The tool is available on the company website. It features a simple design that is easy to use even for first-time users. To use this tool, download and install it on your computer. When you launch the software, enter your license details to activate it. Make sure that the target file is not in use by any other application. You could do so by closing any software that can open it such as WinRAR and WinZip.
Select the file you wish to repair and enter the name of the output files as well as the destination folder. Click the 'Start Repair' button to recover your archive files. As the software scans and repairs your file, you will see the completion status on the progress bar. This helps you to know when the repair process is completed. The beauty of using this tool is that has a high recovery rate of 91.33% and supports the recovery of large files. It also allows you to recover multiple files at a go through its batch repair function. This way, you can work on large projects with ease. These are features you won't get with the WinRAR repair utility.