A logical hard drive failure prevents you from accessing your files and folders. To ensure that the data loss caused by a logical hard drive failure doesn't become permanent, it is important to have data recovery programs and backup programs installed.
There are two types of hard drive crashes, physical hard drive failure and logical hard drive failures.
A physical hard drive failure occurs when your hard drive is damaged and your system cannot boot up. This is a mechanical issue. Meanwhile, a logical hard drive failure occurs when your system can't access stored information because of a non-mechanical issue.
The most common causes for logical hard drive failure are OS or software corruption, human error and viruses or malware
How can I prevent logical hard drive failure?
1. Be more careful
The two most common human errors that lead to data loss are accidental deleting of files and accidental reformatting of drive.
Luckily, data that was accidentally deleted can be retrieved if we act swiftly. When a file is erased, the sector of your hard drive where it was previously stored remains "empty" for a time. If, however, you continue working, the sector might end up filled with new data.
The same goes if you accidently reformat your drive or disk, as long as no new information or data is inputted and stored, your data should still be retrievable.
If you suspect that you have accidently deleted a file or reformatted a drive, it's best to run a data recovery program as soon as possible, You should have DataNumen Data Recovery installed to recover any lost of deleted files before they become overwritten.
2. Guard against viruses and malware
Be knowledgeable on the viruses and malware that are going around and how to avoid them. Also, it's best to have virus protection software installed on your computer and keep it up-to-date.
3. Install software properly
If you are updating a program or your OS and they get corrupted, they might not run and the data you previously stored using those programs might become inaccessible.
If the download and installation of a program was interrupted for some reason, maybe a power outage or if your internet connection went down, the end result could be a corrupted file. So it will not install properly.
If you suspect this is the problem, try reinstalling the program.
How can I protect my data in case of a logical hard drive failure?
1. Have data recovery software installed
In most cases, files "lost" due to a logical hard drive failure can be retrieved – as long as the files don't get overwritten. Having a data recovery program installed and running it as soon as "lost files" are detected, there is a good chance that you can retrieve the lost files.
You can install general date recovery software or something that recovers files from specific programs. For example, if you use Microsoft Word a lot, DataNumen Word Repair is a good option.
2. Regularly backup your hard drive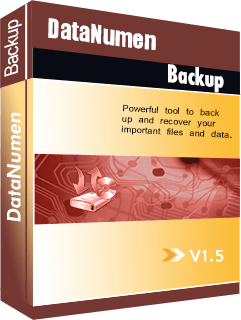 Creating a backup of your important files and folders ensures that you can still access your data, even if your original hard drive is having problems. Install DataNumen Backup on your computer and set a scheduled time for it to create regular backups of you important files.