When you try to use Scanpst to scan and fix your PST file, you can receive the error message – "Fatal Error: 80040818". This article will rescue you from this annoying error and bring an intact PST file back to you.
If you've used Outlook for a long time, you must be familiar with ScanPST, which is totally a part of MS Outlook. Every time you come across any errors in Outlook, the first resort may be this tool. However, in most situations, it cannot bring out any effects, and even throws out another vexing error, such as "Fatal Error: 80040818". Now read on to learn its causes and according solutions.
Reason for Fatal Error in ScanPST
From the perspective of the PST files which are generated in Outlook 2002 and previous versions, they are in an old format – ANSI format. Besides, it also has a maximum size limit, namely 2 GB. In contrast, the PST files that are created in Outlook 2003 and newer versions are in Unicode format. In this format, PST files don't have the 2 GB size limit any more, but 20 GB.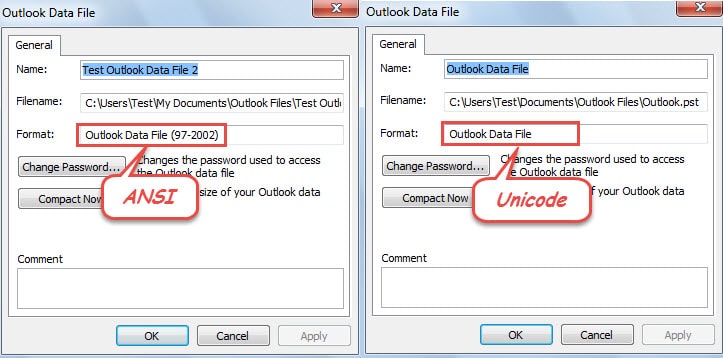 Therefore, when the PST file in ANSI format has reached 1.8 GB size or so, the file will be inclined to get corrupted. Under this circumstance, if you attempt to use ScanPST to repair the file, ScanPST will definitely fail with throwing out an error – "Fatal Error: 80040818".
Solutions to This Error
1. Reduce the PST File Size
Now that it is because the PST file reaches 2 GB size limit that ScanPST fails, the first method is to reduce the PST file size. You can delete those useless items in this file, such as old emails, expired appointments. Also, saving attachments to local disk and removing them from Outlook is a good way. In a nutshell, you should leave no stone unturned to reduce the file size.
2. Convert the PST File from ANSI Format to Unicode Format
Virtually reducing the PST file size is not a permanent solution for the future. The best bet to protect your Outlook data is to convert the file from ANSI to Unicode. You can do this job through the following 2 means.
Accomplish within Outlook
You can open the PST file in ANSI format on the computer installed with the newer version of Outlook. Then create a new PST file in Unicode format. Next drag and drop the items from the PST file in ANSI format to the newly created PST file in Unicode. Henceforth, you could abandon the old PST file and try to use ScanPST to repair the file again.
Achieve via a Versatile Third Party Tool
The above mentioned method is totally free, but it demands you to constantly repeat dragging & dropping. Obviously, it will occupy a majority of your time. If you are averse to taking the repetitive operations, the best choice for you is to resort to a third party tool – DataNumen Outlook Repair. It can convert the PST file from ANSI format to Unicode format just like a breeze. Besides, in the process of converting, it can repair the file as well, such that you don't need ScanPST any longer.
Author Introduction:
Shirley Zhang is a data recovery expert in DataNumen, Inc., which is the world leader in data recovery technologies, including sql recovery and outlook repair software products. For more information visit www.datanumen.com