Occasionally while trying to send or receive emails in Outlook you may encounter a "Not implemented" error message. Here, we offer you nine effective ways to fix the issue.
Given the predominance of the Outlook email client in the business ecosystem, more and more people are warming up to using this fabulous product in their offices and even for personal work. From the standpoint of a business user, the Outlook application is far more than an email tool. It literally can serve as his primary source of maintaining business contacts, planning his itinerary to tracking his tasks.  Yet for all the good things that Outlook can boast of, it does come with uncanny issues of throwing up inane error messages. One such message that you may encounter while sending or receiving emails is the "Not implemented" error message. Let's go through this issue in detail.
Reasons for "Not implemented" Error
The "Not implemented" error message can typically be attributed to a few key causes ranging from conflicting add-ins to SRS file settings getting compromised. However, at the same time, the issue can also occur if the underlying PST file has got botched up due to a power outage, resource conflict, or even a malware attack. Now if you are looking to rectify the situation, just try out the 9 methods listed below.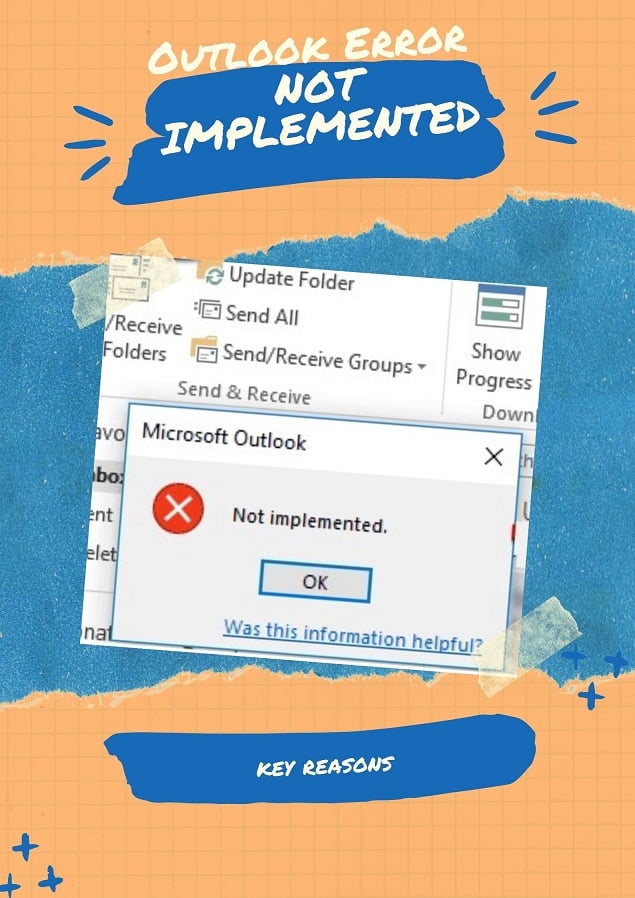 #1. Reset SRS File Settings
The MS Outlook application utilizes an SRS file to store your personal settings related to sending and receiving emails in Outlook. If this file gets messed up, you are quite likely to come across the "Not Implemented" error in MS Outlook. Hence we suggest you reset the SRS file settings by following the steps showcased below.
Use the File Explorer in Windows to head to the following location in your system
C:\Users\%username%\AppData\Roaming\Microsoft\Outlook\
Next, select Outlook.SRS file and rename it to something like Outlook1.SRS.1
Next restart Outlook and this will lead to the creation of a new SRS file. Try sending or receiving email and check whether the issue gets resolved
#2. Disable Any Conflicting Add-Ins
Many of us utilize several Outlook add-ins to extend the functionality of our favorite email client. Yet at times, any of the add-ins that you may be using can cause a conflict with the Outlook software. To identify and disable such add-ins, try out the listed below. 
From your desktop screen, move to the Windows Search Bar or the Run Box
Just type in cmd and then simply hit Enter which will pull up the command prompt
Thereafter in the Command Prompt interface just type in outlook.exe/safe and then again press Enter to bring up the application in safe mode.
Now simply disable the Add-in you possibly suspect might be the culprit and restart Outlook in normal mode. You may have to repeat the process a few times till you can positively identify the faulty add-in.
You can also get more detailed information from the Microsoft support page.
#3. Turn Off Antivirus Tool
In peculiar cases the antivirus program present on your system may possibly conflict with the Outlook program, leading to the "Not implemented" error cropping up on you. To isolate this rare possibility, turn off the antivirus application and try to use Outlook in a normal fashion.
#4. Create a New Outlook Profile
A corrupted Outlook profile can also cause the "Not implemented" error to show up. Hence you can try creating a new Outlook profile by trying out the steps listed below.
From the Windows home screen, just go to the Run Box, and simply type in Control Panel
Thereafter, open the Control Panel App
Once there, just find the Search Box that is shown in the top right section of the Control Panel screen, and key in Mail
When you get to see the Mail, click on it.
Further, in the next Mail Setup – Outlook screen, hit on Show Profiles
Now, simply click on Add and just go through the provided instructions to quickly build a New Profile and then place your existing Mail account in its span.
 #5. Repairing MS Office Software Package
Occasionally the MS Office software package itself can get compromised. Hence it is advisable that you try to repair the MS Office package and on the Microsoft Support site, you will find detailed instructions for performing the same.
#6. Repair PST File
If even after repairing the MS Office Software package, the problem still persists, then there is a huge possibility that you are dealing with a corrupted PST file. To resolve the issue, you should use a powerful recovery software like DataNumen Outlook Repair. This class-leading application can extract all contents present in the corrupt file in quick time and is even capable of dealing with humongous PST data files.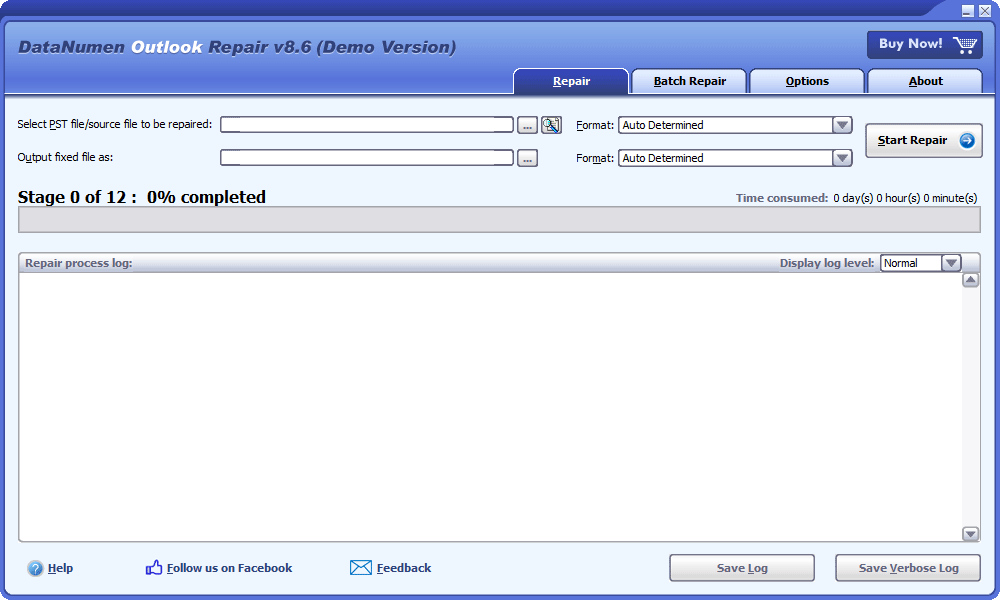 #7. Use the Inbox Repair Tool
MS Outlook has for long been plagued with frequent incidents of application crashes and corrupted data files. Hence, Microsoft Office packs in a tool called Inbox Repair Tool to help you repair any corrupted PST file. Locating the tool may be a bit tricky and hence you should visit Microsoft's Support Site to figure out the exact location of the tool. Once you go the tool at hand, just load the corrupted file and try to perform a recovery.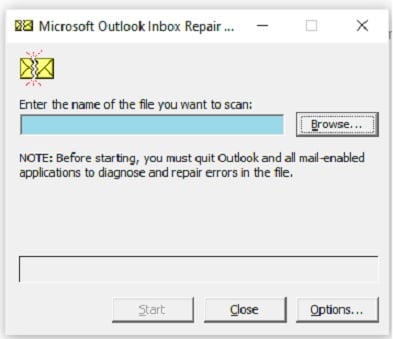 #8. Use System Restore in Windows
The Windows OS packs in a powerful System Restore feature which allows you to turn back the clock in your system to a specific date where the Outlook application was performing in perfect order. This feature is especially useful in handling intricate software conflicts, changes in program settings that are difficult to diagnose. Once you run the utility and revert the system to an appropriate restore point, try using Outlook as normal.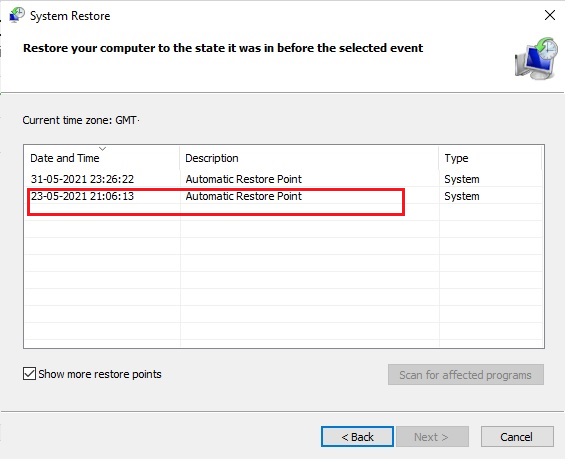 #9. Utilize a Backup of the PST File
In the odd scenario where all the above steps have failed to resolve the issue, you would be best served by using a previously stored copy of the PST file. All you need to do is to find the path of the current PST file and replace it with the previous backup copy by following the steps listed below.
Open the Outlook program and simply click on the File tab
Next reach to the Info tab then head to Account Settings and then again click on Account Settings from the showcased choices
Further, just go to the Data Files screen tab and then find out the location of the PST data file that you are currently using. Once you have accessed it, just replace it with the backed-up copy and simply restart Outlook
Final Thoughts
For some of us, using Outlook has become an integral part of our daily life. In fact, some of us have used this sophisticated tool for decades. It's quite normal for a regular Outlook user to come across bewildering error messages and one should be prepared for such eventualities. It's advisable to keep an avant-garde PST repair tool like DataNumen Outlook Repair handy to swiftly deal with such contingencies.