While trying to import a PST file you may encounter an error that mentions the error code 0x80004001. Go through this article where we offer 8 solutions to resolve this issue.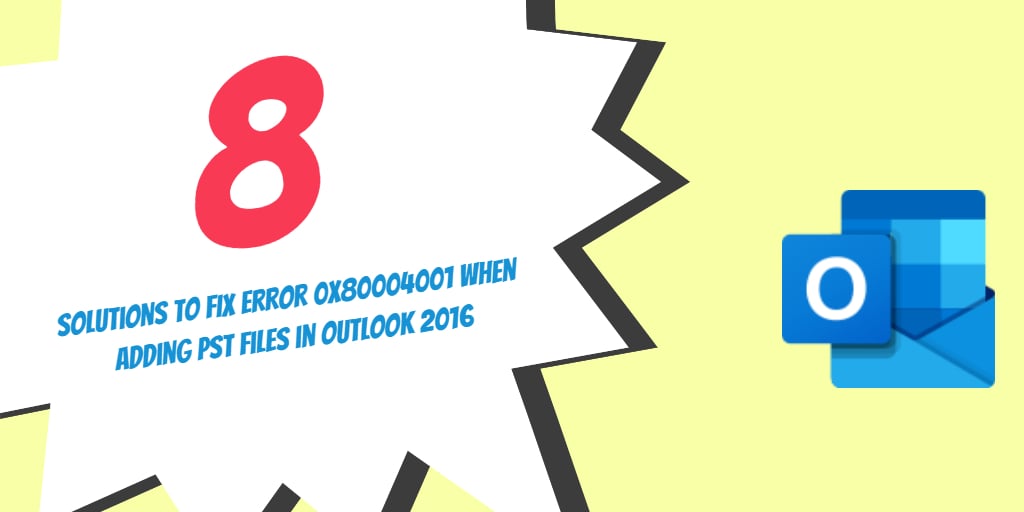 The MS Outlook application is today used by businesses of all sizes across the world. With millions of users across the globe, the application forms the backbone of business communication for numerous organizations. Over the years, it has added a whole array of features and is, without doubt, the best desktop mailing client in vogue today. An average office user can use Outlook to plan his meetings, directly connect with Teams to launch calls, and even use add-ins to use the application as a customer relationship management tool. The application allows you to segment your emails as per your choice, filter junk emails, and derive productivity by using rules. Yet for all its laurels, it does have some significant chinks in its armor.
While large enterprises continue to use Outlook, typically on an Exchange backend, small businesses and professionals tend to run it in isolation on their personal systems. Now when you are simply running Outlook on your system, all the data is stored in a PST file. Just in case, you wish to access the Outlook data present in a different machine, say an older PC that contains email data from the past, you would like to import it into your Outlook application. However, while attempting to import an Outlook PST file in Outlook 2016 iteration, you may encounter an unknown error that mentions the error 0x80004001.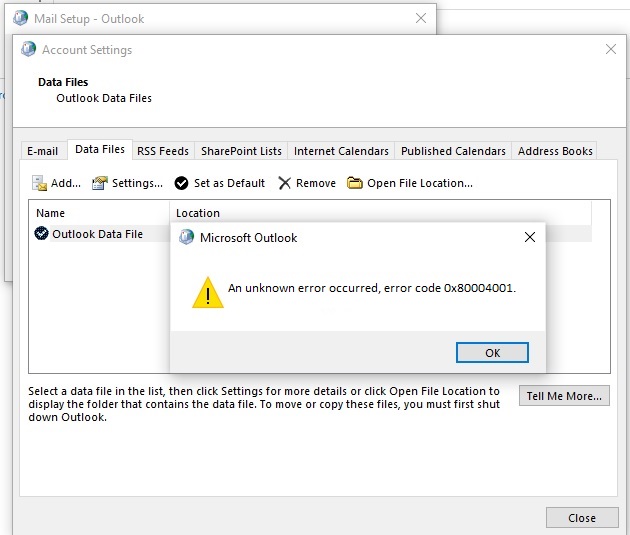 Possible Causes Behind Outlook Error 0x80004001 and its Consequences
A host of reasons can be attributed to the error 0x80004001 showing up while you are attempting to add a PST file.  To start with the file itself may have got messed up or have got affected by a virus or malware. Incorrect settings, especially related to the 2016 iteration of Outlook can be a key cause. That apart, this error is also known to be caused by even missing DLL files too in some cases.
The inability to add new PST files can have serious consequences for small business users. Many small businesses lack proper backup policies and often lot of data is stored in Outlook emails. While migrating between the systems or attempting to get Outlook data from a different system, it simply becomes imperative to add PST files to the machine you might be working on.
To resolve the issue, we suggest you try out the eight solutions we have listed below
#1. Check if the PST File is Stored on a Network
At times if you attempt to import a PST file present on a network drive this issue is known to occur. In such cases, you should first copy the file you wish to import onto a local drive of your system and then try to import it in Outlook. To determine whether the PST file is stored in a network drive, you need to first find out where they are located using the steps below:
Open MS Outlook and head to the File tab
Next under the Info tab and head to Account Settings
Choose Account Settings from the available options
Next, move to the Data Files tab and extract the location of the current PST file. If you find that the path name includes a network path, it is quite likely that the file is located on the network.
You can also get more detailed information on how to find the full path of a PST file at Microsoft support document.
Moreover, in Windows, it is possible to map a network drive to a local drive letter. So after getting the path of the PST file, even if it seems the file is stored on a local drive, you should still check whether the local drive is actually mapped to a network drive. You can use the net use command to list all the mapped network drives on your system: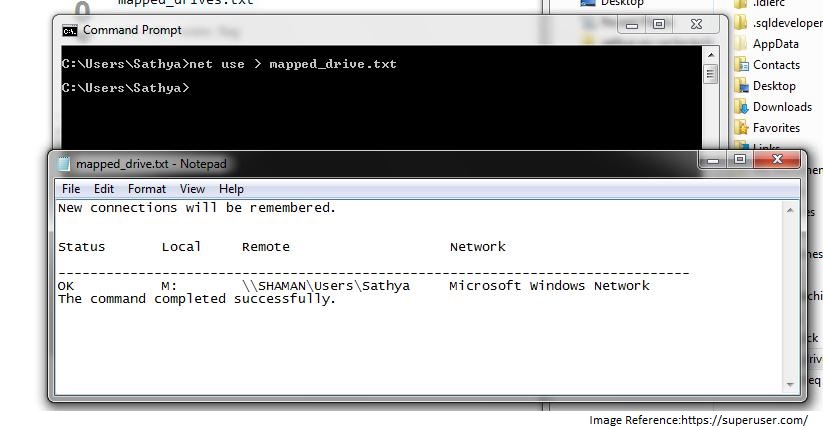 #2. Turn Off the Antivirus Application Running on Your System
Antivirus applications can at times interfere with the normal functioning of the Outlook application, especially when you are trying to import a data file, thus cause the Outlook error 0x80004001. Antivirus applications are also known to conflict with mail clients especially if they are designed to scan emails. Hence, it makes sense to turn off your antivirus application and then attempt to import the data file.  We have showcased the steps to turn off two popular antivirus applications for your reference.
Turn Off Avast Free Antivirus
When it comes to antivirus utilities in vogue today, the Avast Free Antivirus is amongst the market leaders. In fact, this application is widely used by home users and small business owners. Now if you are using this popular application, here's how you can turn it off.
Open the Avast Free Antivirus application
Head to the Menu tab and click on Settings from the drop-down options
Now click on the Protection tab and click on Core Shields
In the Core Shields screen, use the toggle bar to turn off Core Shields and then select Stop indefinitely when the application asks you to confirm the decision to turn off the shield.
In the next screen click on OK, Stop to reconfirm your decision to stop the shields.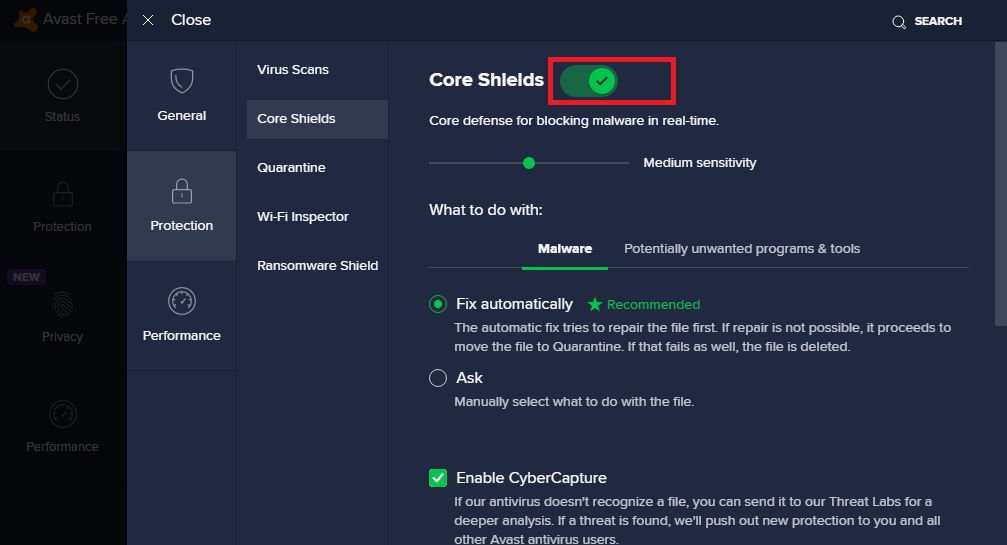 You can also get more information from this article.
Turn Off Norton Antivirus Plus
The Norton Antivirus Plus application is a popular virus protection tool that is used by countless users. There are other Norton products too which are designed to offer extensive virus protection. The process for turning them off is quite similar as showcased below.
On your desktop screen, head to the notification area and then right-click on the Norton Antivirus Plus icon.
From the drop-down options click on both Disable Auto Protect and Disable Firewall options
In the subsequent security request window that shows up, choose a specific duration from the Select the duration option to turn off the application and click Ok to save your preference.
To receive further help with turning off Norton Antivirus products, you can visit Norton's Support Site.
#3. Try Importing the Files in Outlook Safe Mode
At times Outlook extensions can constrain the functioning of Outlook applications. When you launch Outlook in Safe mode, you are essentially only loading essential files related to the application. It is a great way for isolating issues and resolving several problems associated with the Outlook application. To resolve this issue, it is advisable to open Outlook in Safe mode and then try to import the data file. Here's how you can launch Outlook in Safe mode
Open the Windows Search Bar or Run Box
Type in cmd and then press Enter which show up the command prompt
Next in the Command Prompt Window just type outlook.exe/safe and then again press Enter to launch the application in safe mode.
#4. Check the Accuracy of Outlook Account Settings
Sometimes, the incorrect settings in the Outlook account will also cause Outlook error 0x80004001. Therefore, it makes sense to double-check the settings of your Outlook profile and check for any inaccuracies. If required, try reentering the correct details and then attempt to import the data file.
#5. Try Importing the PST File From Outlook 2016 Instead

The Outlook 2016 iteration is often recognized as a popular iteration of the Outlook email client lineup. It had several significant improvements and feature additions over its previous versions. To start with it, it enabled real-time coauthoring while it also introduced one-click document sharing too; with this version, it became easy to share your document with everyone on your contact list.  It also offered a feature called Clutter for Outlook. It essentially allowed to list certain emails as low priority and this essentially meant such emails would go to the clutter folder. It became a great way of separating promotional emails from regular work emails.
One of the best features that Outlook introduced with this version was smart attachments.  Typically when we need to add an attachment to an email, we need to browse through the folders and then select the document. However, if you have recently worked on an Office document, it will thoughtfully show up in the list of shareable documents in your Outlook application. This helps users in saving a great deal of time and effort, especially for those who frequently send out files to their contacts.
Since the Outlook 2016 iteration was so popular, many businesses and even average home users continue to use this version. While it still remains a very formidable application for business communication, it does have one serious flaw as compared to other versions. This relates to adding files through the control panel, which throws up the error 0x80004001.  Hence it is recommended that instead of importing a PST file from the Control Panel, try importing it from within the Outlook 2016 application interface itself by performing the steps listed below
Launch the Outlook 2016 application and head to the File tab
Next under Info go to Account Settings and from the drop-down options choose Account Settings
Now go to the Data Files tab and click on Add
Now choose the PST file you wish to import and click on OK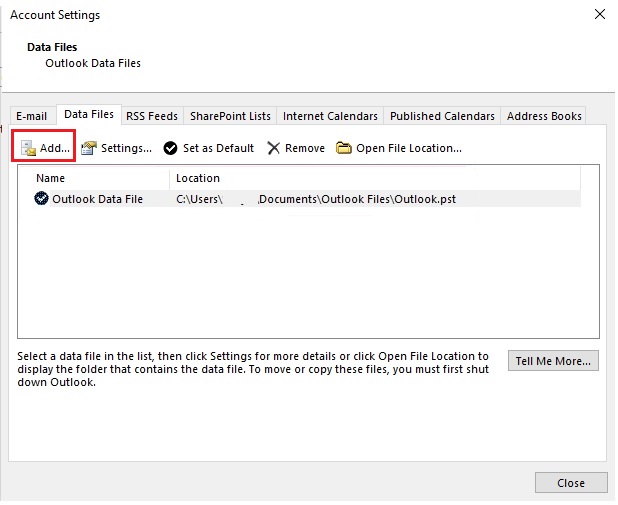 #6.  Take Help of a Sophisticated PST Recovery Software
Often a corrupted PST file can cause Outlook error 0x80004001 to show up while you attempt to import it. To resolve the issue we suggest you try to extract the contents present in the data file which has been compromised with the help of the DataNumen Outlook Repair application. This state-of-the-art tool can dig out the contents from nearly any messed up PST file with aplomb in quick time. Follow the steps listed below to perform a recovery
Launch the DataNumen Outlook Repair application
Use the Select PST File option to add the corrupted PST file and then choose the version of the PST file you wish to repair. In case you are not sure, choose the format as auto determined
Next Click on the Start Repair button to initiate the file recovery process. The application will extract the contents and safely store them in an output file.
#7. Turn Back the Windows System to a Previous State
Some users can encounter a situation where the import attempt still fails to work despite trying out all the steps listed above. In such cases, you need to use the System Restore utility present in the Windows OS to bring back the system to a previous state when the Outlook application was performing without any glitches. To perform a System Restore, try out the steps mentioned below
Visit the Windows Search Bar (also referred to as Run Box) from your desktop screen and key in System Restore
Thereafter open the Recovery Control Panel
Check the choices offered under the Advanced recovery tools and hit on Open System Restore
Next, you need to choose Restore Point when the Outlook application was working without any hassles and roll back the system to that point by going through the onscreen instructions.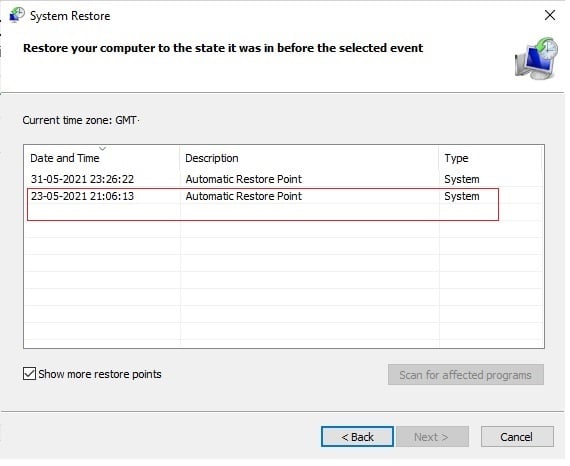 #8. Consider Using a Backed Up Copy of the PST Data File
Many small businesses and even individual Outlook users often keep a backup copy of their PST data files. In many cases, such backup files can prove to be a lifesaver. If you too have a backed-up copy of the specific Outlook data file, try importing the same. The availability of a backup file can help you save a considerable amount of time that would otherwise be spent in trying out other solutions.
Final Thoughts
While we believe that the steps listed above can help you to resolve the Outlook error 0x80004001 you are experiencing while adding PST files, it may make sense to analyze your situation before trying out specific steps. In case, if you suspect that the PST file you are trying to add has got corrupted, it makes sense to directly try recovering your PST data by running the DataNumen Outlook Repair application. As shown in step 6, the process of recovering a PST file through this software is rather easy and the application offers the best rate of success for applications in its class. As opposed to the Inbox Repair tool from Microsoft which often fails to make a complete recovery, this powerful tool is designed to extract every piece of data contained in the PST files. The application is designed to handle a wide array of media types and can recover PST data from optical media, removable USB drives and network drives too. It can even deal with large PST files with equal ease and can handle Outlook files from all iterations including Outlook 2016 edition.