At times while attempting to send or receive emails in Outlook you may come across the Outlook Error 0x80004005. In this article, we would offer you 7 useful ways to resolve this error in a quick time.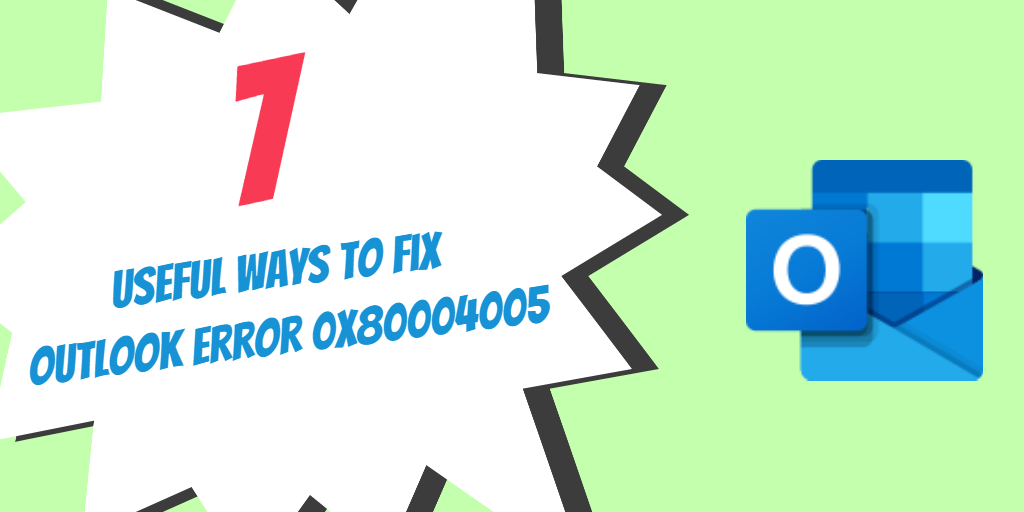 When it comes to desktop-based email clients, the MS Outlook application has an enviable reputation. It continues to be used by enterprises across the world that rely on its rich feature set for communication and collaboration. At the same time, average home users and small business owners also rely on this fantastic tool for managing their emails. However, the Outlook application is far from perfect and it can occasionally throw up inane error messages like the Outlook error 0x80004005.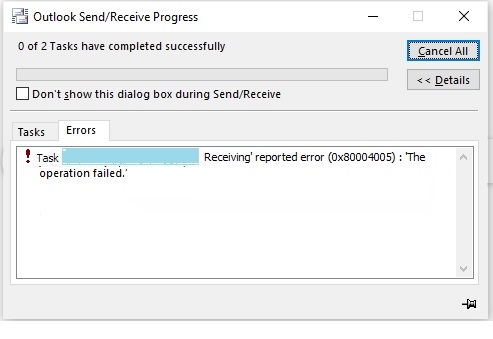 This error typically appears with the message; Sending and receiving reported error "0x80004005": The operation failed. In some cases, a different accompanying message too can appear which mentions the message cannot be sent and asks you to contact your network administrator. To help you fix this error, we offer seven useful ways below.
#1. Scan for Malicious Programs or Viruses
In some cases a malicious program can infect your computer and mess up the functioning of your Outlook application. Some viruses are known to specifically target Outlook with an eye on replicating themselves and can possibly cause such issues. Use a top of the line antivirus program to perform a complete scan of your computer.
#2. Check and Repair the PST Data File
At times, an incident of data corruption in the underlying PST file can cause the Outlook error 0x80004005 to show up. In such cases, you should immediately use a sophisticated recovery application like DataNumen Outlook Repair to repair the compromised PST file. This powerful application is designed to handle the most severe cases of Outlook corruption and can even recover multiple PST files in one go.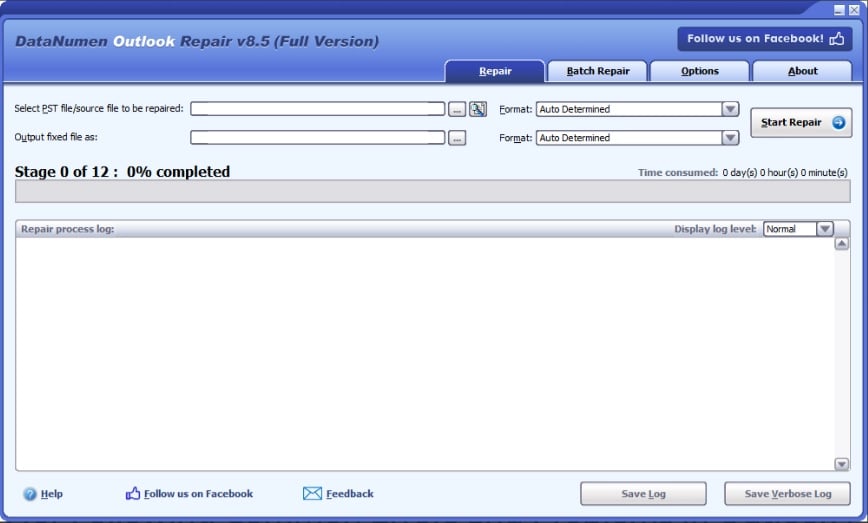 #3. Uncheck the Enable Script Scanning or Script Blocking Feature in your Antivirus Application
If you are using an antivirus application that offers an option to block scripts or by default enables script scanning then the Outlook error 0x80004005 can show up. The Norton Antivirus application is known to cause this error and you should by default turn off script blocking in it.
#4. Remove Third-Party Add-Ins
If you are using third-party add-ins to extend the functionality of your email client, you need to ensure their compatibility with your Outlook edition. In some cases, a third-party Add-in can mess up the normal functioning of your Outlook application and throw up the Outlook error 0x80004005. To eliminate this cause, consider removing all third-party add-ins and check if the issue gets resolved.
#5. Turn Off New Mail Notification in Outlook Application
In some cases the issue only originates while trying to receive an email. Such a scenario can happen if mail notification has been turned on. To turn off this feature, follow the steps below
Launch the MS Outlook application
Click on File and then head to Options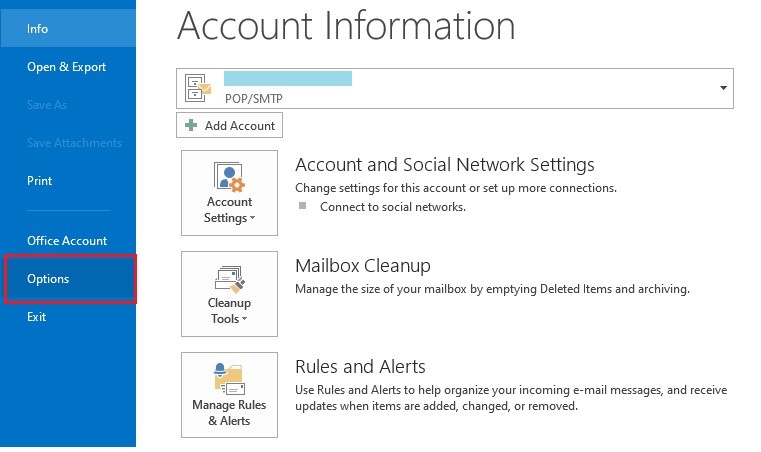 When you click on Options, the window for Outlook Options will show up.
Next head to the Mail tab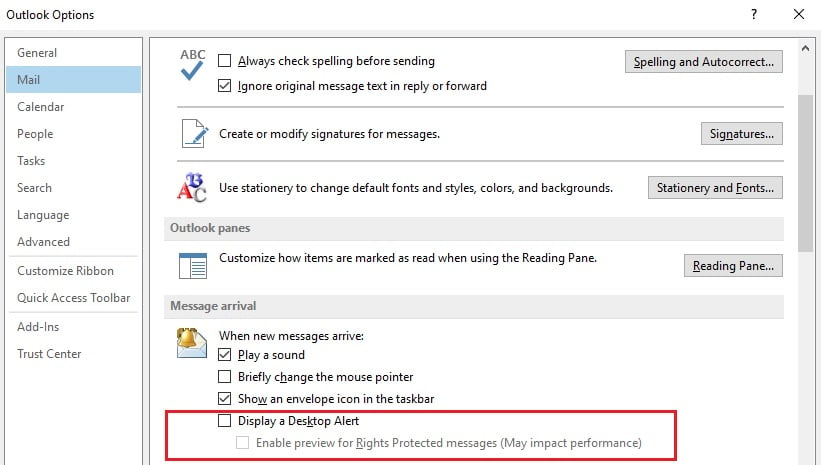 Uncheck the option for  Display a Desktop Alert which appears under the Message Arrival section
You can also get more detailed information at Microsoft support site.
#6. Consider Creating a New Outlook Profile
At times the Outlook profile that you are using may become error-prone. It is advisable to create a new Outlook profile and connect your existing mail account to it.
#7. Repair the Outlook Program Files
If all the steps listed above fail to resolve your issue, you may need to consider repairing the Outlook application which comes in as a part of the MS Office suite. To repair the Outlook application, perform the steps below
From the Start Menu in Windows, launch Apps and Features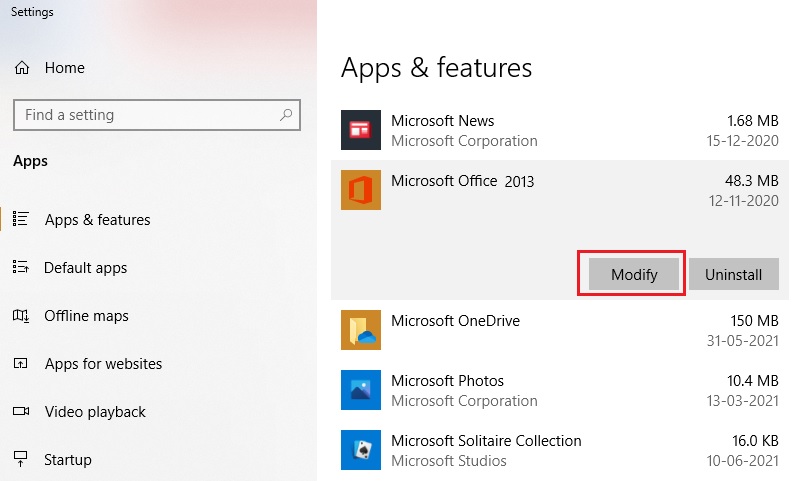 Next choose your Microsoft Office edition and click on Modify button
Choose the Repair option from the showcased options to repair the Office application suite.