At times while working with MS Outlook you might encounter a crash that throws up an error message mentioning MSPST32.dll. Here, we offer you seven effective solutions to resolve this issue in a quick time.
The MS Outlook application today is much more than a simple email client. While email remains the preeminent means of communication between different stakeholders; new mediums of interactions such as video calling and interactive messaging have made a significant impact in recent years. Quite expectedly email clients are expected to adapt to these new developments and the MS Outlook application has come across as a trailblazer. An Outlook user can directly set up a Microsoft Teams meeting right out of the mail client interface or even create salesforce records directly in Outlook. With such enhancements and integrations, it is no wonder Outlook remains the most popular desktop-based email client on the planet and has no competition in its sights. Yet for all its advantages, the Outlook application can at times crash owing to myriad reasons including possible issues with the MSPST32.dll file. Let's explore this situation in detail.
Outlook Crashes Caused by MSPST32.dll – Key Reasons
If you have noticed an error message which mentions the MSPST32.dll as the module where the fault is noticed, you are looking at either a compromised dynamic link library file or a corrupted PST data file. There are several reasons which can contribute to this issue. To start with a resource conflict or malware infection might have compromised the dynamic link library file. Alternately the underlying PST data file itself may have got corrupted due to improper shutdown or power outage. In some cases where a user is using an older iteration of Outlook; if the PST file is over a certain size, it becomes more prone to corruption. To resolve any of these scenarios we offer below seven effective solutions for you to try.
The first thing you need to do when you encounter this error is close all Outlook windows and restart the application in Safe Mode. When you open Outlook in Safe Mode, no add-ins are loaded and you can identify and disable any add-in that you believe is causing the error to occur. Try out the steps listed below to achieve the same.
From your Windows desktop screen, move to the Windows Search Bar (also called the Run Box)
Once there, just type in cmd and then press Enter to bring up the command prompt
Next type outlook.exe/safe and then again press Enter to open the Microsoft Outlook application in Safe Mode. You need to follow an iterative process and disable one suspected add-in after another to narrow down the specific add-in which might be causing the error.
#2. Use Antivirus Tool to Check MSPST32.dll
Malicious programs like viruses and other malware are known to routinely target dynamic link library files. Hence you should immediately scan your system with a leading Antivirus utility. It is recommended that you first update the antivirus definitions and then perform a full system scan to track any such malicious programs that might be affecting your machine.
#3. Use Advanced PST Repair Program to Repair the PST File
If you have tried out the first two steps and failed to resolve the issue, it is quite possible that you are dealing with a corrupt PST file. To resolve the issue, you should get hold of a powerful PST data recovery software like DataNumen Outlook Repair. This sophisticated tool can scan the corrupted PST file and extract all the contents in it with aplomb while maintaining data integrity. It is capable of handling both large PST files and even those which are encrypted.
#4. Try ScanPST to Fix the PST File

With the MS Office application, Microsoft packs a dedicated tool to deal with Outlook errors. Known as the Inbox Repair Tool or ScanPST; this tool is designed to handle errors associated with a corrupt PST file and can come in handy for you. To locate the tool in your system, just visit Microsoft's Support Site for appropriate directions. Once you have the tool at hand, try the steps listed below.
Open the ScanPST application
By using the Browse button you need to select the compromised PST file you are hoping to repair
Once you have loaded the file, just hit the Start button to initiate the data recovery process.
#5. Recovery from the Source Data Drive Directly

In rare cases, recovery of data from a corrupted PST file may not work as desired. In such cases, you can attempt recovery from the source drive where the Outlook data was stored by using a tool like DataNumen Outlook Drive Recovery. This advanced software can scan the drive minutely, extract any Outlook data elements present on the drive and recover them for your benefit.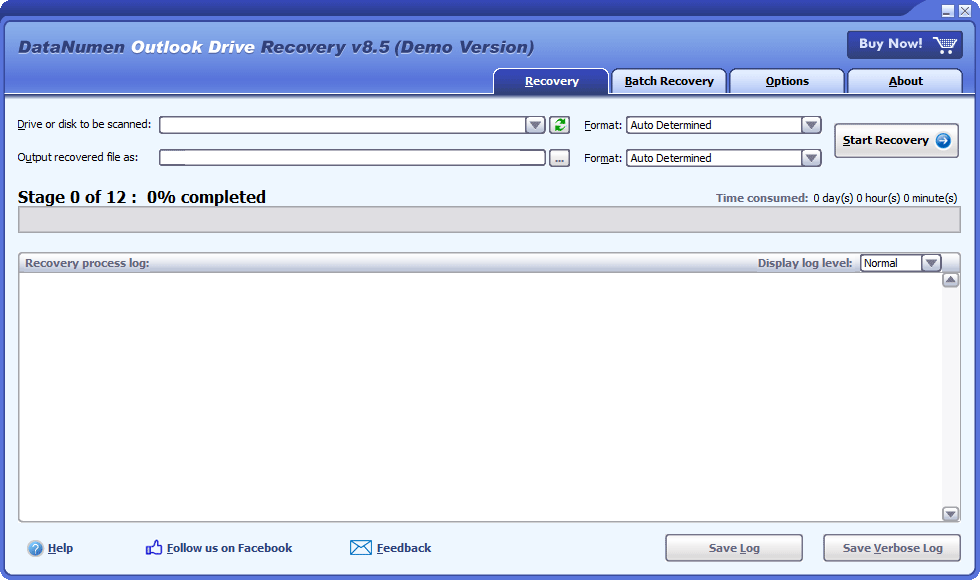 #6. Run the Windows Restore Utility
In cases where the fault might lie with a faulty module in Outlook or if there is an issue occurring in your Windows machine, the Windows Restore utility offers a sure-shot way to resolve the issue. While running the utility you need to select a date (restore point from the provided options) when Outlook was working perfectly and revert the system to that state.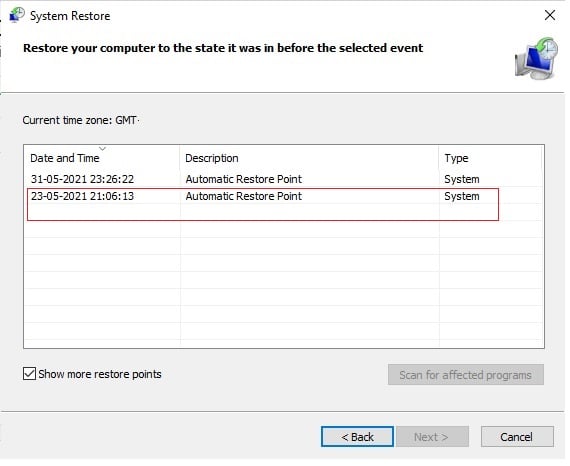 #7. Utilize a Backup of the PST File
If none of the steps listed above fail to resolve the issue or if you are looking for a quick fix, you might simply find the path of the existing PST data file and replace it with a backed-up copy to get Outlook up and running again. Here, what you need to do
Launch the MS Outlook application and reach to the File tab
Next move to the Account Settings option that appears right below the Info tab
Then you need to click on Account Settings and go to the Data Files tab. This will allow you to view the whereabouts of the existing Outlook data file. Just replace this file with the backed-up copy and launch Outlook again

Final Thoughts
Occasionally encountering bewildering error messages while working with Outlook is quite normal. By systemically following key troubleshooting steps, as shown above, it is possible to deal with most of such situations. However, we do suggest that you invest in a powerful data recovery tool like DataNumen Outlook Repair to deal with contingencies.