While attempting to search any item in the Outlook search box, you may receive an error message that says something went wrong. It would also mention that the search couldn't be completed. In this article, we offer you 6 effective ways to fix this issue.
Over time, the MS Outlook application can become a vast treasure trove of data for users. Especially if you are using Outlook for business, you would have hundreds of important emails and related attachments stored in the Outlook application. Now when you wish to search for a particular email you would invariably run a search in the Outlook application. In some rare cases, the search action can lead to an error that displays a message "Something went wrong and your search couldn't be completed". In this article, we offer you 6 ways to fix this issue in a quick time.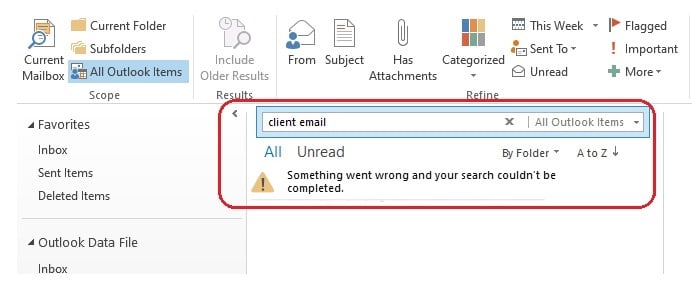 #1. Consider Removing Third-Party Add-ins
A large number of Outlook users tend to use third-party applications for extending the performance of their Outlook application. However, some of these Outlook Add-ins can occasionally conflict with the application. This can lead to the "Something went wrong and your search couldn't be completed" error showing up on your screen. Hence to isolate the issue, remove all third-party Add-ins that you have installed on the application and check if the issue gets resolved.
#2. Disable Server Assisted Search in Case you are Working on an Exchange Backend
If you are working in an office mail environment that runs on an Exchange back end, you should consider disabling Server Assisted Search. This issue is typically more commonly found in the Outlook 2016 and later editions, owing to the introduction of fast search architecture in Exchange. To resolve the issue you need to make changes to the Windows Registry and make the following policy changes, mentioned in the image below.

Note: If you are not comfortable with making changes in Windows Registry, you should consult the technical support team in your office.
#3. Fix Possible Issues with Windows Search Service
If the Windows Search Service process is not working properly, this search-related error can show up. To resolve this issue, type services.msc in the search box and when the Services Window shows up, head to the Windows Search and check its status. If it is not running you need to Start it again.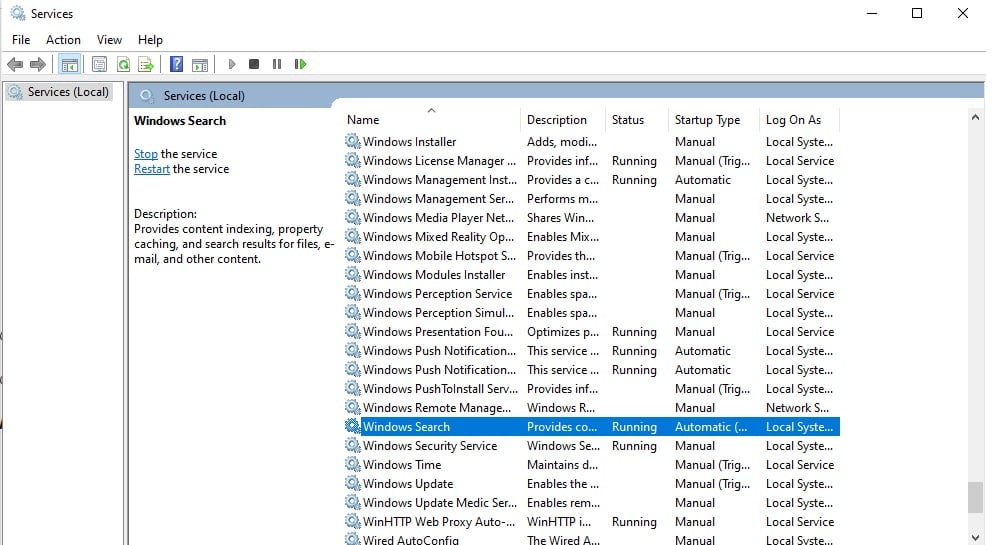 Check if this resolves the issue in Outlook. In case the issue persists you should run the Windows Troubleshooter to fix the Windows Search Service, as below:
From the Start Menu in Windows, go to Settings (Gears Icon)
Then click on Update and Security
Next Click on Troubleshoot and then Additional Troubleshooters
Now click on Search and Indexing to run the troubleshooter and fix issues with Windows Search.
You can also get more detailed info here.
#4. Check your PST Data File
One of key causes behind the "Something went wrong and your search couldn't be completed" error message cropping up in Outlook is a corrupted PST data file. To repair any compromised PST file, you should run a sophisticated recovery application like DataNumen Outlook Repair. This remarkable program can repair just about any corrupted PST file in the shortest possible time and thus resolve any errors associated with them.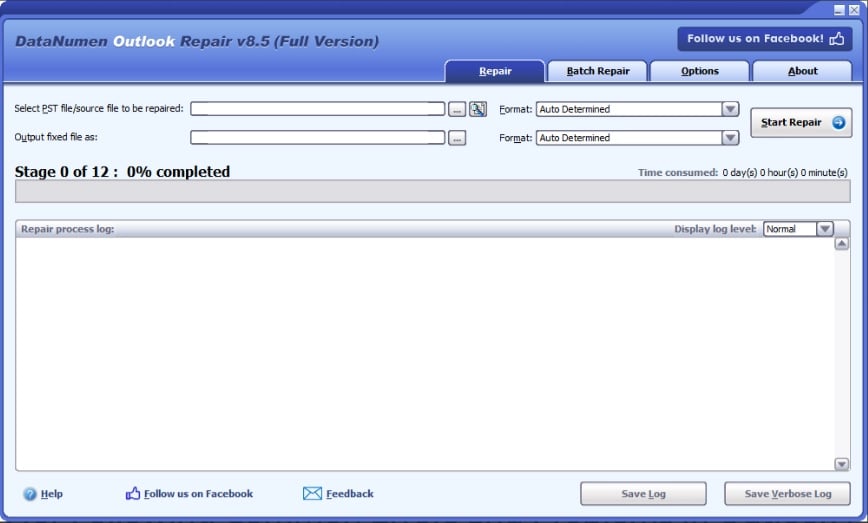 #5. Consider Installing all Windows Updates
Make it a point to install all Windows Updates for your system. To do so in Windows 10, just type in Check for Windows Update in the search box. In the Windows Update screen, make it a point to install all pending updates. To know about manually installing updates in an older version of Windows, please visit Microsoft Support site.
#6. Repair MS Outlook Program Files
If all the steps mentioned above fail to resolve the issue, consider repairing the MS Outlook program files. In certain cases, issues with Outlook application files can cause this error message to surface. To repair the Outlook application, which comes the MS Office suite, launch Apps and Features from the Start Menu in Windows 10. Next, choose Microsoft Office and click on Modify. In the subsequent options screen, select Repair and follow the instructions given on the screen to repair the MS Office application suite.