Occasionally while attempting to copy or move an Outlook PST file, some users may receive an error message that mentions "Cannot read from the source file or disk". Let's go through the issue in-depth and offer six effective solutions to deal with this perplexing error.
The Outlook email client is much more than your typical emailing software. It is loaded with features ranging from top-of-the-line calendaring options to working with groups. Moreover, with the help of relevant add-ins for software like Microsoft Teams, it can be utilized as an effective collaborative tool. Yet for all the kudos it earns owing to its stellar feature set, it does have its share of flaws which most show often up as strange error messages. Like the one, some users get when they attempt to copy or move a PST data file. The application can simply sport an error that mentions that it cannot read from the given source file or the disk drive. Let's explore this issue in detail.
What Causes the Cannot Read From the Source File or Disk Error Message
While trying to copy or move a file, a variety of causes can lead to this error showing up. It can be as simple as an access error or a resource conflict to debilitating issues like a corrupt data file or a disk drive. To resolve the issue, we have listed down six solutions that you can try out.
#1.  Make Sure Outlook is Closed While you Attempt to Copy or Move the Underlying Data File
Often many users attempt to move the underlying data file while the Outlook application is still open. Since the application is still accessing the data file, any attempt to move it or even copy it can cause this error to show up. Hence it is critical that you properly close the Outlook application before performing such action.
#2. Turn Off the Antivirus Application on your System
Antivirus applications are known to occasionally come in conflict with actions to move Outlook data files. To isolate this cause, it is suggested that you turn off your antivirus application before copying or moving PST data files.
#3.  Restart the System in Safe Mode
At times resource conflicts or indexing issues related to your Windows operating system can cause this error to show up, preventing you from moving the PST data files. To resolve the issue, consider restarting the Windows in Safe mode and then try to copy or move the PST file. To restart the system in Safe mode, perform the steps listed below
Click on Windows Icon and Click on Settings
Next just click on Update and Security and then head to the Recovery option
Under the provided options click on Advanced Startup
Once your system restarts, from the Choose an option menu, click on Troubleshoot
Next head to Startup Settings and then click on Restart
From the subsequent options, choose 4 or hit F4 to restart your system in Safe mode
#4. Try Using a Powerful PST Recovery Tool
If the PST file you are attempting to move has become corrupted, it can generate an error message which mentions that the file cannot be read. To eliminate the issue, you need to run a highly advanced recovery tool like DataNumen Outlook Repair. This class-leading product can negotiate even the most elaborate incidents of PST data file corruption within minutes and can assuredly get back all contents stored in the data file.
 #5. Consider the Possibility of Errors Associated with Disk Drive
In case, if even after performing all the steps mentioned above, you still fail to move the PST data file, it would seem that you are possibly dealing with an issue of corruption of the disk drive. At times, errors like bad sectors can develop in the disk drive and it can lead to such error messages. To resolve the situation you can use a powerful drive recovery application designed to extract Outlook files like DataNumen Outlook Drive Recovery. This versatile application can scan the affected drive and directly extract the Outlook data file contents in quick time. The application can handle an array of storage mediums including virtual drives and flash disks.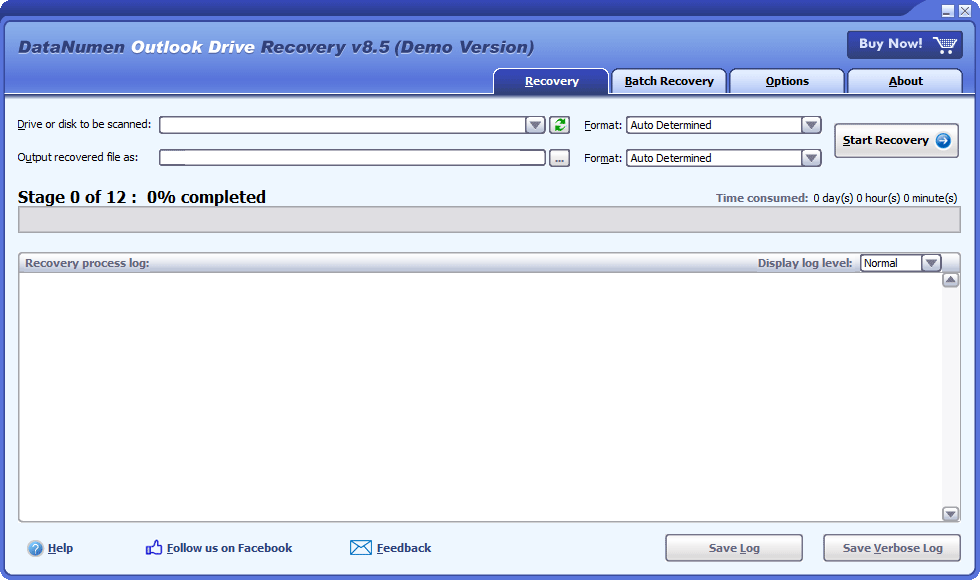 #6. Use the Inbox Repair Tool from Microsoft to Attempt a Recovery
Issues with PST data files are commonly experienced by users who use Outlook regularly. Hence Microsoft has bundled a specialized application called Inbox Repair Tool with the MS Office software package. Also known as ScanPST, the tool is slightly difficult to locate and you need to visit Microsoft's Support Site to understand its exact location on your machine. Once you have located the tool, perform the steps listed below.
Launch the Inbox Repair Tool (ScanPST) application
Use the Browse option to locate the PST file you plan to repair
Next, click on the Start button to initiate the file repair process