Error "Cannot open your default e-mail folders. The information store could not be opened" often occurs upon launching Outlook. This article will provide 2 effective means to fix it.
In essence, the reason for this error of default e-mail folders  can be concluded into two facets, namely Outlook misconfiguration as well as Outlook corruptions. From the perspective of the two aspects, here are 5 effective solutions to this error related to e-mail folders.
1. Reset Outlook Navigation Pane Setting
For a start, close Outlook and turn to "Start Menu".
Then type "outlook.exe /resetnavpane" in the search field.
Finally press "Enter" to start Outlook with "reset navigation pane" command.
If Outlook opens in normal fashion, the problem is solved. But if the problem persists, turn to the next way please.
2. Verify if Outlook Runs in Compatibility Mode
To begin with, head to "Start Menu" and type "outlook.exe" in the search box.
Right click on the appearing program and select "properties" from the right click menu.
Next in the following new dialog box, switch to "Compatibility" tab, under which you should deselect "Run this program in compatibility mode for".
Finally click "OK" to save the changes. Try to start Outlook again. If it can start normally, congratulations to you! But if not, do not panic. Proceed to use the following methods.
3. Repair Office Installation
At the beginning, close Outlook and head to "Control Panel".
Then locate and hit "uninstall program" link. In the subsequent window, select "Microsoft Office" program and click "Change" button.
Next in the new window, choose "repair" and click "Continue" to start repair.
Finally after repair completing, restart Outlook. If the error still pops up, it is highly likely that this issue lies in corrupted Outlook file instead of Outlook configuration.
4. Apply Scanpst.exe to Check Outlook File for Errors
Now that the error may stem from Outlook file, you should check the file. Therefore, you can apply Outlook Inbox Repair Tool, Scanpst.exe, which comes along with Outlook. You can quickly find it by searching "Scanpst" in Windows Explorer. Launch it and select the Outlook file by "Browse" button. Click "start" to scan and check the file. All in all, just follow the onscreen instructions.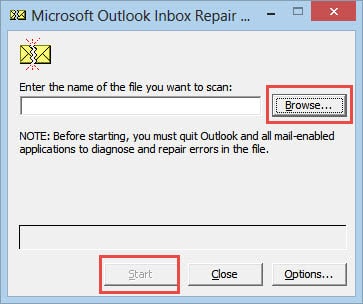 5. Turn to Third Party Software
In most situations, using Scanpst.exe will take eons if the corruption is complex and heavy. Also, you may be subject to failure although Scanpst.exe has finished its repair process. Hence if so, you should turn to third party software such as DataNumen Outlook Repair. This tool is particularly designed for Outlook errors and corruptions. Moreover, it can repair the broken PST file simply, irrespective of its extent of corruption.
Author Introduction:
Shirley Zhang is a data recovery expert in DataNumen, Inc., which is the world leader in data recovery technologies, including sql recovery and outlook repair software products. For more information visit www.datanumen.com