When starting Outlook, you receive the error – "This application has failed to start because MSVCR80.dll was not found. Re-installing the application may fix this problem." After reinstalling it, the error still pops up. What can you do then? Here are 5 effective means for you.
In nature, MSVCR80.dll error is caused by the faulty "OUTLOOK.EXE.MANIFEST" file, which may be changed by guilty Outlook add-ins. Thus deleting the file or disabling the add-in is your first actions. But if they fail, the problem may lie in corrupted Outlook file. Now use the following method to eliminate this error.
Method 1: Delete "OUTLOOK.EXE.MANIFEST" File
Due to the fact that one of the primary reasons for MSVCR80.dll error is incorrect "OUTLOOK.EXE.MANIFEST" file, you need to find and delete it at first. This file is usually located in the installation directory of your Outlook version. For example, if you are using Outlook 2010, you can directly copy "C:\Program Files\Microsoft Office\Office14" in the address bar of Windows Explorer. And press "Enter" to go to the destination.
After accessing to the directory, you can easily pull the scrolling bar to find the target file – "OUTLOOK.EXE.MANIFEST". Right click and select "Delete".
Method 2: Repair Office Installation
After deleting the "OUTLOOK.EXE.MANIFEST" file, you can try to restart Outlook. If the error persists, you have to repair the office installation.
For a start, go to "Control Panel" and click on "Uninstall Programs" link.
Then in the new screen, you should select the MS Office program and click "Change" button.
Next you should choose "Repair" and click "Continue" button.
Finally after repair, reboot Outlook.
Method 3: Check Outlook Add-ins
Another must-concerned reason is whether Outlook add-ins is the criminal. Thus you need to attempt to arrest the guilty add-in.
To begin with, you need to start Outlook in safe mode. Type "outlook.exe /safe" in the search field of "Start Menu". Press "Enter" to launch Outlook.
Then in Outlook, go to "File" > "Options" > "Add-ins" > "Go".
In the final popup dialog, disable one add-in at a time and restart Outlook to check if Outlook can start normally. If after removing one add-in, Outlook can work in normal manner, which means that the add-in is the culprit. You should never enable it again.
Method 4: Resort to Outlook Inbox Repair Tool
Actually at times, after taking the above methods, Outlook still cannot start. In this situation, it is likely that your Outlook file is corrupted maybe due to virus infection. Therefore, at this time, you ought to take recourse to Inbox Repair Tool. You can find it in the installation directory of your Outlook version as well.
Double click it to start the tool. In its interface, you can click "Browse" button to select your Outlook file and "Start" button to scan the file. After scanning, click "Repair" button to start checking errors and repair the file.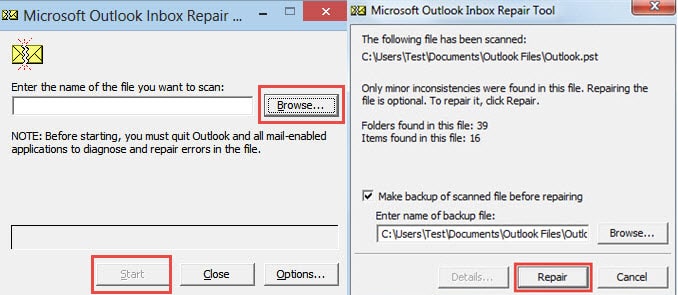 Method 5: Your Last Resort Is Third Party Software
As a matter of fact, Scanpst.exe is inclined to fail when facing a seriously broken Outlook file. Hence, when Scanpst.exe prompts you that it cannot recognize the error, you have no choice but to take aid of third party software. Nowadays, there are multiple repair tools springing up in the market. You need to opt for an appropriate and robust one like DataNumen Outlook Repair. With the highest recovery rate, it has stood way ahead of its rivals.
Author Introduction:
Shirley Zhang is a data recovery expert in DataNumen, Inc., which is the world leader in data recovery technologies, including sql recovery and outlook repair software products. For more information visit www.datanumen.com