When you attempt to access a folder, Outlook crashes abruptly. Restart Outlook and find that other folders work well. If you are suffering this problem, just apply the 5 methods in this article to eradicate it.
Various factors can pose Outlook crashes, for example, sudden shutdown, virus infection, spyware attacks and so on. But if crashes occur when you access a folder, the common reasons are corrupt messages or view, and even blackened PST file. You can address the issue by the following approaches.
Start Outlook in Safe Mode to Verify Reasons of Outlook Crashes or Freezing
In the first place, you need to verify whether this kind of crashes is resulted from corrupt messages, view or exactly compromised PST file. Thus you ought to start Outlook in Safe Mode firstly. This can be realized with effortless ease.
To start with, close Outlook application.
Then head to Start Menu and enter "Outlook.exe /safe" in the search field. Please notice that there is a spacebar in the font of "/safe".
Next a program will show up in the list. Click it, and immediately Outlook will start automatically.
Finally you should try to select the specific folder. If you can access it, then the problem is a corrupt message or view. If you cannot, broken PST file is the root.
Depending on the three distinguishing reasons, you can take the following five measures.
1. Deal with the Corrupt Message in this Folder
Still in safe mode, if you can identify the corrupt email in this folder, delete it directly. After deleting it, restart Outlook in normal mode. Provided the folder works well, you have do away with this issue.
But if you cannot recognize which email is the one to blame, you should utilize the most primitive method to examine every message. Move one message to the other folder. Start Outlook normally and check if you can access the folder. If you can, the moved message is the criminal. But if not, you should repeat the steps, namely moving the messages one by one to check until you find out the corrupt one.
2. Disable Antivirus Scanner
Actually in order to eradicate the corrupt messages, you had better to disable antivirus scanner. Just run Outlook as admin, and go to "File" menu and then "Outlook Options". Select "Add-ins" option and click "Go" button. In the final dialog box, you can locate the antivirus scanner add-ins and disable it.
3. Reset Damaged View
Apart from the corrupt messages, damaged view is another primary causes. To get rid of the Outlook crashes, you should reset the view. You can simply go to View ribbon, locate "Reset View" button and click it.
However, the above method is available for the situation that Outlook crashes when you enter one folder. If it is due to multiple folders, you should utilize the following way. Exit Outlook and go to Start Menu. And then enter "outlook.exe /cleanviews" to the search field. Click on the shown up program to reset the views.
4. Repair Compromised PST File via Built-in Repair Tool
Unquestionably, corrupt message and view is the most optimistic case. If you discover that Outlook crashes or freezing when accessing a folder is triggered by a compromised PST file, you have no choice but to repair the file. Fortunately, Outlook is loaded with a built-in repair tool, which you can find it by searching in Windows Explorer. Find and run it. Click "Browse" button to select the file. All in all, this repair process looks considerably simple.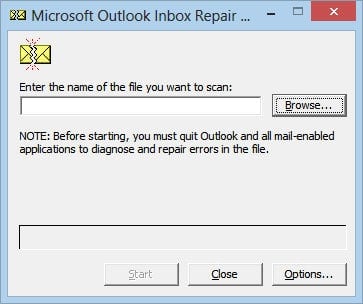 5. Resort to a More Robust Repair Tool
Though Scanpst.exe is handy, it cannot make great effects in face of seriously broken file. Therefore, in this case, it is imperative for you to resort to another more formidable repair tool like DataNumen Outlook Repair. It can scan and fix the errors in the PST file without a hassle. Besides, due to its pretty high recovery rate, you can entirely trust in it. It can absolutely retrieve the maximum data for you.
Author Introduction:
Shirley Zhang is a data recovery expert in DataNumen, Inc., which is the world leader in data recovery technologies, including sql recovery and outlook repair software products. For more information visit www.datanumen.com