Email Header Corruption in MS Outlook can lead to data loss. In this article, we will discuss four useful ways to quickly resolve the issue.
In our hyper-connected world, businesses of every size are looking to embrace collaboration amongst different teams and other stakeholders to improve business performance. The MS Outlook application has over the years have matured from a desktop-based email client to a full-fledged office collaboration tool. It today boasts of an array of features such as calendar sharing, booking office resources to seamless integration with Microsoft teams. The fact that Outlook typically includes all our office and business contacts makes it the perfect tool for collaboration for many small businesses. While MS Outlook excels in its feature set, it suffers from several issues ranging from inane errors to incidents of data corruption. Email header corruption is one such issue that can lead to severe data loss if left unattended. Let's look at four useful ways to fix email headers corruption in PST files with ease.
Key Causes Behind Email Header Corruption and its Possible Effects
Email header corruption in Outlook can be attributed to several causes. Some of them can range from logical errors to software conflicts. In some cases, malware attacks too can lead to this error cropping up. Email header corruption can have serious consequences ranging from possible data loss where you may lose access to critical emails to a debilitating incident of corruption where the entire PST file becomes unusable.
#1. Run a Powerful Recovery Tool to Extract the Contents of the Compromised File
The best possible way to deal with an incident of header corruption involves running a sophisticated PST recovery tool like DataNumen Outlook Repair and extract all the contents of the compromised file. The application is designed to extract every data element from images to attachments present in the Outlook PST file. Once the recovery is complete, just replace the original data file with the output file generated by the recovery application.
#2. Try Running the Inbox Repair Tool 
Microsoft seems to be quite aware of myriad issues associated with the Outlook application and hence it by default ships a recovery utility called Inbox Repair Tool (ScanPST) with the office application suite. The tool is slightly difficult to locate since its underlying location varies and you can visit Microsoft's Support Site to figure out its exact location on your machine. Once you have located the tool, just try the steps listed below
Launch the ScanPST application
Now choose the PST file you with repair by using the Browse button
Click on Start to initiate the repair process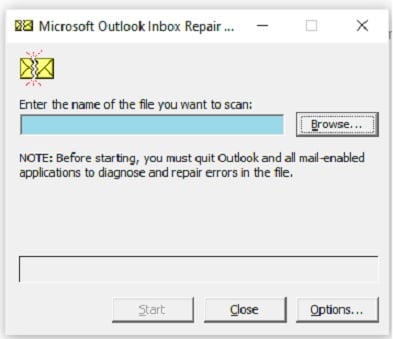 Note: While the Inbox Repair Tool can handle minor incidents of data corruption and run of the mill errors present in the PST data file, it may get stuck in some scenarios where file corruption is extensive
 #3. Use the System Restore Feature Present in Windows
 The Windows operating system on your system comes with a powerful System Restore feature which is designed to get back your system to a previous state, in case of any major issue. You can use this tool to bring back the system to a date when Outlook was running without any issues. To run this tool, perform the steps mentioned below
Go to the Windows Search Bar (also known as Run Box) on the bottom of your desktop screen and key in System Restore
Now, just open up the Recovery Control Panel
Once the next screen shows up, click on Open System Restore
Now follow the instructions that appear on your screen and choose a restore point date and roll back the system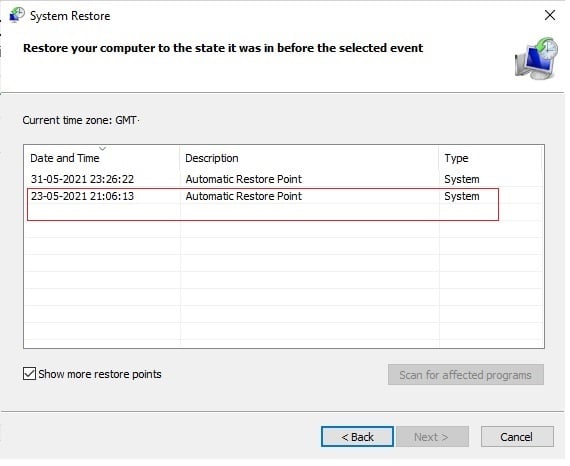 #4. Consider Using a previous Backup PST File
If you have a previously backed up copy of your PST data file, then you can use it to solve your problem if all above solutions do not work. All you need to do is to do as follows:
Close Outlook.
Replace the current PST file with the backed-up copy.
Start Outlook and for most cases, it will run in a normal fashion.