In this post, we look at 3 benefits of having an integrated MS Office data recovery tool and being prepared for potential data loss whether you are an individual or a business.
Microsoft Office suite is used by more than 1.2 billion people in 140 countries. Are you among them? One of the reasons why MS Office is so popular is that it comes as a package that provides users with a one-stop solution for their email integration, word processing, spreadsheets, data presentation, and desktop database needs. These are solutions that form the core of business information processing.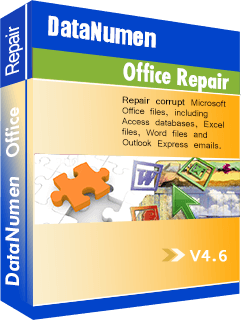 It's clear that the information processed through the Microsoft Office suite is critical. This makes it wise to plan ahead and protect yourself or your organization against data loss. You can achieve this by investing in data backup procedures and recovery solutions such as integrated data recovery tools for MS Office.
Why Should You Invest in an Integrated MS Office Data Recovery Tool?
1. Convenience
Data recovery experts such as DataNumen have created suites that can be used to recover files in various formats. A good example is DataNumen Office Repair, a handy solution that allows you to repair and recover any file associated with MS Office application. This solution gives you the convenience of using a single application for all your recovery needs as opposed to using different applications for each file type. In cases where multiple applications are involved, data recovery becomes a costly affair. Additionally, you are likely to spend more time locating the right solution to use. This eats into your productivity and in a busy working environment, it may lead to loss of man-hours.
2. Save on Costs
One big advantage of purchasing an MS Office data recovery suite is the cost saves involved especially if you have many users. This is critical especially when it comes to cost management and maximizing profits for data recovery companies. If you opt to acquire a recovery tool for every Microsoft Office application, you are likely to spend more. But this is not the case with an integrated tool as it comes at a reduced price. For instance, you can get a single user license of the DataNumen Office Repair tool mentioned above for as low as $69.95 if you purchase in bulk. This can still get lower if you are lucky to get their discounted rates.
3. Stay One Step Ahead of Data Loss
To manage the risk of data loss effectively, it is advisable to take an anticipatory approach and plan appropriately. This allows you to set a data recovery budget for your organization and thus shop for the best tool in the market. An integrated MS Office data recovery solution provides you with an affordable budget that you can realize with ease. This move allows you to stay ahead and develop data recovery procedures that your company can use in the event of data loss or when critical files get corrupted. The benefits of being able to resolve the effects of data loss events such as virus attacks within a short time are immense. For instance, with a robust file recovery plan, you will have the advantage of bouncing back within a short time. This way, you'll minimize the impact on service delivery. You will stay connected with your customers and reduce the risk of losing business.