At times the Outlook application fails to receive emails into the mailbox from the server. In this article, we offer you 12 possible solutions to resolve the issue.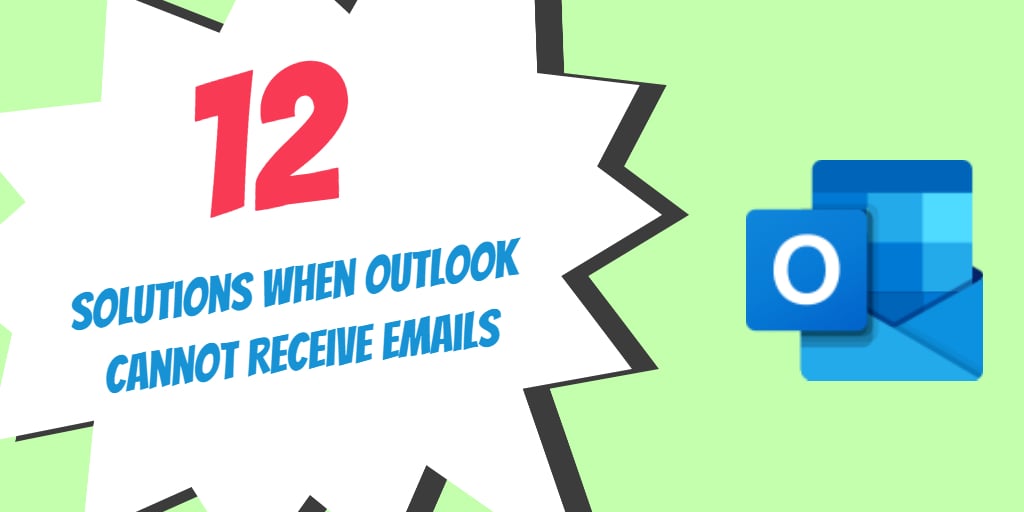 The popularity of MS Outlook email client continues to hold steady even today, owing to its expansive set of features. The application also scores high on its overall usability and intuitive interface. However, despite all its accolades, the Outlook email client still suffers from glitches that can make life difficult for its users. One such glitch that some users tend to experience is its inability to receive emails. This issue can suddenly appear out of the blue and leave you clueless. In this article, we offer you 12 possible solutions to resolve this issue.
#1. Go Through your Spam Folder
Often when we download emails from the server, they may land up in the Spam folder instead of the Inbox. This typically happens as the Outlook spam filters can misjudge the incoming traffic as spam. To isolate this issue, check out the Spam folder and try to find out if genuine emails are present there. If you are affected by this issue, whitelist important people and domains in the Safe Senders list.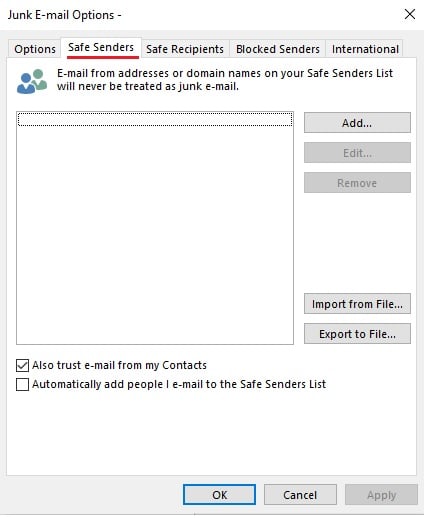 #2. Make Sure your Internet Connection is Working Properly
While this might seem like a no-brainer, checking the internet is often one of the basic things we seem to ignore while Outlook cannot receive emails. Make sure your internet connection is working properly and no intermittent connectivity issues are present.
#3. Check the Size of your Inbox and Associated Local Limits
If you are using an older version of MS Outlook like the 2002 edition or any previous version, you are likely to be limited to the 2GB file size limit for your PST file. If your PST data file has grown beyond the specified limit, several issues can crop up. To resolve the issue, delete your junk emails and compact the PST data file. You can also use a specialized application like DataNumen Outlook Repair to split up the PST file into smaller parts.
#4. Delete Outlook Cache Files
With an eye on improving performance, the MS Outlook application caches files in your system. However, cache files can occasionally conflict with the functioning of the Outlook application and prevent emails from getting received. To remove this possibility, make sure you delete the Outlook caches files.
In the Windows Search Box (Run Box) type in %localappdata%\Microsoft\Outlook and then hit Enter
This will open up a folder view with the RoamCache folder
Open the RoamCache folder and delete all its contents
Make sure your Restart the Outlook application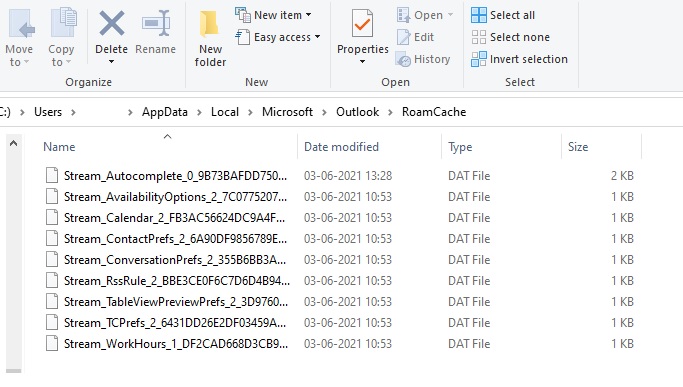 #5. Evaluate Existing Outlook Rules
In Outlook you can create specific rules for specific functions. For example, you can create a rule which can transfer all messages from a given domain to the spam folder or even delete it. Now if you are using an office system, some other user might have created a rule that is causing emails to be shifted to a different folder or removed altogether. To isolate the issue, check out any present rules in your Outlook email client.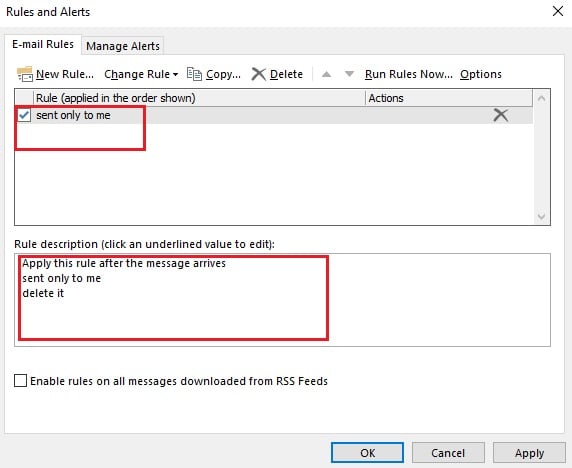 #6. Consider Disabling Third-Party Add-ins
While Outlook add-ins are a great way to extend the functionality of your Outlook mail client, they may in some cases conflict with the Outlook mail client. To isolate this cause, remove all third-party add-ins and check if the issue gets resolved
#7. Verify your Mail Server Settings
The server settings for your mail account may at times be incorrect. Make sure you double-check the server settings in your mail account, and it should match with the settings provided by your mail service provider. If you are using a corporate email and suspect mail settings have been changed, do contact your office technical support for further help.
#8. Check your Outlook Inbox can Automatically Refresh
In the Outlook mail client, the application is set to automatically refresh after a given period of time. However, if the settings are incorrect, the refresh may not occur and you may not receive fresh emails. To correct the settings and keep it to an ideal time of say 15 minutes, perform the steps given below
Launch the Outlook application and head to the Send/Receive tab
Click on Send/Receive Groups and from the drop-down list click on Define Send/Receive Groups
Set the time for Schedule an automatic send/receive to 15 minutes
Click on close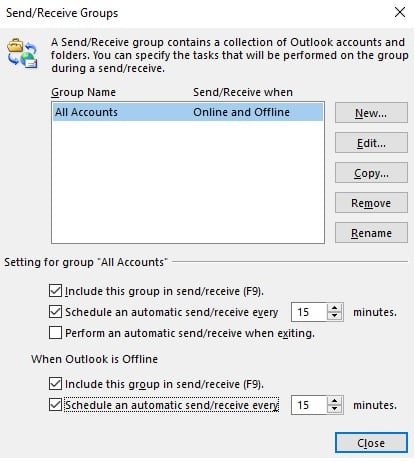 #9. Disable Email Scanning in your Antivirus Application
Antivirus programs and malware checkers often come with email scanning features. While such features are designed to help you avoid threats that can come through emails, they can at times conflict with the Outlook function of receiving emails. To rule out this issue, turn of email scanning in your antivirus application.
#10. Repair the Underlying PST Data File
Any possible incident of corruption in the underlying PST file causes several issues in the functioning of the Outlook email client. In case you suspect that the PST data file has got corrupted, get hold of a top-of-line recovery tool like DataNumen Outlook Repair to restore the contents of the corrupted data file.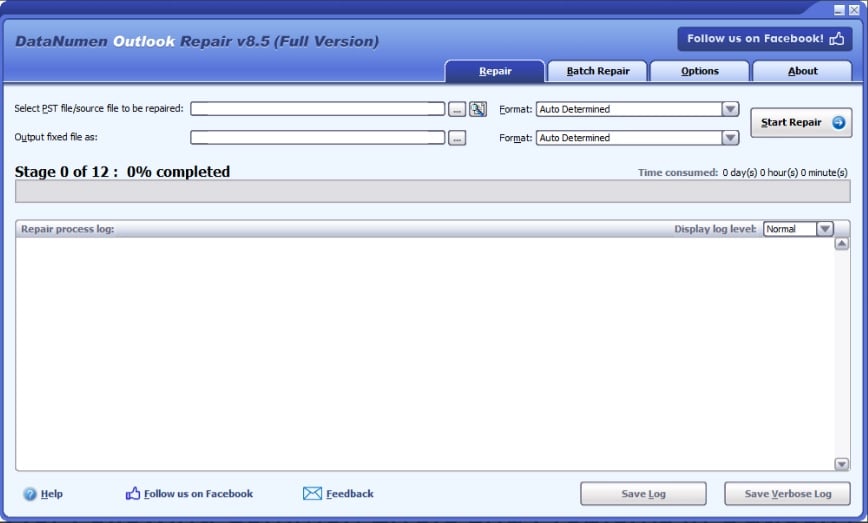 #11. Consider Building a New Outlook Profile
In certain cases, the Outlook profile to which your mail account is linked, can get corrupted. This invariably leads to issues while trying to receive emails. To resolve this issue, create a new Outlook profile and then link your existing mail account to it.
#12. Use Backup to Restore the System
Occasionally, despite trying out all the steps listed above, the issue may still exist. The best course of action in such a scenario involves restoring the system to date where Outlook was functioning as normal. Perform the steps listed below to perform a System restore using a previous backup.
In the Windows Search Box (Run Box) type in Recovery
Launch the Recovery App and under Advanced recovery tools, choose the Open System Restore option
Next, choose a date when Outlook was receiving emails and was working without any issues and start the Restore process.