At times while working on the Outlook application you might encounter a bewildering error that sports the message – "Cannot connect to the network" with the error code 0x800CCC13. Here we peer into the issue and showcase 11 methods to fix the issue.
Across millions of corporate offices and small businesses, the MS Outlook email client remains at the vanguard of business communication. While the Outlook application is extremely rich in features, it at times can increase the heartbeat of its users by throwing up inane error messages. While large organizations may have technical resources to deal with such issues; small businesses and individual users can end up experiencing a challenging time. One such error message that can really trip you up is the "Cannot connect to the network(0x800CCC13)" error. Let's take a deep dive into the challenging issue.
Key Causes Behind the "Cannot Connect to the Network(0x800CCC13)" Error

When we look at incidents of this error cropping up, often they are noticed soon after a user updates his operating system. There is a huge possibility that a faulty system upgrade can mess up the Outlook PST file. That apart this issue can also occur due to myriad reasons ranging from a malware attack to issues with Outlook add-ins. In some cases, corruption in Outlook profile too can cause this issue to prop up. To resolve this error, we have listed below eleven steps that you can try out.
#1. Try Disabling the Firewall
The Windows firewall present on your system may at times conflict with the Outlook application and prevent it from connecting with the mail server. Hence, try disabling the firewall and attempt to send and receive emails.
#2. Build a New Outlook Profile
In a few cases, it has been noticed that a corrupted Outlook profile can bring this issue to the fore. To eliminate this possibility, try creating a new Outlook profile by going through the steps listed below. 
From your desktop screen, just go to the Windows Search Box or Run Box, and simply key in Control Panel
Next, open the Control Panel App
As the screen shows up, just go to the Search Box present on the Control Panel screen, and type in Mail
Further, as the Mail option is showcased, you need to click on it
Now in the subsequent Mail Setup – Outlook window, just hit on Show Profiles
Once there, just hit on Add and follow the instructions that show up on your screen to create a New Profile and subsequently place your existing Outlook Mail account in its fold
#3. Disable Any Faulty Outlook Add-ins
If you by any chance are using an add-in that is conflicting with the Outlook application, this error is likely to show up. To narrow down and disable the specific plugin, just perform the steps mentioned below.
Open the Run Box or Windows Search Bar and just type cmd to open up the command prompt screen
Next in the displayed screen just key in outlook.exe/safe and then open up the application in safe mode.
Now you need to follow an iterative process to narrow down any possible add-in that may be conflicting with the Outlook mail client by disabling one add-in after another.
#4. Consider Turning Off the Antivirus Software
In some rare cases, the antivirus application you may be running in your system can interfere with the connection of the Outlook application with the mail server, prompting this network error. Hence it is advisable to turn off the antivirus application and check if it eliminates the issue.
#5. Try Repairing the MS Office App
The Outlook application, which incidentally is part of the popular MS Office suite, may itself become corrupted. To alleviate the issue, just go to the Microsoft Support Site for specific instructions to repair the MS Office application.
#6. Perform a Clean Boot
To diagnose and resolve the issue, you can try performing a clean boot and check if your Outlook can work properly. When you perform a clean boot, the Windows system is launched with only the minimum required drives and services, which can help to eliminate the side-effects of other software apps. Please go to Microsoft's Support Site to get the relevant instructions for performing a clean boot on your Windows edition.
#7. Run Windows System File Checker
One of the most effective ways to resolve the issue involves looking for any corrupted files by running the System File Checker utility. Here's what you need to do to get this actioned.
Open the Run Box or Windows Search Bar and type in cmd to bring up the command prompt
Once there just type sfc/scannow and hit enter
Once the scan is complete just reboot your system and check if Outlook is working normally again
#8. Use a Professional PST Recovery Tool
If the steps listed above have not helped in resolving the issue, you are most likely looking at a corrupted PST file. Hence you need to get hold of a sophisticated tool like DataNumen Outlook Repair to extract the content elements from the corrupted PST file. This class-leading utility offers the best recovery rates amongst its peers and boasts of the capacity to deal with encrypted files too.
#9. Try Inbox Repair Tool
Occasionally you may be hoping to quickly fix the issue and the ScanPST tool present in your system may offer you a way out. This utility which also is known as Inbox Repair Tool is shipped within the MS Office package and Microsoft's Support Site offers details in locating it and running the tool. However, you must note that the application has a mixed success rate and may not work if the extent of corruption is extensive.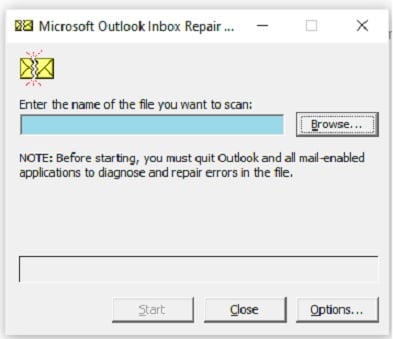 #10. Try Windows System Restore
At times, despite trying out different options, this issue may continue to persist. In such cases, you can rely on the redoubtable System Restore utility present in your Windows system to set things right. All you need to do is select a restore point date when Outlook was functioning normally and revert the system back to its previous state.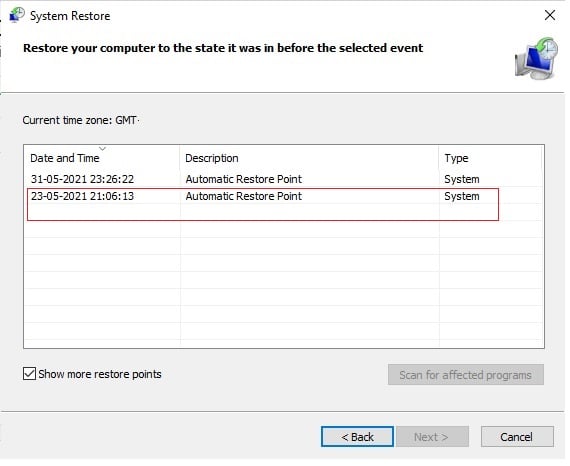 #11. Replace Current PST File with a Backup
Many Outlook users tend to back up their data every now and then. Hence it is likely that you may possess a backed-up copy of the Outlook PST data file somewhere on your computer or possibly backed up in some removable device. Just get hold of the backup PST copy and replace the current Outlook PST file in use with it. Once done, just restart the Outlook application to check if the issue has been resolved.
Final Thoughts
As you keep working with the MS Outlook application, you will sooner or later come across a tricky error message that can look difficult to resolve. Yet most of these issues can be fixed by following a stepwise approach to narrow down the cause. Further, it makes great sense to keep a powerful PST recovery tool like DataNumen Outlook Repair nearby to avoid losing out on your valuable data.