In some cases, the MS Outlook application can tend to crash frequently while you are working on it. In this article, we offer you 11 effective solutions to resolve such issues.
When it comes to desktop-based email clients, there is hardly any application in the market that can hold a candle to the fabulous MS Outlook. It boasts of an enviable range of features and its overall ease of use makes it the go-to communication tool for businesses. However, the application does suffer from some shortcomings including an uncanny preposition to hang up and crash. At times, these crashes can be quite frequent and can impact your regular work.
Key Causes Behind Frequent Outlook Crashes
Outlook crashes can be attributed to a plethora of issues ranging from a corrupt PST file to possible conflicts with antivirus software. Common causes behind PST crashes may include malfunctioning add-ins, large PST data files, corrupt user profiles to name a few.
To address the issue of frequent Outlook crashes, we have listed below 8 effective solutions for you to try out.
#1. Disable Add-ins by Starting Outlook in Safe Mode
Conflicting add-ins are one of the most common causes behind Outlook crashes. To isolate the possibility, you need to open up the MS Outlook application in safe mode. When you launch Outlook in safe mode, third-party add-ins are automatically disabled. If Outlook works normally in safe mode, you would have to iteratively disable one add-in at a time and launch Outlook in normal mode and check whether Outlook is functioning normally.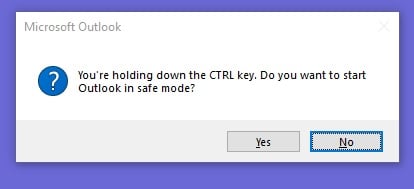 #2. Build a New Outlook Profile
At times a corrupted Outlook profile can lead to the application crashing frequently. To isolate the issue, you need to create a new Outlook profile as shown below.
In the Windows Search Box or Run Box, type in Control Panel
Next, launch the Control Panel App
Locate the Search Box situated in the top right corner of the Control Panel screen, and just type in Mail
Once the Mail option is displayed, just click on it
Next, in the Mail Setup – Outlook display screen, you need to click on Show Profiles
Next, click on Add and follow the onscreen instructions to create a New Profile and place your existing Mail account under it.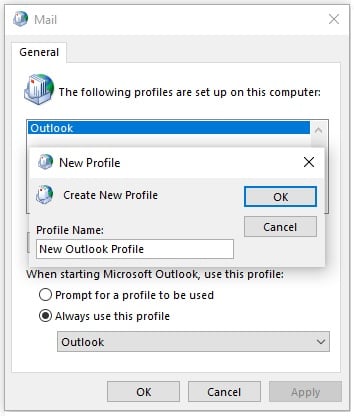 #3. Try Repairing the MS Office Application Suite
The Outlook application is part of the MS Office software bundle. At times, some of the program files for MS Office can get corrupted due to any reason, and this may cause Outlook to trip up and crash. It is suggested that you try repairing the MS Office suite using the steps listed below.
Go to the Windows Search Box and just type in Apps and Features to launch it screen
Next search Microsoft Office from the list of apps and click on Modify button
Now choose the Repair option from the provided options to repair the MS Office application package.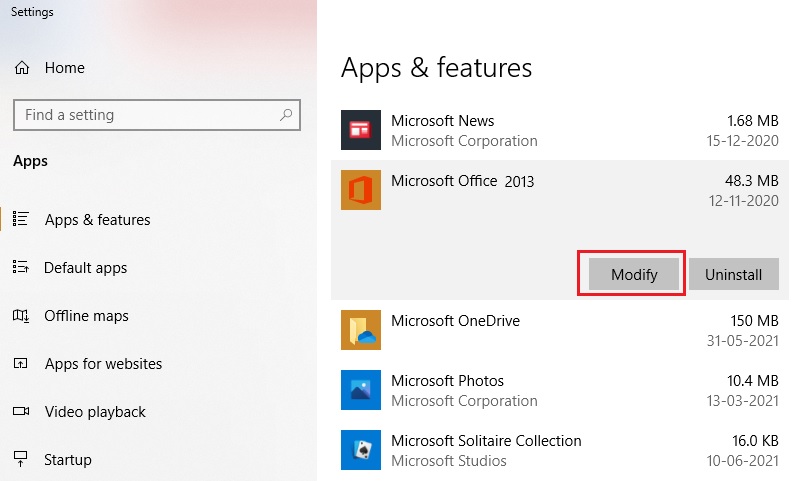 #4. Uninstall and Reinstall the MS Office Application
If just attempting to repair the Office application fails to resolve the issue, you should try to first completely uninstall the MS Office application. Once you have removed the Office suite from your system, restart the computer and then reinstall the MS Office application again.
#5. Consider the Probability of Incompatible Device Drivers
In some cases, incompatible device drivers too can cause the Outlook application to experience conflicts and crash frequently. To resolve this issue you should apply all Windows updates to ensure you have the latest device drivers installed in your system.
#6. Disable your Antivirus Application
The antivirus program present on your system may at times come in conflict with the normal functioning Outlook application. This is especially true if you have enabled email scanning by default. Try to disable the antivirus application you are running and check if Outlook starts to function normally.
#7. Apply all Windows Updates
In some cases, if you have failed to update your Windows operating system with the latest updates, it may impact the performance of the Outlook application. Hence, it is critical that you apply all Windows updates at the earliest without fail.
#8. Run a Sophisticated PST Recovery Tool to Repair the PST Data File
A corrupt PST file can easily cause your Outlook application to trip up and crash frequently. To deal with corrupt PST files, try using a sophisticated application like DataNumen Outlook Repair. This powerful tool can extract the contents of even the most thoroughly compromised PST files in a quick time.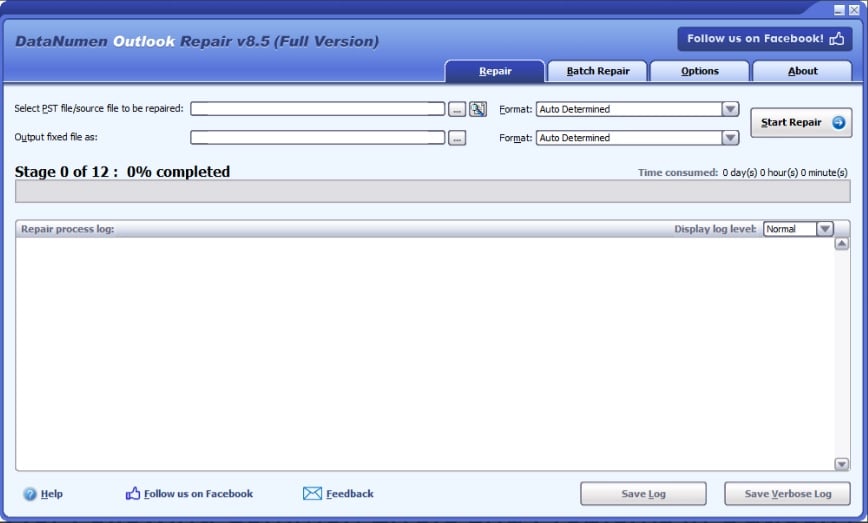 #9. Run Inbox Repair Tool (ScanPST) to Repair the Underlying PST File
Microsoft Office contains a tool called ScanPST or Inbox Repair Tool which is designed to handle incidents of PST corruption. In case you believe your PST file has been compromised, you can also try using this tool to recover its contents.
#10. Consider Reverting the System Back to a Previous State with System Restore
On rare occasions, you may find that after trying out all the steps listed above, the Outlook application still behaves erratically and continues to crash. In such a situation, you should use the System Restore feature present in Windows to revert back the system to a date when the Outlook application was working without crashing up, every now and then.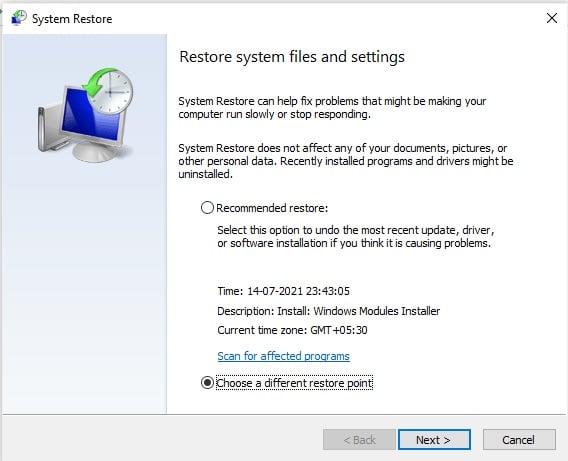 #11. Use a Backup PST File
While a System Restore is expected to deal with any issues in program files and settings, it does not alter any data files. If the issue is related to the PST data file and seems to be persistent, it may be prudent for you to consider replacing the current PST file with a backup copy. To do so, perform the steps listed below.
Open MS Outlook and head to Account and Settings from the given options in the File tab
Next, click on Account Settings and navigate to the Data Files tab
Just note down the detailed Location path specified for the Outlook Data file and then browse to open the specific folder location
Next copy the current file (Outlook.pst) to a separate location and instead place the backup PST file in its location. Make sure you rename it as Outlook.pst
Now restart the MS Outlook application and check if everything is working in a normal manner
You can also find more information about how to find the path of an Outlook PST file at Microsoft support site.