Symptom:
When using Microsoft Access to open a corrupted Access database file, it will display the following error message (error 3800) :
'Id' is not an index in this table
or
'AOIndex' is not an index in this table.
A sample screenshot looks like this: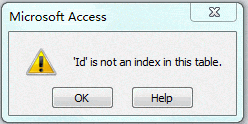 Precise Explanation:
In each Access database, there will be a hidden system table "MSysAccessObjects", and it has an index called "AOIndex" for old versions of Access and "Id" for new versions. During the file corruption, the index is damaged as well and Access cannot find the index when opening the corrupted database. So it will report the above-mentioned error.
The only solution to this problem is using our product DataNumen Access Repair to repair the MDB file and solve this error.
Sample File:
Sample corrupt MDB file that will cause the error. mydb_8.accdb
The file repaired with DataNumen Access Repair: mydb_8_fixed.accdb