When you attempt to use ScanPST to repair your corrupted Outlook file, but you're informed of the error "Entry Point Not Found". This article will probe into this issue and concrete measures to fix it.
As we all know, Outlook comes endowed with a free utility – ScanPST, which is targeted at fixing Outlook errors and repair PST files. Nevertheless, it cannot be guaranteed that it can solve all errors in Outlook. And in worse situations, it may throw out additional problems. Now we will delve into the issue – "Scanpst.exe – entry point not found", which informs you that "The procedure entry point [email protected] could not be located in the dynamic link library SCNPST32.dll".
Reasons for This ScanPST Error
Such an error is most likely to be thrown out by ScanPST due to "SCNPST32.dll" file, which is a part of scanpst.exe files, is broken. In this case, ScanPST cannot work properly. Also, except the factors mentioned above, the corruption of Outlook application and incomplete installation of Outlook are also important reasons. Now that you've figured out the exact causes for this issue, continue to acquaint yourself in depth with the solutions.
Fix the ScanPST Error & Repair Your Corrupted Outlook File
Step 1: Repair ScanPST Tool
1. Repair Microsoft Office Installation
Due to the fact that ScanPST is coming as a built-in part of Outlook application, if you would like to repair this tool, you have no choice but to repair the whole Outlook program. Thus take the following steps:
At the very outset, close the inbox repair tool and Outlook application.
Then go to "Start Menu" > "Control Panel" > "Uninstall Programs" link.
Next in the new interface of "Uninstall or change a program", you should pitch on the "Microsoft Office" suite and click "Change" button above.
Finally in the popup window, select "Repair" option and then press "Continue" button.
2. Reinstall MS Outlook
After performing the above steps, launch ScanPST to repair your corrupted Outlook file again. If the error persists, it means that repairing office installation cannot make any effects. Thus you have to reinstall MS Outlook. You can re-install Office still in the "Uninstall or change a program" window.
Step 2: Move the PST File to other Computer
If the above two means in step 1 both cannot repair ScanPST tool, you ought to abandon this tool on this laptop and take recourse to the ScanPST tool on other computers. Therefore, you need to move your broken PST file to the computer on which ScanPST can work properly. Later launch the tool and follow the onscreen instructions to repair the file.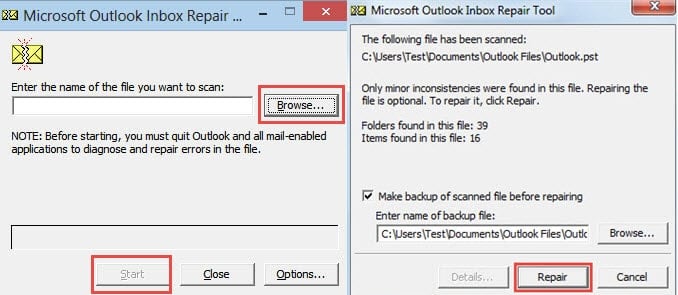 Step 3: Fall Back on Brilliant Third Party Tools
However, at times, Outlook Inbox Repair Tool is still unable to repair the damaged PST file although it can function properly. Under this circumstance, you have to lean upon a third party tool, like DataNumen Outlook Repair. It is capable of repairing PST file like a breeze irrespective of the level of corruption.
Author Introduction:
Shirley Zhang is a data recovery expert in DataNumen, Inc., which is the world leader in data recovery technologies, including sql recovery and outlook repair software products. For more information visit www.datanumen.com